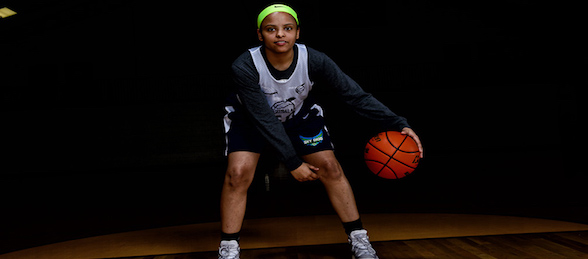 ---
With over 30,000 collective followers on our team's social media outlets, we're in a unique position to assist with both creating awareness of a prospect's skill set and recent on-floor performance. From crisp recruiting updates to updated in-season stats to a potential last-minute change in schedule that needs to be conveyed socially, this package allows the player to control the information available to the public about their game.
Become an #SMPMember for maximum Recruiting Exposure: Click the Logo Below

---
Class of 2019 point guard Jasmine Lilly of Henryville, Ind., showed her skill at the EBATop40 Camp in March 2017.
Brandon Clays's takeaway – The Midwest Showdown (May 2017):
Lilly is a dynamic option at the guard position. She played both positions here on and off the ball. Lilly's ability to stretch opposing defenses with her outside shot will be an important factor in her long-term development.
Jonathan Hemingway's takeaway – EBATop40 Camp (Mar. 2017):
Lilly is a combo guard with nice size and skill for her position. She showed the ability to be a lead guard or play on the wing in this camp. She attacks the basket strongly and is very good at getting from point A to point B. She does not have a lot of shake in ball handling, but that is not a bad thing. She can get her head and shoulders past the defense consistently and that is what is important when it comes to slashing to the basket. Lilly is a capable jump shooter, but from our viewing over this weekend she did look like she could improve her consistency from distance.
Name: Jasmine Lilly
Height: 5'6″
HS Grad Year: 2019
Position: PG
School / Hometown: Jeffersonville HS (Henryville, Ind.)
Club Team: Sky Digg Elite Sullivan
College Choice: Indiana University Kokomo
---
Social Media Updates:
#SMPMember🍑 Recruiting
Fueled by #BrandonClayScouting🍑

"Invest in your future success today."

'19 G @JasmineLilly_5 (IN) of @SkyDiggMedia visited Morehead State for camp.

PAGE: https://t.co/y9brcHwzfg

JOIN: https://t.co/8GnB3G0viZ

📷 IG https://t.co/FrgtOjFYMg @CoachGTodd https://t.co/m0pOm5r0gv

— Brandon Clay (@BrandonClayPSB) September 12, 2018
#SMPMember🍑 Recruiting
Fueled by #BrandonClayScouting🍑

"Growing the game one scholarship at a time."

'19 G @JasmineLilly_5 of @SkyDiggMedia & @JeffGirlsBBall has a WVSU offer.

SMP PAGE: https://t.co/y9brcHwzfg

📷 IG https://t.co/FrgtOjFYMg https://t.co/D0cyJHvsoG

— Brandon Clay (@BrandonClayPSB) August 31, 2018
#EBAAllAmerican🍑 National Showcase
🗓 Aug 25-26
📍 ATL

Stock Risers at #PSBRealDeal🍑 via #BrandonClayScouting🍑

Kendal Cheesman
Baylee Jones
Jasmine Lilly
Arieonna Ware

JOIN US https://t.co/2zO9ALNuQC

📷 INSTAGRAM: https://t.co/falGPcyrx3 #SMPMember pic.twitter.com/RA78pCzCXK

— Brandon Clay (@BrandonClayPSB) July 10, 2018
#SMPMember🍑 College Recruiting
Fueled by #BrandonClayScouting🍑

Heading into the summer, '19 G @JasmineLilly_5 of @SkyDiggSouth & @JeffGirlsBBall adds an offer from IU-Kokomo's @CoachColieT.

LILLY'S SMP PAGE: https://t.co/y9brcHwzfg

JOIN SMP: https://t.co/8GnB3G0viZ https://t.co/UnSTRHw9Zl

— Brandon Clay (@BrandonClayPSB) June 4, 2018
#SMPMember🍑 College Recruiting
Fueled by @SMPMemberPSB

Need Exposure? We're here to help.

'19 G Jasmine Lilly's (IN) growth was noticeable at the #PSBTipOffClassic last month.

She now has a Trevecca offer.

SMP PAGE https://t.co/y9brcHwzfg

JOIN SMP: https://t.co/8GnB3G0viZ pic.twitter.com/XouRYtVRnG

— Brandon Clay (@BrandonClayPSB) May 16, 2018
#PSBTipOffClassic NCAA Showcase 🍑
🗓 Apr 20-21
📍 Louisville

'19 G Jasmine Lilly (IN) is ready to rep Sky Digg Elite Sullivan.

Missouri State will be watching.

8:30 am and 1:10 pm tips.

JOIN US FRIDAY https://t.co/Jow0Z53ZU3

INSTAGRAM: https://t.co/jSr8AvCdZB #SMPMember pic.twitter.com/IEXsMXEQS7

— Brandon Clay (@BrandonClayPSB) April 17, 2018
#PSBTipOffClassic NCAA Showcase 🍑
🗓 Apr 20-22
📍 ATL / Louisville

Can't wait to see '19 G Jasmine Lilly of Sky Digg Elite on Apr 20 in Louisville.

MORE ON LILLY: https://t.co/y9brcHwzfg

JOIN US IN APRIL https://t.co/Jow0Z53ZU3

INSTAGRAM: https://t.co/jSr8AvCdZB #SMPMember pic.twitter.com/z3bGSRzdS4

— Brandon Clay (@BrandonClayPSB) April 10, 2018
#SMPMember🍑 College Recruiting
Fueled by @SMPMemberPSB

Need Exposure? We're here to help.

'19 G @JasmineLilly_5 of @JeffGirlsBBall has @CoachHemi's approval.

HER SMP PAGE: https://t.co/y9brcHwzfg

BECOME AN SMPMEMBER: https://t.co/8GnB3G0viZ

INSTAGRAM https://t.co/jSr8AvCdZB https://t.co/fPfyM88eaj

— Brandon Clay (@BrandonClayPSB) March 11, 2018
#SMPMember🍑 College Recruiting
Fueled by @SMPMemberPSB

Need Exposure?!? We're here to help.

Jon Hemingway sees '19 G Jasmine Lilly again Sat.

#BrandonClayScouting PAGE: https://t.co/y9brcHwzfg

BECOME AN SMPMEMBER: https://t.co/8GnB3G0viZ

INSTAGRAM: https://t.co/jSr8AvCdZB pic.twitter.com/USLV8p4FRN

— Brandon Clay (@BrandonClayPSB) March 8, 2018
#SMPMember🍑 College Recruiting
Powered by @SMPMemberPSB

Available '19 G Jasmine Lilly (@JasmineLilly_5) of @JeffGirlsBBall & @SkyDiggsGreen had her link checked out by Palm Beach Atlantic's @CoachPalacio.

Lilly's #BrandonClayScouting Page: https://t.co/y9brcHwzfg @SkyDiggMedia https://t.co/jO4QiVn7uY

— Brandon Clay (@BrandonClayPSB) February 7, 2018
#SMPMember🍑 News
Powered by @ProspectsNation

'19 G @JasmineLilly_5 (IN) of @JeffGirlsBBall & @SkyDiggsGreen is on fire.

"After #EBAFallFinale, Lilly made her outside shot a priority & it's paying off." – @BrandonClayPSB

Her #BrandonClayScouting Page: https://t.co/j9Xv73AJ2U https://t.co/bD90ty0y22

— SMP Recruit Exposure (@SMPMemberPSB) January 3, 2018
#SMPMember🍑 Program News
Fueled by @SMPMemberPSB

Available '19 G Jasmine Lilly (IN) has her Jeffersonville HS team ranked in the Top 10 statewide.

Her #BrandonClayScouting Page: https://t.co/y9brcHwzfg pic.twitter.com/YGE7cGwY1b

— Brandon Clay (@BrandonClayPSB) December 28, 2017
#SMPMember🍑 Recruiting Program

'19 G Jasmine Lilly (IN) of @JeffGirlsBBall & @SkyDiggGreen is earning praise.

PAGE https://t.co/y9brcHwzfg pic.twitter.com/hxt3lMj6uI

— Brandon Clay (@BrandonClayPSB) October 20, 2017
"@jasminelilly_5 was a joy to work with. @SkyDiggsGreen should be a team to watch in 2018." – @JLHemingwayPSB #SMPMember https://t.co/HTx8KaROVx

— PSB Events (@PeachStateBBall) October 11, 2017
#SMPMember🍑 Recruiting Program

'19 G Jasmine Lilly (IN) has heard from FAMU & SIUE.

She carries a 4.49 GPA.

INFO: https://t.co/y9brcHwzfg pic.twitter.com/UurJs6LE0s

— Brandon Clay (@BrandonClayPSB) October 9, 2017
#SMPMember🍑 Recruiting

'19 G @jasminelilly_5 (IN) grew her game in front of the @ProspectsNation staff.

HER PAGE: https://t.co/j9Xv73AJ2U https://t.co/Fh4bq54S8y

— SMP Recruit Exposure (@SMPMemberPSB) September 25, 2017
#SMPMember Recruiting

Enjoyed working with Jasmine Lilly (IN) at #EBATop40.

Dynamic '19 G. One to follow in July.https://t.co/y9brcHOa6O pic.twitter.com/zJrXNqAMyY

— Brandon Clay (@BrandonClayPSB) June 22, 2017
#SMPMember Recruiting Exposure

'19 PG Jasmine Lilly (IN) will visit Indiana State this month.

HER PAGE: https://t.co/y9brcHwzfg pic.twitter.com/kWxFINtiDg

— Brandon Clay (@BrandonClayPSB) June 1, 2017
#SMPMember Recruiting

Looking forward to working w/'19 G @JasmineLilly_5. Has @RebeccaDyerPSB's attention.

PAGE: https://t.co/y9brcHwzfg https://t.co/ebVEhCl7pR

— Brandon Clay (@BrandonClayPSB) April 22, 2017
#PSBTipOffClassic #SMPMember '19 Jasmine Lilly @jasminelilly goes on her own 8-point run for @SkyDiggSouth. They lead 27-19 at half

— Rebecca Dyer (@RebeccaDyerPSB) April 22, 2017
#SMPMember Recruiting Exposure

'19 G Jasmine Lilly (IN) is ready for #PSBTipOffClassic.

INFO ON @JasmineLilly_5: https://t.co/y9brcHwzfg pic.twitter.com/9xoUWqR1sj

— Brandon Clay (@BrandonClayPSB) April 17, 2017
Jasmine Lilly (@JasmineLilly_5) & McKenzie McDuffie have been pure from deep whenever they get their feet set. @JLHemingwayPSB pic.twitter.com/G8A0i2Lv60

— PSB Events (@PeachStateBBall) March 11, 2017
#EBATop40 Evals
'19 Jasmine Lilly (IN) caught our attention with size & skill. Particularly good at feeding post

🏀 https://t.co/LR2gh60lSD pic.twitter.com/C12QUM2TCp

— Jonathan Hemingway (@JLHemingwayPSB) April 11, 2017
---

Brandon Clay is the owner of the JumpOffPlus.com International Report, Peach State Basketball, Inc., and ProspectsNation.com. The JumpOffPlus.com is picked up by more than 200 colleges and universities nationwide. In addition to serving as ProspectsNation.com WNBA Director of Scouting, Clay serves as the Executive Camp Director for the Elite Basketball Academy Camps. He is a McDonald's All-American Game Selection Committee member. Clay serves on the Naismith Trophy Men's / Women's College Player of the Year Academy and is the National Coordinator of Voting for the Boys / Girls All-American Teams. He has been involved in the community since 2001. You can reach Clay at [email protected]