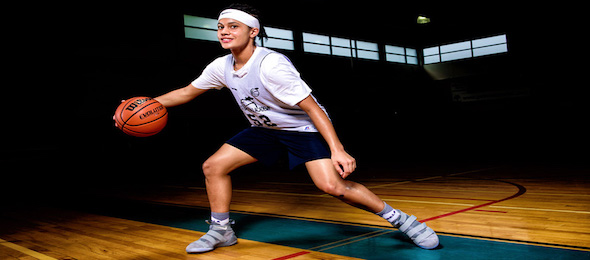 With over 50,000 collective followers on our team's social media outlets, we're in a unique position to assist with both creating awareness of a prospect's skill set and recent on-floor performance. From crisp recruiting updates to updated in-season stats to a potential last-minute change in schedule that needs to be conveyed socially, this package allows the player to control the information available to the public about their game.
Become an #SMPMember for maximum Recruiting Exposure: Click the Logo Below

Vitals:
Name: Gabbi Cartagena
Height: 5'9″
HS Grad Year: 2021
Position: SG
School / Hometown: Jackson HS (Jackson, Georgia)
Club Team: FBC Hoopstarz
College Choice: Troy
PLAYER EVALUATIONS:
Date: April 2020
Location: BCSTop40
Evaluator: Brandon Clay
Cartagena's growth has been so impressive that Georgia College was on hand to watch her workout in this elite setting. She had a fantastic school season and has started to turn the corner with her consistency vocally. Keep an eye on her game this club season.
Date: August 2018
Location:
Evaluator: Jonathan Hemingway
Cartagena has shown at the guard spot a willingness and ability to be dynamic on the wing. When she turns her energy up a notch and attacks the rim to make plays, there aren't a lot of guards like her in the Peach State. Going forward, Cartagena has the capability to become a high level on-ball defender too.
SOCIAL MEDIA UPDATES: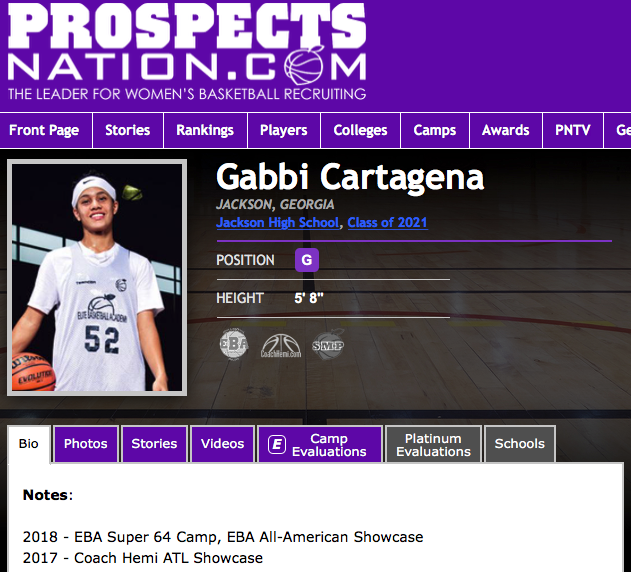 ---
Player Evaluations:
Vitals:
Name: Gabbi Cartagena
Height: 5'8″
HS Grad Year: 2021
Position: SG
School / Hometown: Jackson HS (Jackson, GA)
Club Team: Georgia Pearls
---
Social Media Updates:
#SMPMember🍑 Recruiting
Fueled by #BrandonClayScouting🍑

"We make sure everyone knows your name."

'21 Gabbi Cartagena (GA) has a new @JLHemingwayPSB eval on her @ProspectsNation card.

PAGE: https://t.co/EyMg5Q57cY

JOIN: https://t.co/8GnB3G0viZ

📷 IG: https://t.co/FrgtOjFYMg pic.twitter.com/MA614DleGg

— Brandon Clay (@BrandonClayPSB) November 7, 2018
#CoachHemi678
Oct. 7 | Eagle's Landing HS
🏀 @AndrayaCarter

JOIN US ⬇️https://t.co/WErvKGJI7F

'21 G Gabbi Cartagena is working full throttle this off-season

She will rep the @GA_pearls next month

Check her @ProspectsNation Profile https://t.co/bTIWcKA6nt#SMPMember pic.twitter.com/i4ebk71WKt

— Jonathan Hemingway (@JLHemingwayPSB) September 20, 2018
#SMPMember🍑 College Recruiting
Fueled by #BrandonClayScouting🍑

"Invest in your future success today."

'21 G Gabbi Cartagena (GA) is on board. An #EBASuper64 standout.

SMP PAGE: https://t.co/EyMg5Q57cY

JOIN SMP: https://t.co/8GnB3G0viZ

📷 INSTAGRAM https://t.co/FrgtOjFYMg pic.twitter.com/RHhVEOXUtM

— Brandon Clay (@BrandonClayPSB) September 9, 2018
'21 Gabbi Cartagena (GA) had a great July and is ready for a breakout HS Season

She is ready to work this weekend w/ @BrandonClayPSB at our#EBAAllAmerican National Showcase

Join Her:https://t.co/Jl64tlukNF pic.twitter.com/ShEifpnz6q

— Kris Watkins (@KrisWatkinsPSB) August 20, 2018
'21 G Gabbi Cartagena is taking full advantage of her opportunity to get better during her Spotlight workout w/ @BrandonClayPSB pic.twitter.com/ZY7iXHEkHG

— Kris Watkins (@KrisWatkinsPSB) June 2, 2018
#EBASuper64🍑 Showcase
🗓 June 2-3

Excited to be working w/ @BrandonClayPSB & @ParallelsMedia_ on our Brand New @PeachStateBBall Personal Voice over Evaluations from camp!

'21 G Gabbi Cartagena is on deck for this weekend @gabb1_ https://t.co/gxIfQ6LeDg

— Kris Watkins (@KrisWatkinsPSB) May 30, 2018
#EBASuper64 Invite Earned:
June 2nd-3rd
Register Here:https://t.co/3EgLYhrBdx

'21 Gabbi Cartagena was impressive all weekend, knocking down multiple 3's while also scoring in transition at #PSBMayDay pic.twitter.com/8ZpHlixAyM

— Kris Watkins (@KrisWatkinsPSB) May 8, 2018
#EBASuper64🍑 National Showcase
🗓 June 2-3#EBAAllAmerican🍑 National Showcase
🗓 Aug 25-26
📍 Both in ATL

🚨 SPOTLIGHT WORKOUT ALERT 🚨

'21 @Gabb1_ Cartagena of @ga_pearls will work with me June 2-3. @KrisWatkinsPSB will 🎥.

JOIN US https://t.co/tJAgOJkP5h @VinceSmithPSB https://t.co/JXBiuvK2PW

— Brandon Clay (@BrandonClayPSB) May 8, 2018

Brandon Clay is the owner of the JumpOffPlus.com International Report, Peach State Basketball, Inc., and ProspectsNation.com. The JumpOffPlus.com is picked up by more than 200 colleges and universities nationwide. In addition to serving as ProspectsNation.com WNBA Director of Scouting, Clay serves as the Executive Camp Director for the Elite Basketball Academy Camps. He is a McDonald's All-American Game Selection Committee member. Clay serves on the Naismith Trophy Men's / Women's College Player of the Year Academy and is the National Coordinator of Voting for the Boys / Girls All-American Teams. He has been involved in the community since 2001. You can reach Clay at [email protected]