BUFORD, Ga., – The Elite Basketball Academy Top 40 Workout is designed to bring some of the nation's top prospects together to compete and showcase their skills in front of BrandonClayScouting.com and OTRHoopsReport.com evaluators.
Kai Lambert, Team 7 (Lawrenceville, Ga.), Collins Hill HS – 2016

Lambert is a proven utility player on the court. His high energy attitude with a motor that runs at full tilt will always find the 6-foot-3 wing in the middle of plays. His value is the highest when he is using his defense to create his offense in transition. His length and athleticism allow him to defend multiple positions on the court and disrupt opposing ball handlers. The challenge for Lambert moving into his senior season will be find an offensive specialty that will allow to be productive. At times he settled for too many jumpers in this camp setting.
Matthew Misenheimer, Team 7 (Lawrenceville, Ga.), Mountain View HS – 2015

Misenheimer has become a staff favorite over the past year with his blue collar mentality and diverse skill set. Standing at 6-6 tall, he has the height and strength to bang with post players on the interior. However, he also has the shooting touch to stretch the defense on the offensive end. In this camp he was noted for his ability to take the ball to the rim off of the bounce. One area that if he can improve, will help his consistency, is keeping his feet under his jumper. Today he had a tendency to drift away from his shot.
Kevon Tucker, Team 5 (Dacula, Ga.), Dacula HS – 2016

The 6-4 wing forward emerged this year as one of the premier players in class of 2016 in the state of Georgia. He is already being mentioned as a watch-list player for the Atlanta Tip-Off Club Metro Teams for next season. His blend of strength, size and athleticism helps gives him traction in the lane and in 50/50 situations. His developing perimeter skill set is what has college coaches very interested as of late. His ability to score the ball from the perimeter and off the dribble make him a dual threat on the offensive end.
Click below for the EBA Top 40 Broadcasts powered by the SUVtv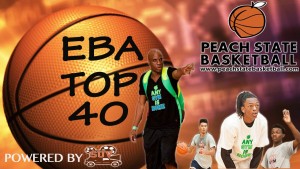 Elite Basketball Academy Series
***Designed for evaluation purposes, these are great opportunities for upperclassmen and underclassmen alike to get valuable game broadcasts that can be sent to college coaches with a single email message. For underclassmen, it also serves as the gateway for prospects with remaining high school eligibility to play in front of our National Evaluators.

Jonathan Hemingway is a National Evaluator for the OTRHoopsReport. Hemingway serves on the Board of Selectors for the Naismith Trophy. also He is also the publisher of CoachHemi.com. He has been involved in the community since 1996 as a coach, camp director and evaluator. You can reach him via email at [email protected] and follow him on  twitter @JLHemingwayPSB