BUFORD, Ga., – The Elite Basketball Academy Top 40 Workout is designed to bring some of the nation's top prospects together to compete and showcase their skills in front of BrandonClayScouting.com and OTRHoopsReport.com evaluators.

Jordan Gaines, Team 3 (Douglasville, Ga.), Chapel Hill HS – 2016

Gaines is a 6-foot-6 wing forward that puts us in the mind of another EBA Camper, Aleem Ford from Archer High School. Gaines may be more naturally suited to be a bigger wing than Ford is, because of his footwork and ability to defend smaller players along the arc. His wingspan custom essays essay writing service and quick feet give him a high ceiling as a defender. Offensively he showed his ball skill and ability to put it on the floor at the camp. However, Gaines will need to continue to sharpen his skill set and develop a particular specialty that will allow him to have a consistent impact in game play.
Dion Glass, Team 1 (Jonesboro, Ga.), Mundy's Mill HS – 2016

Glass is a left-handed guard who proved he could knock down the open jumper here today. When his feet are set, he was one of the better shooters in the camp at the Top 40 Spring Workout. At 5-10 he may be best suited for the point guard position, however he has productive years in custom essay service front of him with his skill to shoot.
Grant Van Beveren Team 1 (Alpharetta, Ga.), Taylor Road MS – 2019

Although listed as a center on our roster, Van Beveren showed his ability to play on the wing. Standing at 6-2 as an eighth grader, he has size and skill that will be exciting to track in upcoming years. He showed an advanced understanding of how to play without the basketball in his hands as he screened for others and spotted up for jump shots. We will be anxious to watch Van Beveren's progress in the future.
Click below for the EBA Top 40 Broadcasts powered by the SUVtv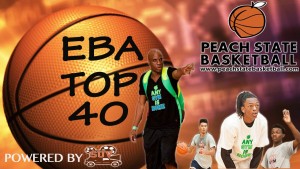 Elite Basketball Academy Series
***Designed for evaluation purposes, these are great opportunities for upperclassmen and underclassmen alike to get valuable game broadcasts that can be sent to college coaches with a single email message. For underclassmen, it also serves as the gateway for prospects with remaining high school eligibility to play in front of our National Evaluators.

Jonathan Hemingway is a National Evaluator for the OTRHoopsReport. Hemingway serves on the Board of Selectors for the Naismith Trophy. also He is also the publisher of CoachHemi.com. He has been involved in the community since 1996 as a coach, camp director and evaluator. You can reach him via email at JonathanHemingway@PeachStateBasketball.com and follow him on  twitter @JLHemingwayPSB