BUFORD, Ga., – The Elite Basketball Academy Top 40 Workout is designed to bring some of the nation's top prospects together to compete and showcase their skills in front of BrandonClayScouting.com and OTRHoopsReport.com evaluators.

Micah Kinsey, Team 2 (Snellville, Ga.), Brookwood HS – 2016

Kinsey set himself apart last fall as a dynamic driver and scorer. This spring was no different as elevated himself as one of the better guard athletes in the building. The 6-foot combo guard is a tough cover, cheap custom essays uk because he can create space with the dribble. He is a constant threat to finish at the bucket.
Ty Pendley, Team 3 (Dalton, Ga.), Southeast Whitfield HS – 2016

The 5-10 guard from up Interstate 75 is quickly becoming an Elite Basketball Academy favorite. His craftiness on the court is uncanny. He can set his teammates up with the perfectly placed pass while also punishing defenders who are slow to close out on him at the arc. Do not sleep on his ability to put the ball on the deck either. His quick feet and quick hands make him an instant play maker anytime he has the ball in his hands.
Kamron Miller, Team 1 cyber bullying essay (Peachtree City, Ga.), Sandy Creek HS – 2018

Miller is a left-handed point guard who is savvy with his ball handling ability. At one point during game play he refused a ball screen and then shot to the rim to finish quickly before the helpside got there. His ability to stick and move with the ball in his hands keeps defenders off balance. Miller established himself as one of the better freshman point guards in the building on Sunday afternoon.
Click below for the EBA Top 40 Broadcasts powered by the SUVtv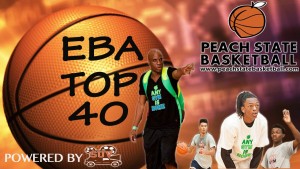 Elite Basketball Academy Series
***Designed for evaluation purposes, these are great opportunities for upperclassmen and underclassmen alike to get valuable game broadcasts that can be sent to college coaches with a single email message. For underclassmen, it also serves as the gateway for prospects with remaining high school eligibility to play in front of our National Evaluators.

Jonathan Hemingway is a National Evaluator for the OTRHoopsReport. Hemingway serves on the Board of Selectors for the Naismith Trophy. also He is also the publisher of CoachHemi.com. He has been involved in the community since 1996 as a coach, camp director and evaluator. You can reach him via email at [email protected] and follow him on  twitter @JLHemingwayPSB