BUFORD, Ga., – The Elite Basketball Academy Top 40 Workout is designed to bring some of the nation's top prospects together to compete and showcase their skills in front of BrandonClayScouting.com and OTRHoopsReport.com evaluators.

Keetone Glover Team 4 (Buford, Ga.), Mill Creek HS – 2016

Glover is a terrific ball handler who can create space with dribble moves. His ability to change directions and switch hands keeps defenders on the heels. The 5-foot-10 point guard has the potential to be one of the best distributors in the area. However, he could become  more selective as when he decides to attack with the dribble versus reversing the ball. If he can find the balance between these two skills, he will push through the next level that he is looking to achieve.
Christian Mancillas Team 3 (Dacula, Ga.), Mill Creek HS – 2017

A player that caught our attention at this camp was Mancillas with his no look pin-point passes. At 6-3 the sophomore provides skill and IQ that few players with his size have. He plays with flash, but he does not sacrifice efficiency in the process. Given the talent that he showed at the camp, he is on a trajectory to contribute heavily in years to come in Hoschton.
Sha Powell Team 4 (Buford, Ga.), Mill Creek HS – 2015

One of the great things about the EBA Camp series is watching players grow up and seeing their progression. In 12 months, Powell has turned into a guard that handle the ball with sureness and affect the game on the defensive end. When we saw him a year ago at the 2014 Spring Workout, he was more comfortable playing off of the ball and looked to attack primarily from the wing.  A year later the 5-10 guard looked comfortable handling the ball, getting others involved and picking his spots to get his shot. It is a credit to his work ethic and IQ to have developed in such a way.
Click below for the EBA Top 40 Broadcasts powered by the SUVtv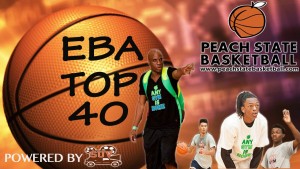 Elite Basketball Academy Series
***Designed for evaluation purposes, these are great opportunities for upperclassmen and underclassmen alike to get valuable game broadcasts that can be sent to college coaches with a single email message. For underclassmen, it also serves as the gateway for prospects with remaining high school eligibility to play in front of our National Evaluators.

Jonathan Hemingway is a National Evaluator for the OTRHoopsReport. Hemingway serves on the Board of Selectors for the Naismith Trophy. also He is also the publisher of CoachHemi.com. He has been involved in the community since 1996 as a coach, camp director and evaluator. You can reach him via email at [email protected] and follow him on  twitter @JLHemingwayPSB