BUFORD, Ga., – The Elite Basketball Academy Top 40 Workout is designed to bring some of the nation's top prospects together to compete and showcase their skills in front of BrandonClayScouting.com and OTRHoopsReport.com evaluators.

Miles Riley Team 3 (Buford, Ga.), Mill Creek HS – 2016

The 6-foot guard turned heads at the Sunday camp as he bounced over defenders to finish above the rim. Riley proved that he was a legitimate athlete in the back court and showed his ability to finish in transition. As he Riley heads into his senior year, we will track the other parts of his game to see how he develops. As it stands right now, he is on our watch-list of guards who are up and coming in the Gwinnett County area.
Kevin Stamps Team 6 (Lawrenceville, Ga.), Central Gwinnett HS – 2016

We got our first look at Stamps last fall at the EBA All-American Camp. Much like we saw in our first evaluation, Stamps uses his length to affect the game on both ends of the floor. Most notably at this workout he was able to alter shots in the paint and cause problems on the perimeter by using his arms to get into the passing lanes. Even though Stamps has good face-up skill we would still like to see him develop his ability to score over defenders in the paint. He would become a mismatch nightmare as a wing forward who could punish defenders inside and out.
Shadiah Toppins Team 4 (Lilburn, Ga.), Meadowcreek HS – 2016

Toppins enters our list as one of the most intriguing forwards to emerge from the camp. The 6-5 forward finished around the basket with a number of dunks and used his athleticism to alter shots on the defensive end. His combination of length and strength point to a bright future heading into his senior year. He will need to polish his perimeter skill set to become a true wing forward, however he has athleticism which many players will never be blessed to have.
Click below for the EBA Top 40 Broadcasts powered by the SUVtv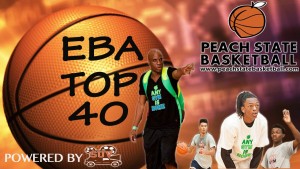 Elite Basketball Academy Series
***Designed for evaluation purposes, these are great opportunities for upperclassmen and underclassmen alike to get valuable game broadcasts that can be sent to college coaches with a single email message. For underclassmen, it also serves as the gateway for prospects with remaining high school eligibility to play in front of our National Evaluators.

Jonathan Hemingway is a National Evaluator for the OTRHoopsReport. Hemingway serves on the Board of Selectors for the Naismith Trophy. also He is also the publisher of CoachHemi.com. He has been involved in the community since 1996 as a coach, camp director and evaluator. You can reach him via email at [email protected] and follow him on  twitter @JLHemingwayPSB