BUFORD, Ga., – The Elite Basketball Academy Top 40 Workout is designed to bring some of the nation's top prospects together to compete and showcase their skills in front of BrandonClayScouting.com and OTRHoopsReport.com evaluators.

Theodore Benn Jr. Team 7 (Lawrenceville, Ga.), Berkmar HS – 2016

Benn is a slashing guard who uses his body very well to finish in the lane. Standing at 6-foot even, he has the skill to play either back court position effectively. The versatility that he provides in that regard allows his coaches to use him in a variety of situation. One thing we would like to see from Benn in the future is his jump shot. Although this does not appear to be a weakness, it could provide balance to his game.
Joshua Faulkner Team 3 (Grayson, Ga.), Berkmar HS – 2016

We have watched Faulkner over the past year and have been impressed with his growth as a prospect. While he has to play a shooting guard position at times, he showed that he has point guard skills at the Top 40 camp. His ability to power past defenders with a quick first step and finish in traffic turned heads. We expect to see Faulkner develop into one of the better guards in the area next season.
Aleem Ford Team 8 (Grayson, Ga.), Archer HS – 2015

Ford is a unique talent standing as 6-7 forward. He has the ball skill and the range to be a face-up perimeter player. However, he can affect the game with length by deflecting shots and rebounding in the paint. The challenge for Ford is finding a balance in these two skill sets. Also adding strength and explosiveness at the next level will help him impact the game consistently.
Click below for the EBA Top 40 Broadcasts powered by the SUVtv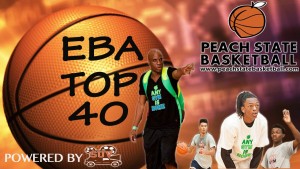 Elite Basketball Academy Series
***Designed for evaluation purposes, these are great opportunities for upperclassmen and underclassmen alike to get valuable game broadcasts that can be sent to college coaches with a single email message. For underclassmen, it also serves as the gateway for prospects with remaining high school eligibility to play in front of our National Evaluators.

Jonathan Hemingway is a National Evaluator for the OTRHoopsReport. Hemingway serves on the Board of Selectors for the Naismith Trophy. also He is also the publisher of CoachHemi.com. He has been involved in the community since 1996 as a coach, camp director and evaluator. You can reach him via email at [email protected] and follow him on  twitter @JLHemingwayPSB