BUFORD, Ga., – The Elite Basketball Academy Top 40 Workout is designed to bring some of the nation's top prospects together to compete and showcase their skills in front of BrandonClayScouting.com and OTRHoopsReport.com evaluators.

Trae Higginbotham Team 6 (Snellville, Ga.), Brookwood HS – 2017

One of the most talented sophomores in the building at the camp was Higginbotham. The 6-foot guard has a scorer's mentality. His long-term projection will be a primary ball handler, but at this moment he can score at a very high rate. Coming off a high school season where he averaged 10 points per game, we expect those numbers to climb in future years. Especially when you consider his ability to score in the mid-range. If he can add consistency on his 3-point jumper, those numbers might climb faster than expected.
Paul James Team 6 (Lawrenceville, Ga.), Mountain View HS – 2015

James is a hard worker. Out of everyone at the camp in March, it would be hard pressed to find someone that out worked the senior guard. From a skill stand point, he showed good ball handling ability while also being able to get the rim downhill effectively. James proved to be most effective in transition where he could use his speed to beat defenders end to end.
Nicholas Wiznitzer Team 8 (Salem, S.C.), Walhalla HS – 2017

Wiznitzer is a left-handed wing who stands at 6-3. Given our first look at the sophomore at the camp, his strength appears to be his versatility. He can face the basket and keep the ball moving on the perimeter. However, he has the length to be a solid defender both inside and out. Moving forward we would like to see the Palmetto State native work on his agility and footwork. Increasing these things will only enhance the skills that he already has.
Click below for the EBA Top 40 Broadcasts powered by the SUVtv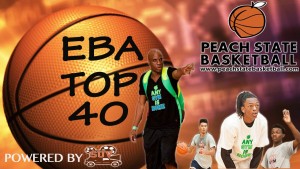 Elite Basketball Academy Series
***Designed for evaluation purposes, these are great opportunities for upperclassmen and underclassmen alike to get valuable game broadcasts that can be sent to college coaches with a single email message. For underclassmen, it also serves as the gateway for prospects with remaining high school eligibility to play in front of our National Evaluators.

Jonathan Hemingway is a National Evaluator for the OTRHoopsReport. Hemingway serves on the Board of Selectors for the Naismith Trophy. also He is also the publisher of CoachHemi.com. He has been involved in the community since 1996 as a coach, camp director and evaluator. You can reach him via email at [email protected] and follow him on  twitter @JLHemingwayPSB