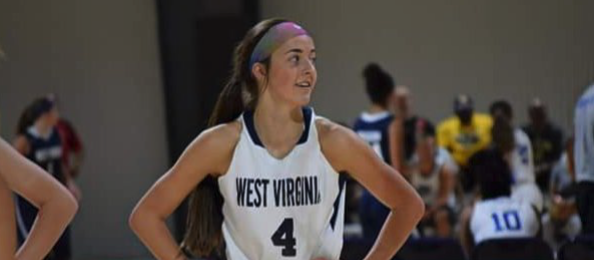 ---
With over 50,000 collective followers on our team's social media outlets, we're in a unique position to assist with both creating awareness of a prospect's skill set and recent on-floor performance. From crisp recruiting updates to updated in-season stats to a potential last-minute change in schedule that needs to be conveyed socially, this package allows the player to control the information available to the public about their game.
Become an #SMPMember for maximum Recruiting Exposure: Click the Logo Below

---
Class of 2018 combo guard Payton Shears of Ashland, Ky., is a shot maker and a high energy prospect on the perimeter.
Brandon Clay's takeaway – #PSBEndOfTheRoad Exposure Tourney (Sept. 2016): Shears is a skilled option at the point guard position. She's got a slender frame but was consistent with her ability to distribute the ball even with contact switching off with Savannah Wheeler (Marshall commit) at the point.
Jonathan Hemingway's takeaway – #CoachHemiShowcase (June 2016): Shears splits time as a point guard and a shooting guard, which is typical for guards within the West Virginia Thunder program. She can be effective at both spots because of her ball handling and shot making abilities. She showed craftiness with the ball today as she used pass fakes to freeze defenders in order to make the right play. The strength of her game is her vision with the ball in her hands. She understands where to place the ball with the pass so her teammates can score easily. She is a capable scorer as she can hit the open jumper or finish at the rim. She does have a bit of a wind up on her 3-point jumper, which she will want to tighten up in the months leading up to her high school year. Also gaining confidence in her right hand will be important as well. She handles it well, but when she makes plays it is normally to her left hand.
Name: Charity Shears
Height: 5'8″
HS Grad Year: 2018
Position: PG / SG
School / Hometown: Boyd County HS (Ashland, Ky.)
Club Team: West Virginia Thunder #PSBFamily
Committed College: West Virginia State
---
Social Media Updates:
#SMPMember🍑 College Recruiting
Fueled by @SMPMemberPSB

Need Exposure? We're here to help.

'18 G Charity Shears (KY) chose West Virginia State.

She's the 19th prospect in our rising senior class to commit.

JOIN SMP: https://t.co/8GnB3G0viZ

INSTAGRAM https://t.co/jSr8AvCdZB pic.twitter.com/IQaU9SVnyp

— Brandon Clay (@BrandonClayPSB) April 17, 2018
#SMPMember🍑 College Recruiting
Powered by @SMPMemberPSB

Call Available '18 guards Charity and Payton Shears whatever you want…

Just make sure to add Back-To-Back Region Champs 🏆🏆 to it.

Their SMP Pages

Payton: https://t.co/EelsqygOQJ

Charity: https://t.co/lSGbBIz4nj pic.twitter.com/5QNsS5WCYE

— Brandon Clay (@BrandonClayPSB) March 5, 2018
#SMPMember🍑 Program News
Fueled by @SMPMemberPSB

Available '18 Guards Payton Shears (@shearsp1) & Charity Shears (@ShearsCharity) of @pfraley1966 & @lupardus_tim continue to draw praise. This time, @zklemmeADI shows the love.

MORE ON SMP: https://t.co/8GnB3G0viZ @jtshears7 https://t.co/OOj4s3ANEt

— Brandon Clay (@BrandonClayPSB) January 24, 2018
#SMPMember🍑 Program News
Fueled by @SMPMemberPSB

Brenau (@BUGoldenTigers) coach Kris Stewart (@hoopscoach2421) reached out about both Available '18 guards @ShearsCharity & @shearsp1 of @lupardus_tim & @pfraley1966.

JOIN SMP TODAY: https://t.co/8GnB3G0viZ https://t.co/kiWuvjdsiI

— Brandon Clay (@BrandonClayPSB) January 4, 2018
#SMPMember🍑 Program News

Available '18 CG Charity Shears (KY) will visit West Virginia State today.

Her #BrandonClayScouting Page: https://t.co/lSGbBIz4nj pic.twitter.com/gz17CMkdUy

— Brandon Clay (@BrandonClayPSB) November 26, 2017
#SMPMember🍑 Recruiting

Available '18 G @ShearsCharity of @pfraley1966 & @lupardus_tim picks up a Glenville St. offer: https://t.co/lSGbBIz4nj https://t.co/9DYq3uwBXB

— Brandon Clay (@BrandonClayPSB) November 8, 2017
#SMPMember🍑 Recruiting

Available '18 guards Payton & Charity Shears visited Alderson Broaddus on Sat.

Visit to Davis & Elkins coming soon. pic.twitter.com/HviPJv7AdV

— Brandon Clay (@BrandonClayPSB) November 5, 2017
#SMPMember🍑 Recruiting

Available '18 G Charity Shears (KY) heard from Alderson Broaddus & Notre Dame College

PAGE: https://t.co/lSGbBIz4nj pic.twitter.com/FblrMoAExs

— Brandon Clay (@BrandonClayPSB) October 24, 2017
#SMPMember🍑 Recruiting Program

Available '18 G Charity Shears (KY) visits Glenville State next weekend.

HER PAGE: https://t.co/lSGbBIz4nj pic.twitter.com/8v6ppaACjP

— Brandon Clay (@BrandonClayPSB) September 8, 2017
#SMPMember🍑 Recruiting

Available '18 G Charity Shears of Boyd Co. (KY) has open gym 4-5:30 pm:

9/6, 9/11

PAGE: https://t.co/lSGbBIz4nj pic.twitter.com/jc9dnoJmTC

— Brandon Clay (@BrandonClayPSB) August 26, 2017
#SMPMember Platinum Status

On her birthday, '18 G Charity Shears (KY) is visiting Eastern Kentucky today.

PAGE: https://t.co/lSGbBIz4nj pic.twitter.com/GYClZPmYtu

— Brandon Clay (@BrandonClayPSB) August 5, 2017
#SMPMember Recruiting Exposure

'18 CG Charity Shears (KY) visited Georgetown College last week.

LEARN MORE: https://t.co/lSGbBIz4nj pic.twitter.com/rDrwX4hwHH

— Brandon Clay (@BrandonClayPSB) July 14, 2017
#SMPMember Recruiting

Available '18 G Charity Shears (KY) is a play & shot maker.

PAGE https://t.co/lSGbBIz4nj @ShearsCharity
🎥 @JDavisPSB https://t.co/tlnByyF8ZU

— Brandon Clay (@BrandonClayPSB) July 2, 2017
#SMPMember Recruiting Exposure

Welcome '18 CG Charity Shears (KY)

HS: @pfraley1966
CLUB: @Scottejohnson12

PAGE: https://t.co/lSGbBIhsYJ pic.twitter.com/mZUMvcjBo6

— Brandon Clay (@BrandonClayPSB) June 23, 2017
Charity Shears (@ShearsCharity) hits shot from all over & always does a great job of finding her team. @Scottejohnson12 pic.twitter.com/F50UzC4Cll

— Jonathan Hemingway (@CoachHemi) June 18, 2017
Great anticipation by Savannah Wheeler off the tip. Finds Charity Shears to put Boyd County up 2-0 to start. pic.twitter.com/X5L5aaMfOz

— Josh Moore (@HLpreps) March 8, 2017
#EBAAllAmerican Girls Adds:

Charity Shears
Payton Shears

JOIN: http://t.co/JNkkUpvov3 pic.twitter.com/QvDNmZMssq

— Brandon Clay (@BrandonClayPSB) August 12, 2015

Brandon Clay is the owner of the JumpOffPlus.com International Report, Peach State Basketball, Inc., and ProspectsNation.com. The JumpOffPlus.com is picked up by more than 200 colleges and universities nationwide. In addition to serving as ProspectsNation.com WNBA Director of Scouting, Clay serves as the Executive Camp Director for the Elite Basketball Academy Camps. He is a McDonald's All-American Game Selection Committee member. Clay serves on the Naismith Trophy Men's / Women's College Player of the Year Academy and is the National Coordinator of Voting for the Boys / Girls All-American Teams. He has been involved in the community since 2001. You can reach Clay at [email protected]