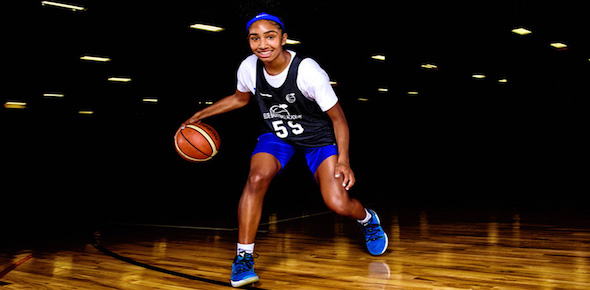 Vitals:
Name: Diana Collins
Height: 5'9″
HS Grad Year: 2023
Position: SG / PG
School / Hometown: Brookwood High School (Snellville, Georgia)

Player Evaluations:
Date: August 22, 2021
Location: Brandon Clay Training Academy (Atlanta, Georgia)
Evaluator: Brandon Clay
Collins was in her bag on Sunday here going back and forth with Emily Monson inside of gameplay. When she gets a chance to play in these situations, Collins is as talented of a point guard as any we've seen in the class nationally. She is a driver with a tough pull up and the skill needed to hit the open 3-pointer too. For Collins, being in a position to play this freely is vital to showcasing her full arsenal of offensive and defensive tools.
Date: April 23, 2021
Location: Under Armour Circuit (Birmingham, Alabama)
Evaluator: Brandon Clay
Class of 2023 guard Diana Collins of FBC has a big summer ahead of her with International FIBA play on deck. For now, she's focused on getting ready and went to work in split minutes here. Her diversified skill set was on display at our Atlanta Academy last summer as well.
Date: June 2020
Location: Brandon Clay Training Academy (Atlanta, Georgia)
Evaluator: Brandon Clay
Collins is emerging into one of leaders of the new school in a strong 2023 class nationally. She can do a little of everything with her size at the guard spot. A high academic option, Collins is more than able to pick up and implement new pieces of teaching that are thrown her way during the training academies. Armed with a couple of new scholarship offers in the past month, her sky is the limit.
Date: June 2018
Location: Brandon Clay Fab 5 Academy
Evaluator: Jonathan Hemingway
Collins is a heady point guard who can make plays with the ball in her hands. She is really growing up and adding size to become a legit backcourt option at an early age. Her ability to pass with either hand and direct traffic is her strength currently. At times she can be unselfish to a fault, but that shows she is bought into being a point guard. Her ability to change directions is also very good. She can shake defenders and leave them leaning the wrong way. Adding consistency with her jump shot is going to be an area where she should spend some time. She is a good shooter; however some fine tuning of mechanics could make her even better.
Social Media Updates: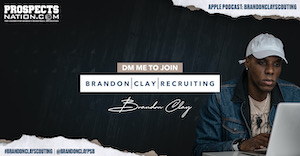 Brandon Clay is the owner of the BrandonClayScouting.com Report, Peach State Basketball, Inc., and ProspectsNation.com. BrandonClayScouting.com is utilized by more than 200 colleges and universities nationwide. Clay serves as the Executive Camp Director for the BrandonClayScouting.com National Training Academies. He is a McDonald's All-American Game Selection Committee member. Clay serves on the Naismith Trophy Men's / Women's College Player of the Year Academy and is the National Coordinator of Voting for the Boys / Girls All-American Teams. He has been involved in the community since 2001. You can reach Clay at [email protected]