Although Kentucky Premier was created just a mere four years ago, they have quickly established a reputation as one of the nation's best travel programs. They develop individual talent that is recruited by all of the top college programs from around the country. At the same time, they consistently finish the season by competing on the summer's biggest stage at Nike Nationals. Read about the 2015 edition of Kentucky Premier.
Program Director
David Tapley
Program Headquarters
Monticello, Ky.
PeachStateBasketball.com Tournaments Attended:
#PSBPreSeason
#PSBSummerInvite
Alumni Catch-up
University of Kentucky sophomore guard Makayla Epps, who was a 2014 Kentucky Premier alum, had a break out season for coach Matthew Mitchell last year. She was named First-Team All-SEC after averaging 14.9 points per game, which led the Lady Wildcats and ranked fifth in the conference. The 2014 #McDonaldsWatch All-American scored a career high versus Mississippi State with 42 points during league play. She is an early candidate to enter the #NaismithWatch Player of the Year conversation.
Committed Players
Erin Boley (2016) – Notre Dame
Crystal Dangerfield (2016) – University of Connecticut
Ansley Eubank (2016) – Northern Kentucky
Malaka Frank (2016) – Western Kentucky University
Shelby Gibson (2016) – Ole Miss
Caroline Medford (2016) – Rollins College
Kendall Spray (2016) – UT Martin
Notable Uncommitted Players
I'liyah Green (2016) – No. 83 in #PNElite100
Krystalline McCune (2016) – No. 75 in #PNElite100
Samantha Fitzgerald (2016)
Season Highlights from David Tapley:
When asked about the 2015 season coach Tapley responded, "This year was awesome. It was the best to date. Our program improved dramatically from top to bottom."
By the numbers #GoGreen had 130 individuals on 11 teams compete at exposure tournaments and events this season. The depth of Tapley's group could be seen by multiple teams winning championships at various tournaments. In addition, the program's EYBL team qualified for Nike Nationals in North Augusta, S.C., at the conclusion of the circuit.
Individual Standouts
In addition to the growth of the program as a group, the achievements of individuals from the group continue to be noteworthy. Class of 2016 point guard Crystal Dangerfield of Murfreesboro, Tenn., is seen as the nation's top guard prospect nationally. She is currently the No. 2 prospect in the #PNElite100. The 5-foot-6 prospect gave her verbal commitment to coach Geno Auriemma and the University of Connecticut last fall. Dangerfield also helped USA Basketball win a Gold Medal in the FIBA U19 World Championships in July. Dangerfield enters the school year as a #McDonaldsWatch All-American and #NaismithWatch Player of the Year candidate.
Alongside of Dangerfield in accolades and production was Erin Boley of Hogensville, Ky. Tapley says, "Boley transformed into the player that we always knew that could be this year."
The 6-2 Notre Dame commit elevated her play so much that she is now considered a top five player nationally. Her dominating play at the #PSBSumerInvite argument persuasive essay solidified her reputation as a #NaismithWatch Player of the Year and #McDonaldsWatch All-American candidate for the upcoming high school season. Boley also competed on the USA 3×3 team where she won a silver medal in June.
The Premier program had several other individuals who earned college scholarships to play at the next level this season. Class of 2016 guard Ansley Eubank of Tenn., developed her reputation as a high energy glue player and is headed to Northern Kentucky. Eubank's high school teammate Shelby Gibson, made one of the biggest jumps of any post nationally and will play at Ole Miss. She is currently ranked No. 87 in the #PNElite100. Malaka Frank of Ky., added important backcourt depth for coach Jarred Parmely this season. She is headed to play at Western Kentucky in the 2016-2017 season. Another player who made big strides within the past nine months is Kendall Spray of Mt. Juliet, Tenn. The 5-7 shooting guard earned the reputation as one of Middle Tennessee's top shooters and is headed to UT-Martin to play for coach Kevin McMilan.
Tapley still has three notable players uncommitted who have garnered a number of scholarship offers at this moment. Krystalline McCune of Louisville, Ky., is one of the nation's most pursued available post players. The 6-4 center is currently ranked No. 75 nationally. Alongside of McCune is I'liyah Green of Louisville, Ky., who also garners the attention of college coaches from around the nation. A player that has steadily built a solid reputation while wearing a Premier jersey is Samantha Fitzgerald of Science Hill, algebra homework help Ky. The 6-foot forward recently gained the attention of a SEC school while having several other offers in her possession.
Next Up
Tapley attributed a good portion of this year's success to the maturation of two players in the class of 2018. "With Mykassa Robinson and Grace Berger playing with our EYBL team made this year a lot of fun. They are talented kids who played into their potential this season."
Point guard Mykassa Robinson of Catlettsburg, Ky., is currently ranked No. 10 in the #PNElite25. The talented and athletic freshman handled the majority of the ball handling duties for the 16U EYBL team this year. Alongside of Robinson is wing Grace Berger of Louisville, Ky., who has a No. 20 ranking in the class. The long-armed prospect is versatile in that she can make shots from the perimeter as well as having the potential to be a lock-down defender on the wing.
Tapley also sang the praises of Lindsey Duvall of Mt. Washington, Ky., a 5-11 wing shooting specialist. He says, "She made the biggest jump in terms of production from the beginning to end. She made plays for us in big spots all year long."
Tapley also made it a point to mention two role players who are primed to take bigger roles next year. Maddie Waldrop of Murray, Ky., is hard-working forward who has athleticism and length. Whereas Allison Niece of Indepence, Ky., is a skilled point guard who provided energy and effort while algebra help free online coming off the bench for the EYBL team. As Tapley says, "I expect both of these kids to play big minutes for us next year. They have the talent to produce tremendously."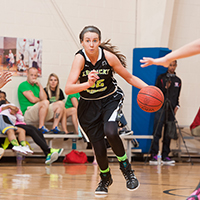 Two players who are poised to take the spots on the 16U EYBL team next season are class of 2017 point guard Seygan Robins of Harrodsburg, Ky., and Blair Green of Middlesboro, Ky. Robins is a steady ball handler who makes plays through fundamentals and effort. Whereas Green is one of the most skilled wing-forwards in the class of 2018. Green, at 6-foot, has versatility to score both inside and out. Tapley says, "Expect these two to be the topic of recruiting conversations in the upcoming year."
The Future
The talent continues to be lined up for Kentucky Premier as Tapley and his coaches have already identified the top talent in the state. Tapley points to class of 2020 prospects Kennedi Igo and Destinee Marshall as two players he expects to be around for a while. With a proven track record of development and success, expect to see #GoGreen often on social media.
ProspectsNationTV CLASSIC: Kentucky Premier EYBL versus Team Elite EYBL from the #PSBPreSeason

Media Exposure / Showcase Opportunities 



Jonathan Hemingway is the Assistant Director of Scouting for the JumpOffPlus.com International Scouting Report, is on the Naismith Trophy Board of Selectors and owns CoachHemi.com, the go-to source for coaches for X's and O's.  He is the floor director of #TeamEBA camps, a site director for #TeamPSB tournaments and can be reached at [email protected].