---
With over 20,000 collective followers on our team's social media outlets, we're in a unique position to assist with both creating awareness of a prospect's skill set and recent on-floor performance. From crisp recruiting updates to updated in-season stats to a potential last-minute change in schedule that needs to be conveyed socially, this package allows the player to control the information available to the public about their game.
Become an #SMPMember: Click the Logo Below

---
The Georgia Pearls are an organization that takes the long view of developing a basketball player. While some programs find success in focusing on picking up players in high school for a year or two, the Pearls begin developing players as young as fourth grade. Program director Darlene Norris says, "We are all about the kids. We are not into the politics of adults. Developing players on and off the court while helping kids get exposure is what we are about."
Program Director

Darlene Norris
Program Headquarters
Morrow, Georgia
Official Twitter
PSB Tournaments Attended:
#PSBSpringShowdown
#PSBTipOffClassic
#PSBMayDay
#PSBEndoftheRoad
Committed 2017 Players

Da'ja Green – Wofford
2017 Prospects Receiving Interest
Keleah Davis (Spalding)
Katrice Jackson (Newnan HS)
Tierra Ruffin
Returning 2018 Players
Amaya Baker (Union Grove)
Zaria Bankston (Luella)
Kayla Brown (Lovejoy)
Kennedy Hansberry (Westlake)
Iyanna McMillian (Arabian Mountain)
Returning 2019 Players

Chardae Bell (Mays)
Sayah Brooks (Douglas County)
Janae Potter (Woodland)
J'Auana Robinson (Lovejoy)
Paris Thompson (Sandy Creek)
Anastasia Warren (Westlake)
Returning 2020 Players
Daija Powell
Jasmine Jacob
Doretha Ruffin
Christina Walker
Coach Norris on the Benefits of Playing in PSB Tourneys
"The Georgia Pearls have played in PSB tournaments from the beginning…back when Brandon was coaching teams. What I appreciated back then, and is still true today, is Brandon's passion for helping girls get to the next level. He is always a phone call away from helping any of our girls. We were honored when he reached out to us to become a part of the PSB Family. This is our 15th season traveling on a national level. The fact that we are connected with an organization that is so well established within in the community is very important to us. The word that comes to mind when I think about Peach State is professionalism. That goes a long way for us in deciding where we are going to spend our money. We know that we are going to be treated the right way."
Brandon Clay on the Georgia Pearls
"By focusing on developing local, home grown talent, the Georgia Pearls have taken the road less traveled to success given the dynamics of today's club circuit. Program Director Darlene Norris still stands on the sidelines coaching multiple teams and influencing the next generation of players, coaches and teachers in the process. Her willingness to teach the game has made her a staple of the PSB Family for years dating back to the late 2000's. Annually, the Pearls produce double digit alumni who head off to play at the collegiate level with players ranging in the upper echelon of Division One play to Division Three and junior college homes. Norris' commitment to developing skill sets at an early age sets the bar high for the elementary and middle school aged players in the program and that has made all the difference."
#PSBEndOfTheRoad @GA_pearls win the @VinceSmithPSB bracket championship game. pic.twitter.com/Z2rlcaShA8

— AdrianPenlandBBall (@AP_BBall) September 25, 2016
#PSBEndOfTheRoad
Stock-Risers from the #PSBFamily @GA_pearls
6′ PF Raina Johnson 2017
6-2 C Katrice Jackson 2017 (@__kat_rice) pic.twitter.com/Ui7RBP4XmY

— Jonathan Hemingway (@JLHemingwayPSB) September 24, 2016
.@BrandonClayPSB watched Abi Hall of @GA_pearls play vs AL Southern Starz. Impressed w/ her progress. pic.twitter.com/kFoCbDy5GN

— #SMPMember Program (@SMPMemberPSB) September 24, 2016
College coaches | Media coverage@TeamElitebball @ChozCoachMo @GA_pearls

Day One Video Recap: https://t.co/LOfneNJ8ZZ

— Brandon Clay (@BrandonClayPSB) April 17, 2016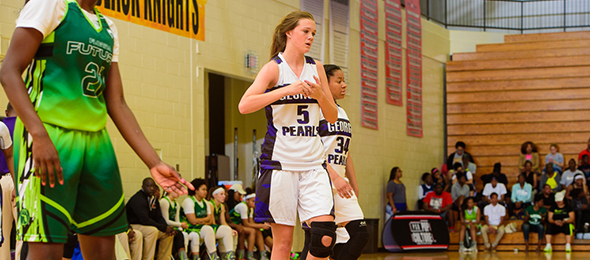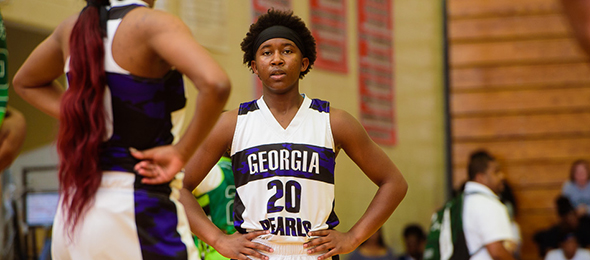 Jonathan Hemingway is the Assistant Director of Scouting for the JumpOffPlus.com International Scouting Report, is on the Naismith Trophy Board of Selectors and owns CoachHemi.com, the go-to source for coaches for X's and O's.  He is the floor director of #TeamEBA camps, a site director for #TeamPSB tournaments and can be reached at [email protected].