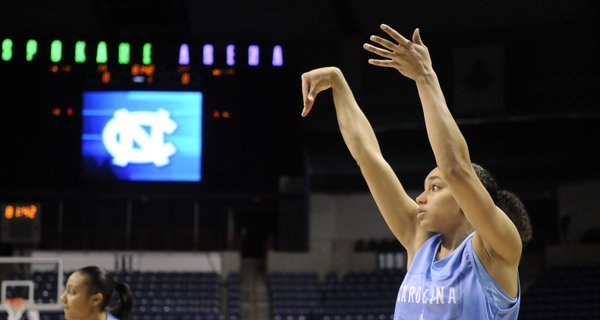 Atlanta, GA – The JumpOffPlus.com Evaluation Camp was modeled after similar events to give prospects a true reading of where they stand in their development right now. The first installment of the Camp Recap features half of the 2009/2010 graduates that were on hand.
As written by Brandon Clay in April 2009
Follow @BrandonClayPSB

#00 – Toni Butler – South Gwinnett HS/Snellville, GA – 5'4" – PG – 2010
Butler has a slight frame but a solid skill set. She hit a couple of jumpers and right now is more of a shooter than a distributor. She'll have to work on her ability to handle the ball in traffic to play at the next level. Small college prospect.
#3 – Danielle Pasquerello – Milton HS/Alpharetta, GA – 5'4" – PG – 2009
Danielle is a slender built, dead-eye shooter with range to 22 feet. She plays the game the way it is supposed to be played with a motor that never stops running on either end. Her handle is solid but that should be a point of emphasis in her development this off-season. Her lack of size might be a concern but she can play. Division II/NAIA prospect.
#13 – Alyssa Strickland – Dutchtown HS/Hampton, GA – 5'5" – CG – 2010
Blessed with quick hands, Strickland is a thief on the defensive end. She is a spot shooter with the skill to hit the midrange or the 3. Her biggest strength is her communication on the floor. She's a natural leader. Her off the dribble game and point guard skill should be the focus of her spring/summer workouts. Low Division I/II/NAIA prospect.
#14 – Desiree Scott – Rome HS/Rome, GA – 5'7" – SG – 2010
Scott hit a couple of threes early and has good size for a smaller school two guard. She created a shot off make a research paper the dribble although that didn't seem to be what she does best – which is shooting the spot jumper. Her off-season focus should be recognizing the personnel around her and making the right read each time she gets the ball. Small college prospect.
#15 – Chanee Carson – Buford HS/Buford, GA – 5'6" – SG – 2009
The left handed off guard is quick and athletic. Carson likes to put the ball on the floor to create for herself and her teammates. She is not comfortable shooting the ball off the catch but will use the pump fake to get defenders in the air. Chanee is also a good on ball defender. Committed to Brewton Parker (NAIA) this weekend.
#19 – Brittany Strickland – Dutchtown HS/Hampton, GA – 5'6" – PG – 2009
Strickland is a solid point who, like her twin sister Alyssa, is a natural leader. Unlike Alyssa, Brittany is a true floor general at the 1. She can handle, get in the lane off the bounce and makes everyone on the floor better. She'll have to develop the range on jumper in order to move up due to her size. Low to mid major Division One prospect.
#24 – Jessica Harper – Flowery Branch HS/Flowery Branch, GA – 5'7" – SG – 2010
Harper's a lefty who can shoot the basketball. She likes to run to the wing to get her feet ready for the catch and shoot opportunity. Although she does that well, her progression will depend on her ability to defend on the ball as well as create some space with a one-dribble pull-up and/or a step back jumper. Small college prospect.
#26 – Heather Finnell – Cleveland HS/Cleveland, TN – 5'7" – SG – 2010
Finnell has improved since I since her at a camp last fall. She's got a good build for an off guard and has really done a nice job of developing a consistent midrange jumper to her game. order an essay online cheap Heather's three pointer looked like she's been in the gym as well. The next step in her progression would appear to be adding the ability to create some space or learning how to become a great shooter on the move off of screens. With a 27 ACT score already, she's a definite Division II/NAIA prospect.
#27 – Tia Williams – Mill Creek HS/Hoschton, GA – 5'7" – SG – 2009
A quick, slender built combo type guard, Williams would be a nice late addition to a smaller school roster. She has the ability to play on or off the ball although she's better off of it right now. Williams has shown the skill the knock down the open jumper and attack the basket. If she adds a midrange jumper, then she's good to go. Division II/NAIA prospect.
#28 – Nicole Rosanwo – South Forsyth HS/Cumming, GA – 5'8" – CG – 2010
I've watched Nicole play since she was a middle school prospect. She has taken her game to another level as she is beginning to convert drill workouts to game speed moves. She athletic and skilled at the same time. As an honor roll student, she is smart on the floor. Rosanwo could benefit from getting stronger this off-season. Low major Division One to Division II/NAIA prospect.
#30 – Kelsey Turchi – West Forsyth HS/Cumming, GA – 6'0" – SF – 2010
Turchi brings nice height and length to the wing. She showed flashes of being really good with the ball mainly going to her right. If she'll get stronger and continue to work on going left, she still has plenty of time to grow in her last spring/summer on the circuit. Added strength would give her game another dimension as well. Division II/NAIA prospect.
#32 Krista Gross – Cannon School/Charlotte, NC – 6'0" – SF – 2009
The WBCA All-American showed why she's got the potential to standout early in her North Carolina career scoring from all over introductions to research papers the floor. She's got a great frame and build with the athleticism to match. Gross will have to tighten her footwork and her handle to score consistently in the ACC.
#33 – Monique Weathers – Mill Creek HS/Hoschton, GA – 5'9" – SF – 2009
The consummate team player, Weathers has become a skilled wing over the past two years. She'll do whatever it takes to win whether it's guarding the point, post or anyone in between. Her standstill jumper has developed out to 20 feet. She'll have to continue to work on her handle in the halfcourt. A 1,000 plus SAT kid, she's a Division II/III/NAIA player.
#34 Abria Trice – Dutchtown HS/Hampton, GA – 6'0" – SF – 2010
Trice is a long, lean 3/4 player. In transition, she gets up and down quickly and can guard either perimeter or posts. Offensively, Trice is probably at her best right now in the midrange though she showed the ability to hit the three. It's just not her strong suit. If she adds that to go with increased strength, it will really open her options at the next level. Low major Division One to Division II/NAIA prospect.
#36 – Madison Lee – McMinn Central/Athens, TN – 5'9" – SG – 2010
One of the better shooters I've seen in a while. Her older sister, Fallon, played at both Georgia Southern and Lee University. She actually doesn't shoot the ball enough. Her skill set reminds me of Jordan Jones (Univ. of Florida redshirt freshman). If she developed that great shooter mentality, she'd take herself up a level in her projection. Low major Division I/Division II/NAIA prospect.
#42 – Alexis Taylor – Stockbridge HS/Stockbridge, GA – 5'11" – SF – 2009
Taylor made one of the day's best passes on the break. She also showed consistency on her midrange jumper as well. Alexis mixed it up underneath as well. Her growth will come with added confidence in her ball ptsd research paper handling. Small school prospect.
#45 – Taylor Hall – Morristown West/Knoxville, TN – 6'0" – SF – 2010
Hall was the best prospect in the camp with remaining high school eligibility. She's strong but still moves like a wing. She came down a day early and got in an extra workout Saturday night with Gross matching her shot for shot in the drills. Taylor has a 4.0 GPA with a 27 ACT and seems like a Vanderbilt type of recruit. She'll have to keep improving her ability to create space to score. Top level mid to high major Division One.
#46 – Jayla Moon – West Hall HS/Gainesville, GA – 5'10" – PF – 2009
Moon was working very hard inside the post group that I was working with at the start of camp. She's a warrior underneath and her skill should continue to develop with time plus consistent reps each day in practice. Her game is still a little raw but her touch is good around the bucket. Division II/NAIA prospect.
#48 – Theresa (TJ) Howell – South Forsyth HS/Cumming, GA – 6'2" – C – 2010
TJ has good size and a legit college post frame/height. She plays hard on both ends. She'll have to continue to develop her skill around the basket with footwork drills but she improved during the drills so I imagine that her upside is bigger than just a three-hour camp. Low Division I/II/NAIA prospect.
Brandon Clay is the publisher of the JumpOffPlus.com and the owner of Peach State Basketball, Inc. The service is picked up by more than 150 colleges and universities nationwide. He serves as the Executive Camp Director for the EBA All-American, Fab Five and Super 64 Camps. In addition, he serves as a national recruiting analyst for ESPNHoopgurlz and a contributor to SLAM Magazine. Clay has been involved in the community since 2001 as an evaluator, event operator and trainer. You can reach him at BrandonClay@PeachStateBasketball.com or follow him on Twitter @BrandonClayPSB