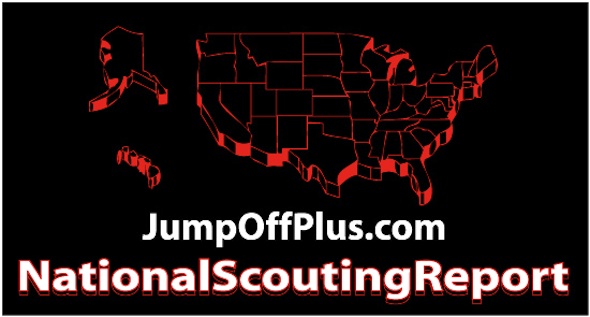 SAN ANTONIO, Texas – Ray Caldwell of She's Ballin' was able to get players together from several organizations for a chance to play in front of the JumpOffPlus.com staff. Over 60 of the area's top players came out for our staff to see them in person. Here's a look at some players who earned Elite Basketball Academy Super 64 Camp invites with their play during the event.
I really like Brooke Allemand from Fair Oaks Ranch. She's already committed to New Mexico and it's easy to see why the Lobos were hard pressed for the junior point guard to commit before hitting the summer circuit. Armed with a slick handle, supreme confidence and a smooth first step, she's a Top 50 caliber kid nationally at her position. Here's a recent ESPN article: Brooke Allemand Chooses New Mexico
JaQuan Jackson from Harker Heights was a fresh, new name for us. A smooth point guard, Jackson is the type of kid that our staff is always looking to find: a talented kid needing an opportunity to get her name out to the masses. She has some college interest already including an offer from Kansas.
There was a lot of quality post play on hand. Sophomore post Avery Queen of Boerne reminds me of Marist signee Delaney Hollenbeck. She moves well, has a great work ethic on both ends and a nice touch around the basket.
Cibolo's Kyra Lambert is a name to keep an eye on. She's an athletic freshman guard who makes an impact on the offensive and defensive ends of the floor.
Can't say enough about Recee' Caldwell of San Antonio. The talented sophomore guard is ranked No. 8 in the class of 2014 ESPNU HoopGurlz Terrific 25. She was resting her body after a long high school season but was still up bright and early to help with the event. She'll be on hand at USA Basketball 17-and-under trials after making the 16U team last year. Here's a link to her ESPN eval: Recee Caldwell ESPN Profile
Brandon Clay is the publisher of the JumpOffPlus.com and the owner of Peach State Basketball, Inc. The service is picked up by more than 150 colleges and universities nationwide. He serves as the Executive Camp Director for the EBA All-American, Fab Five and Super 64 Camps. In addition, he serves as a national recruiting analyst for ESPNHoopgurlz and a contributor to SLAM Magazine. Clay has been involved in the community since 2001 as an evaluator, event operator and trainer. You can reach him at BrandonClay@PeachStateBasketball.com or follow him on Twitter @BrandonClayPSB