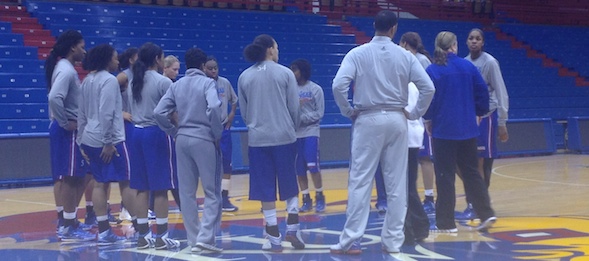 LAWRENCE, Kansas – The Kansas Jayhawks and coach Bonnie Henrickson have essay writing in english my favourite teacher had success with back-to-back Sweet Sixteen appearances in 2012 and 2013. Today, they will face Big 12 opponent Baylor inside the Allen Fieldhouse. We'll have our thoughts from the game here:
FIRST HALF
20:00 – Nice crowd here today as over 6,000 people have filed into the Fieldhouse for the marquee opponent and possible National Player of the Year Odyssey Sims.
17:00 – Kansas has struggled a little early finding a rhythm. Fr. Guard Dakota Gonzalez gets a nice basket early from 15 feet. Baylor leads it 8 to 2.
15:10 – Jr. Forward Chelsea Gardner gets it rolling with a nice bucket. In the process, the Jayhawks slow down Baylor's early flow. 8 to 4 Baylor.
13:15 – Baylor gets going and enter Gardner again with a basket to try swinging the momentum. 15 to 6 Bears.
12:22 – Sr. Guard CeCe Harper knocks down a 15 foot jump shot in transition making it 15 to 8.
11:15 – Gardner knocks down a 12 foot face up jump shot off the assist from Jr. Guard Asia Boyd and it's 15 to 10. Boyd's former Team Detroit club coach, R.J. Eddie, is in the house today.
10:06 – Jr. Guard Natalie Knight steals the ball and drive the length of the gun rights essay court for a finish at the rim. 15 to 12 Baylor's way.
8:00 – Gardner is making her presence felt here early with another basket to keep Kansas rolling on offense. 19 to 14.
5:58 – Sims has been rolling with 16 early but Gonzalez steps to the line and gets it back to a 10 point game at 25 to 15.
5:20 – Gardner answers again with a 3-point play the hard way. Her play has been crucial to stemming Sims tide early. She has 11 of Kansas 18 points.
3:31 – Knight scores in around the rim once again cutting the Baylor lead to five at 25 to 20.
2:30 – Knight with a crafty right hand on left side finish against a Baylor defender makes it 27 to 22.
1:30 – Knight one more time with a 3-pointer. 30 to 25 Baylor.
1:05 – Gardner scores the next trip down to make it 30 to 27. This place is ELECTRIC!
:24 – Fr. Guard Keyla Morgan knocks down two free throws and it's a one point game at 30 to 29.
:12 – Boyd makes both free throws and Kansas is up 31 to 30. This place just got even louder!
HALFTIME SCORE: Baylor 32 – 31
SECOND HALF
19:25 paper writing service – Gardner starts the second half scoring for the Jayhawks with a finish making it 34 to 33 Baylor.
15:53 – Knight gives the Jayhawks their first lead of the game at 38 to 37.
14:20 – Gardner back at it. 40 to 39 in favor of the home team.
13:35 – So. Guard Lamaria Cole with a basket to make it 42 to 39.
12:51 – Gardner is clicking on all cylinders inside the paint today as Kansas regains a 44 to 43 lead on a soft right-hand half hook.
11:40 – Boyd makes two free throws as Kansas regains the lead at 46 to 45.
10:49 – It's back and forth here as Gardner makes two free throws of her own to put Kansas back ahead at 48 to 47.
10:09 – Boyd with a 3-pointer and follows it with a layup in traffic giving Kansas a little wiggle room at 53 to 47.
8:55 – Fr. Caelynn Manning-Allen finishes a shot right at the rim. 55 to 48 Kansas.
8:37 – Knight makes a shot and it is 57 to 50 Kansas.
8:12 – Baylor coach Kim Mulkey gets assessed a technical foul. Knight steps to the line and makes both free throws. Morgan was sent to the line on the call hamlet essay that Mulkey was so upset about and adds one more. 60 to 52 Kansas.
5:49 – Gardner hits one free throw to make this a 61 to 54 Jayhawk advantage.
5:10 – Harper with a finish in the open floor. 63 to 56.
4:51 – Gardner with another soft hook in the lane. 65 to 56 over Baylor.
3:59 – Knight finishes again in the open floor. 69 to 58 Kansas.
2:58 – Knight with two free throws to stretch this out to 71 to 58.
2:43 – Harper right back with two more from the charity stripe. This one is looking good for the Jayhawks at 73 to 58.
2:07 – Harper has been clutch from the line. 74 to 58 lead for the home team.
:36 – Gardner puts the final nail in this one with a basket. She has 28 on the night.
FINAL SCORE: Kansas 76 – 60

Brandon Clay is the owner of the JumpOffPlus.com International Report, Peach State Basketball, Inc., and ProspectsNation.com. The JumpOffPlus.com is picked up by more than 200 colleges and universities nationwide. He serves as the Executive Camp Director for the Elite Basketball Academy Camps. Clay has been involved in the community since 2001. You can reach him at [email protected]