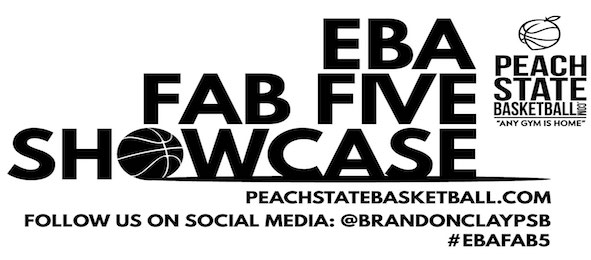 The Elite Basketball Academy EBAFab5 Middle School Showcase is a great opportunity for the premier up-and-coming prospects to put themselves on the PeachStateBasketball.com radar at an early age. Peach State Basketball owner Brandon Clay will serve as the Executive Director for this event.
---
With over 40,000 collective followers on our team's social media outlets, we're in a unique position to assist with both creating awareness of a prospect's skill set and recent on-floor performance. From crisp recruiting updates to updated in-season stats to a potential last-minute change in schedule that needs to be conveyed socially, this package allows the player to control the information available to the public about their game.
Become an #SMPMember: Click the Logo Below

---
Learn All About Our Camp Series & Vision:
---
Online Registration can be found here:
EBAFab5 Boys Middle School Showcase Online Registration
Why Attend the #EBAFab5 Showcase???
1) Receive maximum exposure: This is an ideal chance for middle school prospects to take full advantage of the stage the Elite Basketball Academy staff provides. All camp teams will receive an team writeup with each player receiving an individual evaluation inside that writeup posted within two to three weeks of the conclusion of camp.
2) Elevate your game: Have the chance to interact with our staff and learn about what it takes to be successful at the next level. We service over 100 colleges and universities annually with our evaluations ranging in level of play from Duke and UConn to Emory and Oglethorpe.
3) Train, compete and achieve: Our EBAFab5 Camp will bring some the country's top prospects together to work compete and train with a facility full of high level prospects in front of the BrandonClayScouting.com evaluation staff.
4) Be seen: We send out over 10,000 social posts on an annual basis and serve on the NaismithTrophy.com National Player of the Year / All-American Team Selection Committees.
---
Age Groups: 6th Grade – 8th Grade
Approximate Event Schedule:
Sunday
11:30 am – Check In / Pictures
12:00 pm – Welcome / Individual Skill Instruction
1:00 pm – Half Court Skill / Game Play
1:30 pm – Full Court Play
2:45 pm – Dismissal
Social Media Hashtag: #EBAFab5
Facility: Discovery High School – 1335 Old Norcross Rd Lawrenceville, Ga.
---
2017 #EBAFab5 Showcase Participants:
Jordan Adams – Grissom (IN) – 2024
Dejuan Allen – North Cobb Christian (GA) – 2023
Owen Beesley – Walhalla (SC) – 2023
Caleb Blackwell – Buford (GA) – 2022
Noah Enoch – Richmond Hill (GA) – 2023
Cameron Flowers – Huntington (GA) – 2024
Seth Hubbard – St. Francis (GA) – 2022
Malachi Jackson – Feagin Mill (GA) – 2024
Ricardo Jones – Northside (GA) – 2020
Camryn Perkins – Mossy Creek (GA) – 2024
Khalil Quinn – Feagin Mill (GA) – 2023
Jeremiah Sanders – Richmond Hill (GA) – 2023
Jaylon Taylor – Buford (GA) – 2022
Terrique Webb – Seneca (SC) – 2022