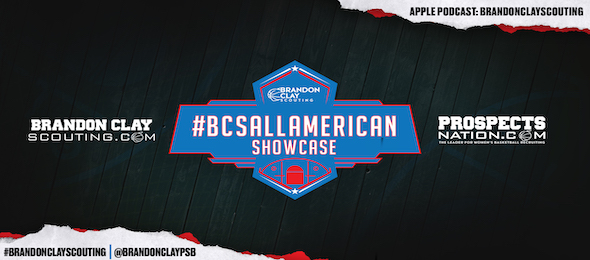 The Brandon Clay Scouting All-American Middle School Showcase is a great opportunity for the premier up-and-coming prospects to put themselves on the PeachStateBasketball.com radar at an early age. Peach State Basketball owner Brandon Clay will serve as the Executive Director for this event.
---
With over 60,000 collective followers on our team's social media outlets, we're in a unique position to assist with both creating awareness of a prospect's skill set and recent on-floor performance. From crisp recruiting updates to updated in-season stats to a potential last-minute change in schedule that needs to be conveyed socially, this package allows the player to control the information available to the public about their game.
---
Online Registration can be found here:
Directions to PAY and register  
1. If you are an existing user click here for registration: #BCSTrainingAcademy EXISTING Athlete Registration
2. If you are a new user, click 'New User' click here for registration: #BCSTrainingAcademy NEW Athlete Registration
*Creating an account will allow you to register for multiple events, without having to fill out multiple registration forms.
Why Attend the #BCSAllAmerican Showcase???
1) Receive maximum exposure: This is an ideal chance for middle school prospects to take full advantage of the stage the Brandon Clay Scouting staff provides. All camp teams will receive an team writeup with each player receiving an individual evaluation inside that writeup posted within six to eight weeks of the conclusion of camp.
2) Elevate your game: Have the chance to interact with our staff and learn about what it takes to be successful at the next level. We service over 100 colleges and universities annually with our evaluations ranging in level of play from Baylor and Oregon to Emory and Oglethorpe.
3) Train, compete and achieve: Our BCSAllAmerican Training Academy will bring some the country's top prospects together to work compete and train with a facility full of high level prospects in front of the BrandonClayScouting.com evaluation staff.
4) Be seen: We send out over 10,000 social posts on an annual basis.
---
Age Groups: 6th Grade – 8th Grade
BrandonClayTV Feature Player Video Voiceover ($150 Optional Add-On)
***Approximately :45 highlight clip using video from the event. Available for an additional $150 per camper with a voiceover from Brandon Clay. Takes 8-10 weeks post camp for highlights to be posted to ProspectsNation.com Player Card.
Group Spotlight Shooting Workout with Brandon Clay ($99.99 Optional Add-On)
55-minute shooting session with Brandon Clay and a personal evaluation from him after the showcase concludes
***Before the first session of the showcase on Saturday
Confirmed Players
***Maximum of sixteen players per small group. Groups / session times will be assigned the week of the showcase. Sessions will begin as early as 2:00 pm on Saturday. Please plan accordingly with travel logistics.

Why Attend the Spotlight Workout with Brandon Clay (Video Look & a Sample Eval)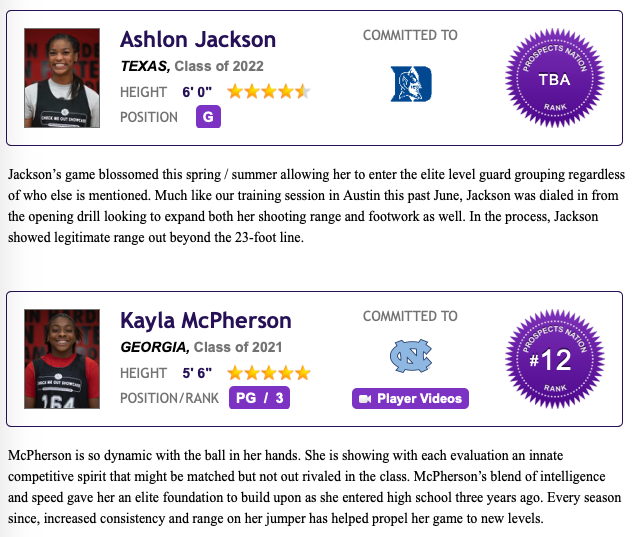 BCSAllAmerican Showcase Confirmed Campers
***All campers need to bring their own basketball.
Courtney Bray – Warren County High School(Warrenton, GA) – 2026 (Spotlight Session)
Trista Charles – Oak Grove Middle School(Winston-Salem, NC) – 2025
Reece Davis – Deshler High School (Tuscumbia, AL) – 2027 (Spotlight Session)
Adison Howard – North Cumberland (Crossville, TN) – 2025 (Spotlight Session)
Adelaide Jernigan – Summit School(Winston Salem, NC) – 2025 (Spotlight Session) (BrandonClayTV Video Eval)
Madison Kocis – Chatham Middle School (Chatham, NJ) – 2026 (Spotlight Session) (Lugardo Photography Package)
Kiana McDaniel – Cass Middle School (Cartersville, GA) – 2025 (Lugardo Photography Package)
Addi Petitt – Loganville Christian Academy (Loganville, GA) – 2025
Annie Preist – Farragut Middle School (Knoxville, TN) – 2025
Gabby Spink – Gibson Southern High School (Fort Branch, IN) – 2025 (Spotlight Session)
Colie Thompson – Jacksboro Middle School (Jacksboro, TN) – 2026 (Spotlight Session) 

---
Approximate Event Schedule:
Saturday – High Intensity Skill Development (optional, included in fees)
1:00 pm – Underclass Spotlight Shooting Session with Brandon Clay
***To register for this option, email Brandon directly
2:00 pm – Check In for all campers
***All campers need to bring their own basketball.
2:30 pm – High Intensity Skill Development
3:45 pm – Competition / Half Court Concepts
4:45 pm – Dismissal
Sunday
Combined Session
8:30 am – Check In / Pictures
9:00 am – Welcome / Individual Skill Instruction
10:00 am – Half Court Skill / Game Play
10:45 am – Full Court Play
11:30 pm – Dismissal
---
Social Media Hashtag: #BCSTrainingAcademy
Facility: International Sports Arena – 
---
Hotel Blocks
---