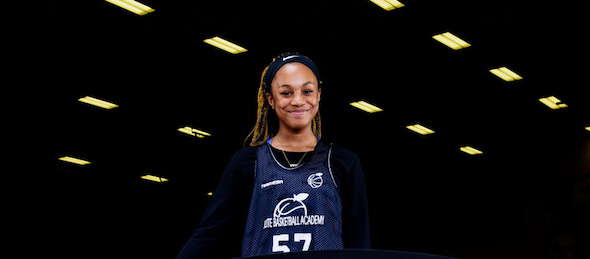 Vitals:
Name: Audrey Bilodeau
Height: 5'8"
HS Grad Year: 2025
Position: PG / SG
School / Hometown: Greely HS (North Yarmouth, Maine)
Player Evaluations:
Date: October 2020
Location: Brandon Clay Training Academy (Rhode Island)
Evaluator: Brandon Clay
Since training with our staff in February, Bilodeau is making strides and progress at the rate we'd have imagined. She's been working weekly on her game with the aforementioned Smith, who serves as our National Director of Player Development. Her skill set looks like she's been focused on high level reps. Bilodeau's footwork and jump shot look good. A lot of the next 12 months will be tied to her continuing to do what she's doing.
Date: February 2020
Location: BCSAllAmerican Middle School Academy
Evaluator: Brandon Clay
There's a world of potential in Bilodeau's game. Our National Skills Director, Sean "Sticks" Smith" had seen Bilodeau back home in Maine earlier in the week and was impressed. She's a big guard with the ability to make a shot already.
Date: February 2020
Location: BCSAllAmerican Middle School Academy
Evaluator: Jonathan Hemingway
Bilodeau is a guard with ideal size and athleticism for a back-court player. Her jump shot looks polished already. She has put time into perfecting her skill at an early age. Her size and footwork should allow to be able to defend and play multiple positions on the court, giving her future coaches the versatility that is so desired in today's game. The danger that Bilodeau will want to avoid is becoming exclusively a jump shooter. During 5 v 5 game play it appeared that she settled at times for jumpers rather than attacking and getting shots in the lane. If Bilodeau is dedicated to becoming a well-rounded player, there is really no predicting how high her potential is within the next 4-5 years.
Social Media Updates: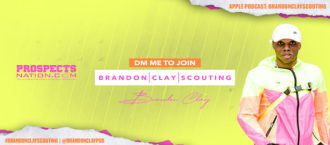 Brandon Clay is the owner of the BrandonClayScouting.com Report, Peach State Basketball, Inc., and ProspectsNation.com. BrandonClayScouting.com is utilized by more than 200 colleges and universities nationwide. Clay serves as the Executive Camp Director for the BrandonClayScouting.com National Training Academies. He is a McDonald's All-American Game Selection Committee member. Clay serves on the Naismith Trophy Men's / Women's College Player of the Year Academy and is the National Coordinator of Voting for the Boys / Girls All-American Teams. He has been involved in the community since 2001. You can reach Clay at [email protected]