---
With over 20,000 collective followers on our team's social media outlets, we're in a unique position to assist with both creating awareness of a prospect's skill set and recent on-floor performance. From crisp recruiting updates to updated in-season stats to a potential last-minute change in schedule that needs to be conveyed socially, this package allows the player to control the information available to the public about their game.
Become an #SMPMember: Click the Logo Below

---
Justin Fleming
Height: 5'11"
Grad Year / Position: 2019 – Point Guard
School / Hometown: Grayson HS (Grayson, Ga.)
Committed College: Undecided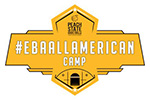 Date: October 16, 2016
Evaluator: Jonathan Hemingway
Location: #EBAAllAmerican
Fleming showed combo-guard skills at the camp. He is a smooth slaser who can get downhill to finish at the rim. His stick and go move is tough for defenders to handle, because he can go either direction with effectiveness. Learning to make quicker, more decisive decisions will help become a more consistent play maker.
@SUVtv Video of Fleming Wearing 289 white
Media Exposure / Showcase Opportunities 



Jonathan Hemingway is a National Evaluator for the OTRHoopsReport. Hemingway serves on the Board of Selectors for the Naismith Trophy. also He is also the publisher of CoachHemi.com. He has been involved in the community since 1996 as a coach, camp director and evaluator. You can reach him via email at [email protected] and follow him on Twitter @JLHemingwayPSB