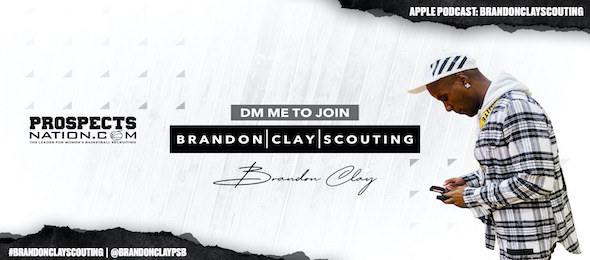 Our BrandonClayScouting.com Team coverage calendar includes travel to over 25 states annually with 500,000 plus travel miles logged between our team of evaluators.
We serve on both the McDonald's All-American Selection Committees and the NaismithTrophy.com Player of the Year / All-American Team Committees.
Whether it is commentating games, evaluating prep prospects or discussing our thoughts about the game on ALL levels, BrandonClayScouting.com is THE SOURCE for players to showcase themselves to college coaches for potential scholarship offers.
This page will keep you locked in to where we've been, who is hot in the game and where we are headed in the near future.
Social Media Comments and Questions: #AskBClay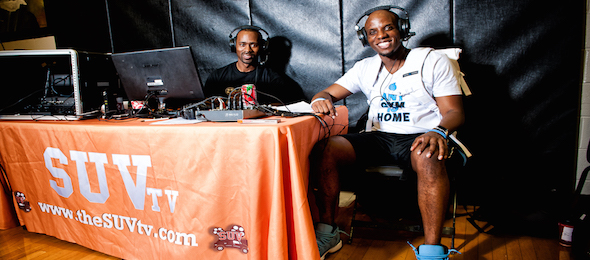 Game Broadcast: Gainesville vs. St. Francis
Date: November 24, 2015
Analysts: Brandon Clay and Joel Hillsman
Game Broadcast: North Gwinnett vs Dacula
Date: November 24, 2015
Analysts: Brandon Clay and Joel Hillsman
Game Broadcast: Duluth vs Berkmar
Date: November 24, 2015
Analysts: Brandon Clay and Joel Hillsman
Game Broadcast: Central Gwinnett vs North Gwinnett
Date: November 21, 2015
Analysts: Brandon Clay and Joel Hillsman
Game Broadcast: Peachtree Ridge vs Greenforest Christian
Date: November 21, 2015
Analysts: Brandon Clay and Joel Hillsman
Game Broadcast: Dacula vs Sequoyah
Date: November 21, 2015
Analysts: Brandon Clay and Joel Hillsman
Post Game Podcast: East Jackson vs Miller Grove
Date: November 12, 2015
Analysts: Brandon Clay and Marques Burnett
;
Game Broadcast: East Jackson vs Miller Grove
Date: November 11, 2015
Analysts: Brandon Clay and Marques Burnett
Episode Title: "Let The Season Begin"
Date: November 11, 2015
Analysts: Brandon Clay and Marques Burnett
Topics Covered (In Order):
1) Roncalli HS – Trip To Indiana: Lindsey Corsaro, Rachel Titzer
2) 3:30 mark: Jared Cook Classic Preview
3) 6:00 mark: Duke's 2016 Class, Harry Giles & Coach K's Blueprint for Success

Episode Title: "East Jackson vs Miller Grove"
Date: November 10, 2015
Analysts: Brandon Clay and Marques Burnett
Topics Covered (In Order):
1) SUVTV Game Preview: East Jackson vs Miller Grove

Episode Title: "LIVE National Coverage"
Date: October 8, 2015
Analysts: Brandon Clay and Marques Burnett
Topics Covered (In Order):
1) USA National Camp: 2016 – Harry Giles, Jayson Tatum, Josh Jackson
2) USA National Camp: 2016 – Markelle Fultz, Alterique Gilbert, Josh Langford
3) USA National Camp: 2017 – Wendall Carter, Gary Trent Jr., Jarred Vanderbilt
4) USA National Camp: Fresh Eyes on 2017 – Troy Brown Jr., Jaylen Hands, Michael Porter Jr.
5) USA National Camp: 2017 – Mohamed Bamba, Jalek Felton, Justyn Hamilton, Kevin Knox
6) USA National Camp: 2018 – Darius Garland, Tre Jones, Cameron Reddish, Robert Woodard II
7) USA National Camp: 2018 – Marvin Bagley III, Jordan Brown
8) Hillcrest Prep: DeAndre Ayton, Bagley
9) Hoopseen.com: Mike Eddy, Eric Eleton, Justin Young
10) iPhone Group Message: Corry Black, Daniel Bowles, Branden Mayweather, Shun Williams
*** Georgia HS Backcourts:
11) East Jackson: Travis Anderson, Lamont Smith, Rundown on David Boyd
12) Miller's Grove: Aaron Augustin, Alterique Gilbert, Joshua Jackmon
13) Pebblebrook: Jared Harper, Colin Sexton, JJ Smith
14) Shiloh: Greg James, Khalil Richards
15) Dacula: Derek St. Hillaire, Kevon Tucker
16) Berkmar: Zack Cooks, Al Durham,
17) Norcross: Rayshaun Hammonds, Lance Thomas
18) Follow Barry Browner @GAHoopCircle
19) St. Francis: Kobi Simmons, Anthony Showell
20) "Gucci Row" UNLV: Jaylen Fisher, Stephen Zimmerman
21) #EBATop40 Boys: Brandon Green, Kohl Roberts, Alphonso Willis & South Fulton Lions
22) #EBATop40 Girls: Endia Banks, Alexis Hall, Jordan Isaacs, Gabby Lupardus, Carolina Shock Elite

Episode Title: "Check Me Out"
Date: September 20, 2015
Analysts: Brandon Clay and Marques Burnett
Topics Covered (In Order):
1) #CheckMeOutShowcase: Sabrina Ionescu, Ace Konig, Amber Ramirez, Evina Westbrook
2) #CheckMeOutShowcase cont.: Desi Caldwell, Cydnee Kinslow, Gina Marxen, Makenna Woodfolk
3) 2017 guard Jaylen Hands to UCLA
4) UCLA Men's Outlook: Prince Ali, Aaron Holiday
5) Nicole Kornet to UCLA
6) UCLA Women's Outlook: Jordin Canada, Nirra Fields
7) Harry Giles visits Wake Forest
8) Miles Bridges visits Kentucky
9) Cassius Winston chooses Michigan State;
10) Michigan State's 2016 class: Josh Langford, Nick Ward, Winston
11) Travis Atson to Tulsa; Lamar Stevens to Penn State
12) Siyeh Frazier visits (and chooses) Penn State
13) Iggy Allen visits Ohio State; Nadia Fingall visits Oklahoma
14) #EBAFab5 Camp 2016 Grads: Jordan Lewis, Jordan Stallworth, Erin Whalen
15) #EBAFab5 Camp 2017 Grads: N'Dea Jones, Jacobi Lynn, Que Morrison, Autumn Newby, Tori Williams
16) #EBAFab5 Camp: Kaley Shipman
Episode Title: "Under One Roof"
Date: September 15, 2015
Analysts: Brandon Clay and Marques Burnett
Topics Covered (In Order):
1) USA Basketball Junior Mini-Camp Roster Release
2) Don Showalter's Record as USA Coach / USA Youth Basketball Pipeline
3) 2017: Michael Porter / Gary Trent; 2018: Javonte Smart, Connor Vanover
4) #PSBEndOfTheRoad (Cooper/Durr; British Columbia Elite, 43 Hoops)
5) Coverage (Cincy Angels, CA All Stars, Central FL Elite, Metros, Team Elite
6) Naismith Trophy 2015-16 HS Layout / Executive Director: Eric Oberman
7) Naismith Trophy HS Boys Board Additions: Alex Kline, Shun Williams
8) Take on Jeff Goodman of ESPN reacting to Shun Williams' July Heat
9) Naismith HS Girls Board Adds: Mark Lewis, Bret McCormick, Stephen Peck)
10) ProspectsNation.com 2018 ELITE60 Release: Inexact science/effort placed
11) 2018 Stock Risers: Janai Crooms, Donetta Johnson
12) 2018 5-Stars: Aquira DeCosta, Honesty Scott-Grayson, Christyn Williams
13) 2018 Guards – Grace Berger, Jenna Brown, Desi Caldwell, Ahlana Smith
14) "The New Newspaper" Social Media Promotion Package – #SMPMember
15) #SMPMember Family: Erin Boley, Garrett Gilkeson, Kristen Mayo, Haliegh Reinoehl
16) Closing Thoughts: "Under One Roof"
Episode Title: "The Crossover Movement"
Date: September 6, 2015
Analysts: Brandon Clay and Marques Burnett
Topics Covered (In Order):
1) #EBAAllAmerican 2015 Camp (Colten Kresl, Erin Boley, Kaela Davis)
2) Kobe Bryant's take on the grassroots system
3) LeBron vs. Iguodala and the 2015 NBA Finals
4) Elite Basketball Academy Pipeline (Cierra Burdick, Andraya Carter, Tiffany Mitchell, Elem Ibiam, Tori Waldner, Taya Reimer)
5) 2018 Class – Jenna Brown and Mimi Collins
6) Bell County HS (Lewis Morris, Maci Morris)
7) 2015 HS Boys Class (Jaylen Brown, Malik Newman, Ben Simmons)
8) Alterique Gilbert's All-American Game Status
9) 2018 Class – Grace Berger, Blair Green
10) South Carolina's Basketball Program (Frank Martin / Dawn Staley and Tiffany Mitchell's success)
11) Closing Thoughts

Episode Title: "USA Basketball Class of 2014 Recap"
Date: October 8, 2013
Analysts: Brandon Clay and Marques Burnett
Topics Covered (In Order):
1) James Blackmon Jr.: Defensive Specialist
2) Justin Jackson: Versatile Perimeter Play
3) Stanley Johnson: Grown Man Basketball
4) Tyus Jones: Potential One and Done PG
5) Kevin Looney: Rim Running Athlete
6) Kelly Oubre: Strong, Playmaking Wing
7) Theo Pinson: Smooth Shooting Guard
8) Myles Turner: Big Man Inside
9) Rashad Vaughn: Scoring Guard Specialist

Episode Title: "USA Basketball Class of 2016 Recap"
Date: October 8, 2013
Analysts: Brandon Clay and Marques Burnett
Topics Covered (In Order):
1) Harry Giles
2) Amir Coffey
3) Terrell Brown
4) Juwan Durham
5) De'Aaron Fox
6) Mustapha Heron
7) Josh Jackson
8) V.J. King
9) Quentin Goodin
10) Payton Pritchard
11) Kobi Simmons
12) Jayson Tatum
13) Derryck Thornton
14) Seventh Woods
Episode Title: "USA Basketball Class of 2015 Recap"
Date: October 7, 2013
Analysts: Brandon Clay and Marques Burnett
Topics Covered (In Order):
1) Thomas Bryant
2) Eric Davis
3) Henry Ellenson
4) Daniel Giddens
5) Jessie Govan
6) Chase Jeter
7) Derrick Jones
8) Doral Moore
9) Ivan Rabb
10) Horace Spencer
11) Diamond Stone
12) D.J. Williams

Brandon Clay is the owner of the Peach State Basketball, Inc., and BrandonClayScouting.com. He serves as the Executive Camp Director for the Elite Basketball Academy Camps. Clay is a McDonald's All-American Game Selection Committee member. Clay serves on the Naismith Trophy Men's / Women's College Player of the Year Academy and is the National Coordinator of Voting for the Boys / Girls All-American Teams. He has been involved in the community since 2001. You can reach Clay at [email protected]