Jaylen Brown – (Marietta, Ga.), – Game Elite – 2015
Height: 6'7″
Position:  Small Forward
Committed College: Undecided
Star Rating:


Date: January 19, 2015
Evaluator: Jonathan Hemingway
Location: Hoop Hall Classic (Springfield, Mass.)
Brown nearly carried his team to a win over Ivan Rabb and Bishop O'Dowd single handedly today. He scored 31 points and had 14 rebounds for the game. He has terrific instincts around the basket, which allows him to use his athleticism to anticipate plays on either ends. He is a good teammate. He helps guys up off the ground and slaps hands after plays.
Date: December 22, 2014
Evaluator: Brandon Clay
Location: City of Palms (Naples, Fla.)
Brown turned in another big time performance here finishing with 28 points, 11 rebounds in a win over Wesleyan Christian. He did it efficiently going 7-for-15 from the field, 13-13 from the line. Brown and Malik Newman (MS) have separated themselves as the premier wing scorers in the senior class.
Date: October 4, 2014
Evaluator: Brandon Clay
Location: USA Basketball Mini-Camp (Colorado Springs, Colo.)
Brown showed growth in both his game and his physical frame. He's gotten stronger and leaned up at the same time. Brown is both a shooter and a slasher as he showed in March. This time it was in an elite setting. He competed on both ends of the floor setting the example for younger guards like Troy Brown (NV-17).
Date: October 4, 2014
Evaluator: Jonathan Hemingway
Location: USA Basketball Mini-Camp (Colorado Springs, Colo.)
Brown has a chance to be a real problem as a defender. He really disrupted the drills during the 3/3 ball screen session giving wing players fits trying to get around him. His offensive skill has rounded out well as Brandon mentioned below. He has the ability to shoot the ball well to the arc. But it is his ability to finish at the basket which is the strength of his game.
Date: March 15, 2014
Evaluator: Brandon Clay
Location: The Elite Preview  (Norcross, Ga.)
Brown was the best prospect in a gym full of the Peach State's best. He's smooth with his game and set up himself above the other 4 and 5 star prospects (Malik Beasley, Daniel Giddens). Brown's jump shot is smooth both off the bounce and off the catch. He showed a willingness to change direction with his handle to create, which is a part of his game that he has really developed over the past six months.
Date: December 23, 2013
Evaluator: Brandon Clay
Location: City of Palms (Fort Myers, Fla.)
Brown struggled today against a very good Lincoln HS team mainly because of early foul trouble. Isaiah Whitehead and Desi Rodriguez got Brown in were effective in getting Brown out of rhythm. He proved that he can shoot the ball effectively from the arc with his feet set.
Date: November 22, 2013
Evaluator: Jonathan Hemingway
Location: High School Season (Marietta, Ga.)
Brown put an exclamation point on a blow out win in the 3rd quarter with an electrifying dunk that brought everyone to their feet. The dunk summarizes Brown's talent and athleticism as he took one dribble from beyond the arc and slammed on two Lassiter defenders. His first step is picture perfect as he gets a long, low, quick first step that gets his head and shoulders past the defense. We did not see the jumper in game play and it appears that right now he is more comfortable slashing to the rim. With his legit size on the wing coupled with his athleticism, he is instantly one of the top recruits on the wing in the state of Georgia in his class.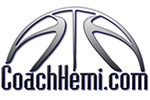 Check out a play for Brown:  OKC Pin-Down
Highlights of Brown complements of Courtside Films:
Elite Basketball Academy Series
***Designed for evaluation purposes, these are great opportunities for upperclassmen and underclassmen alike to get valuable game broadcasts that can be sent to college coaches with a single email message. For underclassmen, it also serves as the gateway for prospects with remaining high school eligibility to play in front of our National Evaluators.
September – Elite Basketball Academy All-American Camp
CoachHemi.com Showcase Series
 October – CoachHemi.com Workout

Brandon Clay is the owner of the JumpOffPlus.com International Report, Peach State Basketball, Inc., and ProspectsNation.com. The JumpOffPlus.com is picked up by more than 200 colleges and universities nationwide. He serves as the Executive Camp Director for the Elite Basketball Academy Camps. Clay has been involved in the community since 2001. You can reach him at [email protected]

Jonathan Hemingway is a National Evaluator for the OTRHoopsReport. He is also the publisher of CoachHemi.com. He has been involved in the community since 1996 as a coach, camp director and evaluator. You can reach him via email at [email protected] and follow him on twitter @JLHemingwayPSB