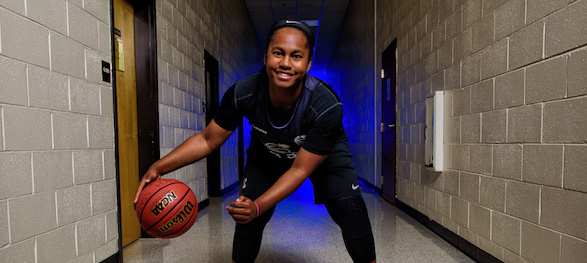 ---
With over 20,000 collective followers on our team's social media outlets, we're in a unique position to assist with both creating awareness of a prospect's skill set and recent on-floor performance. From crisp recruiting updates to updated in-season stats to a potential last-minute change in schedule that needs to be conveyed socially, this package allows the player to control the information available to the public about their game.
Become an #SMPMember: Click the Logo Below

---
Class of 2018 wing forward Maya Goree of Waldorf, Md., is a high academic watch prospect for schools on the East Coast to keep a close eye on.
Jonathan Hemingway's takeaway (Atlanta, GA – June 2016): Goree is a wing forward with nice size on the wing. She was solid in nearly every aspect of the game at the Super 64 Camp. She showed nice shooting touch out to the arc while also having good footwork to tip toe through traffic. The question for Goree is what will be her specialty in upcoming years. Building around one part of her game should actually enhance the other parts.
Name: Maya Goree
Height: 5'10"
HS Grad Year: 2018
Position: SF
School / Hometown: Episcopal (Waldorf, Md.)
Club Team: Boo Williams Gold #PSBFamily
---
BrandonClayScouting.com Video Evaluation April 2017
---
Social Media Updates:
#SMPMember🍑 College Recruiting
Fueled by @SMPMemberPSB

Need Exposure? We're here to help.

'18 F Maya Goree (MD) is a major player in multiple sports at Episcopal.

High IQ w/a major work ethic.

SMP PAGE: https://t.co/S3NBOB7jww

JOIN SMP: https://t.co/H3iRQXgjJB @MayaG_15 https://t.co/sadUfFjTZJ

— Brandon Clay (@BClayScouting) May 22, 2018
#SMPMember🍑 Program News
Powered by @ProspectsNation

Available '18 W Maya Goree (@mayag_15) of @EHSMAROON & @BWSLCoachMorris gets it done on and off the floor.

Her #BrandonClayScouting Page: https://t.co/5bGsPVQqZF https://t.co/5Mf9oljgak

— Brandon Clay (@BrandonClayPSB) January 14, 2018
#SMPMember 🍑 Program News
Powered by @SMPMemberPSB

'18 W Maya Goree (@mayag_15) continues to show & prove for @CoachKatReed's Episcopal (@EHSMAROON) roster like she did for @BWSLCoachMorris of @BWSLGirlsAAU.

Her #BrandonClayScouting Page: https://t.co/5bGsPVyQ87 https://t.co/n1mbjdkSbN

— Brandon Clay (@BrandonClayPSB) December 28, 2017
#SMPMember🍑 Recruiting

Available '18 F Maya Goree (MD) has an updated 2-part SAT score of 1220.

MORE ON @mayag_15: https://t.co/5bGsPVyQ87 pic.twitter.com/coVmA0Gj48

— Brandon Clay (@BrandonClayPSB) October 24, 2017
Connecticut College reached out to '18 F Maya Goree (MD).

She's w/BWSL Gold in July.

MORE: https://t.co/5bGsPVyQ87 @mayag_15 pic.twitter.com/wxTLExWcVn

— Brandon Clay (@BrandonClayPSB) July 1, 2017
#SMPMember Recruiting

A multi-sport star, '18 F Maya Goree (MD) heard from Connecticut College.

PAGE: https://t.co/5bGsPVyQ87 @mayag_15 pic.twitter.com/pXZ43Y1FAV

— Brandon Clay (@BrandonClayPSB) June 19, 2017
'18 Maya Goree (MD) has a BRAND NEW #SMPFilmRoom Breakdown from @BrandonClayPSB

Watch It Here:https://t.co/au5xPkl15C pic.twitter.com/szq2ZDrcp1

— Kris Watkins (@KrisWatkinsPSB) April 9, 2017
#SMPMember Exposure

'18 Maya Goree shot lights out.

43 3P FGM
12.5 ppg#SMPFilmRoom Audio Breakdown on @mayag_15https://t.co/5bGsPVyQ87 pic.twitter.com/jpm2TquJxb

— Brandon Clay (@BrandonClayPSB) April 9, 2017
#SMPMember Exposure Program

'18 F Maya Goree (MD) was a 2016-17 All-ISL selection.

LEARN MORE ON @mayag_15: https://t.co/5bGsPVyQ87 pic.twitter.com/DNXymA3MZy

— Brandon Clay (@BrandonClayPSB) March 17, 2017
#SMPMember Exposure Program

'18 Maya Goree (MD) had 17pts & 5 rbs in a W vs Sandy Springs.

LEARN MORE: https://t.co/5bGsPVyQ87 @mayag_15 pic.twitter.com/cbsGLUf6tO

— Brandon Clay (@BrandonClayPSB) February 12, 2017
#SMPMember Exposure Program

'18 Maya Goree (MD) had 21 pts, 8 rbs, 3 asts with 5 3's.

LEARN MORE ON HER: https://t.co/5bGsPVyQ87 @mayag_15 pic.twitter.com/3atWCVSaR4

— Brandon Clay (@BrandonClayPSB) January 23, 2017
'18 W Maya Goree (MD) led Episcopal, with 29 pts, 7 rebs in a W vs Washington Latin.

PAGE: https://t.co/5bGsPVyQ87 @mayag_15 pic.twitter.com/YlpCOvIS8M

— Brandon Clay (@BrandonClayPSB) January 3, 2017
Welcoming '18 Maya Goree (@mayaG_15) to the SMP family.

HER PAGE HERE: https://t.co/5bGsPVyQ87 pic.twitter.com/JMhBhOSYem

— Brandon Clay (@BrandonClayPSB) December 23, 2016
#EBASuper64 Stock ⬆️

Anna Claire Atha@Taya_Gibson
Maya Goree
Sara Knowles
Juliana Marrero
Hannah Merkel
Haley Race pic.twitter.com/s5ric8YR5v

— Brandon Clay (@BrandonClayPSB) June 7, 2016
#EBASuper64 Camp:

'18 Maya Goree of Episcopal (MD) to rep BWSL Gold #PSBFamily on June 4-5https://t.co/XWZyztfh1w pic.twitter.com/Jkon11jL6B

— Brandon Clay (@BrandonClayPSB) May 20, 2016
---

Brandon Clay is the owner of the JumpOffPlus.com International Report, Peach State Basketball, Inc., and ProspectsNation.com. The JumpOffPlus.com is picked up by more than 200 colleges and universities nationwide. In addition to serving as ProspectsNation.com WNBA Director of Scouting, Clay serves as the Executive Camp Director for the Elite Basketball Academy Camps. He is a McDonald's All-American Game Selection Committee member. Clay serves on the Naismith Trophy Men's / Women's College Player of the Year Academy and is the National Coordinator of Voting for the Boys / Girls All-American Teams. He has been involved in the community since 2001. You can reach Clay at [email protected]