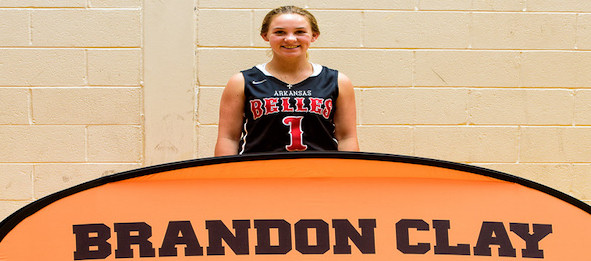 ---
With over 40,000 collective followers on our team's social media outlets, we're in a unique position to assist with both creating awareness of a prospect's skill set and recent on-floor performance. From crisp recruiting updates to updated in-season stats to a potential last-minute change in schedule that needs to be conveyed socially, this package allows the player to control the information available to the public about their game.
Become an #SMPMember for maximum Recruiting Exposure: Click the Logo Below

---
Class of 2019 point guard Mattie Hatcher of Little Rock, Ark., showed her skill at the PSBTipOffClassic in April 2017.
Brandon Clay's takeaway – PSBTipOffClassic (Apr. 2017): Hatcher is a crafty option at the point guard position. She is a shot maker from the outside with the handle to get her team in an offensive set. What she lacks in size, Hatcher makes up for in toughness on the hardwood. She comes from a lineage of college athletes and knows the work ethic it takes to succeed in that regard as a result.
Name: Mattie Hatcher
Height: 5'5″
HS Grad Year: 2019
Position: PG
School / Hometown: Pulaski Academy (Little Rock, Ark.)
Club Team: Arkansas Belles
College Choice: Samford (Equestrian)
---
Social Media Updates:
#SMPMember🍑 College Recruiting
Fueled by #BrandonClayScouting🍑

'19 PG Mattie Hatcher of @pulaskiacademy w/face time on @KATVNews. @ARHoopScoop, @ADGtim & @ARBballRankings have all said for years she can play.

JOIN SMP: https://t.co/PrIMH9VAjj

📷 IG: https://t.co/kZhczkDDxk https://t.co/dFwXn9ohxG

— SMP Recruit Exposure (@SMPMemberPSB) August 23, 2018
#SMPMember🍑 College Recruiting
Fueled by @SMPMemberPSB

Need Exposure? We're here to help.

'19 G Mattie Hatcher (AR) had a dynamic '17-18 HS campaign. @ARHoopScoop & @ARBballRankings took note.

SMP PAGE: https://t.co/74LKbrtr9v

JOIN SMP: https://t.co/sNCDBr8plx https://t.co/kLHkuK1q39

— ProspectsNation.com (@ProspectsNation) May 21, 2018
#SMPMember🍑 Program News
Powered by @SMPMemberPSB

'19 G Mattie Hatcher (AR) can flat out score the ball. She shined at #PSBTipOffClassic. So far, this high school season is no different.

Her #BrandonClayScouting Page: https://t.co/AHDWbwMpgc @ARBballRankings @VinceSmithPSB https://t.co/owOLSEqkVe

— Brandon Clay (@BrandonClayPSB) January 7, 2018
#SMPMember🍑 Recruiting News

'19 G Mattie Hatcher (AR) exploded to start her season averaging 22 points per in two wins last week.

Her #BrandonClayScouting PAGE: https://t.co/tc9Kz6ZldI pic.twitter.com/WV14aVnSWR

— SMP Recruit Exposure (@SMPMemberPSB) November 21, 2017
#SMPMember Recruiting Exposure

'19 G Mattie Hatcher (AR) had a banner summer with the Arkansas Belles.

MORE INFO: https://t.co/AHDWbwuNRC pic.twitter.com/a8kuIyYoFR

— Brandon Clay (@BrandonClayPSB) August 11, 2017
#SMPMember Recruiting Exposure

'19 PG Mattie Hatcher (AR) impressed our staff at #PSBTipOffClassic.

My Takeaway: https://t.co/AHDWbwMpgc pic.twitter.com/46UaPr1hx4

— Brandon Clay (@BrandonClayPSB) June 13, 2017
#SMPMember Recruiting Exposure

'19 PG Mattie Hatcher (AR) did her 1-2 at #PSBTipOffClassic last weekend.

HER PAGE: https://t.co/AHDWbwMpgc pic.twitter.com/ffFlXCfMEM

— Brandon Clay (@BrandonClayPSB) April 27, 2017
'19 #SMPMember Mattie Hatcher (Ark) uses her handles to get inside and connects well at the line. @ProspectsNation pic.twitter.com/hVzVsqpC19

— Brandon Clay (@BrandonClayPSB) April 22, 2017
'19 Mattie Hatcher (AR) dropped 18pts this morning

She's invited #EBASuper64 June 3-4 @BrandonClayPSB

REGISTER:https://t.co/NCiWnDeKJ9 pic.twitter.com/1Fo3Sg0CO2

— Rebecca Dyer (@RebeccaDyerPSB) April 23, 2017
'19 Mattie Hatcher (AL) playing with toughness today. She finished w/ 14pts for Arkansas Belles

— Rebecca Dyer (@RebeccaDyerPSB) April 23, 2017
'19 PG Mattie Hatcher can light it up from 3-point range for the Arkansas Belles. They play again at 4:40pm pic.twitter.com/uQQcZxYvjg

— Rebecca Dyer (@RebeccaDyerPSB) April 22, 2017
'19 Mattie Hatcher can light it up from outside! She has 10pts for AR Belles including three 3-pointers @ARBballRankings

— Rebecca Dyer (@RebeccaDyerPSB) April 22, 2017
---

Brandon Clay is the owner of the JumpOffPlus.com International Report, Peach State Basketball, Inc., and ProspectsNation.com. The JumpOffPlus.com is picked up by more than 200 colleges and universities nationwide. In addition to serving as ProspectsNation.com WNBA Director of Scouting, Clay serves as the Executive Camp Director for the Elite Basketball Academy Camps. He is a McDonald's All-American Game Selection Committee member. Clay serves on the Naismith Trophy Men's / Women's College Player of the Year Academy and is the National Coordinator of Voting for the Boys / Girls All-American Teams. He has been involved in the community since 2001. You can reach Clay at [email protected]