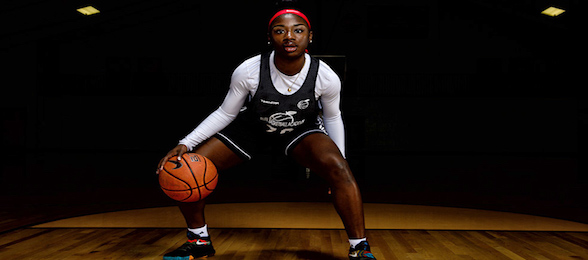 ---
With over 40,000 collective followers on our team's social media outlets, we're in a unique position to assist with both creating awareness of a prospect's skill set and recent on-floor performance. From crisp recruiting updates to updated in-season stats to a potential last-minute change in schedule that needs to be conveyed socially, this package allows the player to control the information available to the public about their game.
Become an #SMPMember for maximum Recruiting Exposure: Click the Logo Below

---
Class of 2018 prospect Lauren Walker of Pensacola, Fla., is a high energy and IQ option at the guard spot.
Jonathan Hemingway's takeaway – #EBASuper64 Showcase (June 2017): Walker is a strong, athletic guard who can disrupt opposing ball handlers with her activity. Her quick feet and long arms allow her to head the defensive attack with full court pressure. Offensively Walker's specialty is attacking the lane with drives downhill. She has a good first step and will use her strength to get past defenders when they try to body up on her. The area of her game where she can develop is confidence in her weak hand. Mixing up those attacks with the left hand should keep the defense off balance.
Jonathan Hemingway's takeaway – #EBATop40 Showcase (March 2017): Walker is an athletic wing-forward who can fill up the stat sheet in a number of areas. Her ability to defend and rebound makes her a versatile piece on the court for her team. She can defend multiple positions on the perimeter as well as hold her own in the paint. She is a perfect type of player to switch screens all over the court. Her offensive ability, while still growing, is a threat to opponents because of her strength and quickness. She can get to the rim quickly with the dribble. The immediate thing that she can grow in her game is the range on her jump shot.
Jonathan Hemingway's takeaway – Maya Moore Elite Skills Academy (March 2016): Walker is a high energy wing who brings hustle to the court consistently. She gets in a stance and plays in a defensive stance consistently. She will hound the ball and get into the passing lanes very well. Offensively she works best away from the ball and is active and getting open.
Name: Lauren Walker
Height: 5'8″
HS Grad Year: 2018
Position: SG
School / Hometown: BT Washington (Pensacola, Florida)
Club Team:
---
Social Media Updates:
#SMPMember🍑 College Recruiting
Fueled by @SMPMemberPSB

Need Exposure? We're here to help.

'18 G Lauren Walker (@ihoop_Lo) of @SYSATigersGBB & @BTW_LadyCats is headed to Bossier Parish CC.

JOIN SMP: https://t.co/8GnB3G0viZ

INSTAGRAM https://t.co/jSr8AvCdZB @CoachBNichols_ https://t.co/JOs19GpEMm

— Brandon Clay (@BrandonClayPSB) May 10, 2018
#SMPMember🍑 College Recruiting
Fueled by @SMPMemberPSB

'18 G Lauren Walker (FL) officially visited Thomas Univ.

ON INSTAGRAM: https://t.co/jSr8AvCdZB

JOIN SMP TODAY: https://t.co/8GnB3G0viZ

WALKER'S #BrandonClayScouting PAGE: https://t.co/Tr7ifcZF3p @ihoop_Lo @_coach_jb pic.twitter.com/3QDl4CB7hy

— Brandon Clay (@BrandonClayPSB) March 7, 2018
#SMPMember🍑 Program News
Powered by @SMPMemberPSB

Told Thomas Univ. HC Myron Brown (@MyronBrown_) about Available '18 G Lauren Walker (@ihoop_lo) of @rdpalmer1's @SYSATigersGBB.

Walker has a @JLHemingwayPSB Eval HERE: https://t.co/2EBJvm1VXp {📷: @TyPhotog} @_coach_jb pic.twitter.com/D9o0Dh0FlU

— Brandon Clay (@BrandonClayPSB) January 27, 2018
#SMPMember🍑 Program News
In Partnership with @BClayScouting

Available '18 G Lauren Walker (@ihoop_lo) took a visit to Southern Miss. @JLHemingwayPSB says the @SYSATigersGBB prospect is a true athlete in the backcourt.

Her #BrandonClayScouting Page: https://t.co/vSJtTjRSSV https://t.co/NXOVyFC3lt

— SMP Recruit Exposure (@SMPMemberPSB) January 22, 2018
#SMPMember🍑 Program News
Powered by @SMPMemberPSB

'18 G Lauren Walker (@ihoop_lo) of @SYSATigersGBB continues to make waves during HS season for Booker T. Washington.

Her #BrandonClayScouting Page: https://t.co/2EBJvm1VXp @VinceSmithPSB @ProspectsNation https://t.co/jJ9yQzzEx8

— Brandon Clay (@BrandonClayPSB) January 9, 2018
#SMPMember Recruiting Exposure

Welcome '18 G Lauren Walker (FL).@KrisWatkinsPSB video coming soon.

MORE INFO: https://t.co/vSJtTjRSSV pic.twitter.com/sBILGpVBK3

— SMP Recruit Exposure (@SMPMemberPSB) August 5, 2017
Lauren Walker, @AMKASHAY, Karisa Grandison, & Kelsey Curry have #EBAAllAmerican Sep 2-3 invites

JOIN: https://t.co/BLf8mXUUtG pic.twitter.com/xEzXyGYDBs

— PSB Events (@PeachStateBBall) June 4, 2017
#EBATop40 Spring Exposure Camp

Next Weekend

Lauren Morris (IN)
Amoria Neal-Tysor (NC)
Lauren Walker (FL)

JOIN: https://t.co/E2LhIzBges pic.twitter.com/w3voGYBj5R

— Brandon Clay (@BrandonClayPSB) March 4, 2017

Brandon Clay is the owner of the JumpOffPlus.com International Report, Peach State Basketball, Inc., and ProspectsNation.com. The JumpOffPlus.com is picked up by more than 200 colleges and universities nationwide. In addition to serving as ProspectsNation.com WNBA Director of Scouting, Clay serves as the Executive Camp Director for the Elite Basketball Academy Camps. He is a McDonald's All-American Game Selection Committee member. Clay serves on the Naismith Trophy Men's / Women's College Player of the Year Academy and is the National Coordinator of Voting for the Boys / Girls All-American Teams. He has been involved in the community since 2001. You can reach Clay at [email protected]