BUFORD, Ga., – The Elite Basketball Academy Top 40 Workout is designed to bring some of the nation's top prospects together to compete and showcase their skills in front of BrandonClayScouting.com and OTRHoopsReport.com evaluators.

Keshawn Gibbs, Team 1 (Lawrenceville, Ga.), Dacula HS – 2015

Gibbs is an aggressive lead guard who pushes the tempo in the full court and makes plays in the half-court. The senior finished an outstanding senior season for the Dacula Falcons where he lead his team to the Sweet 16. That skill set was on display on Sunday afternoon as he hit long range jumpers and finished a number of plays at the rim. We like Gibbs ability to make plays for himself and others.
Spencer Rodgers, Team 4 (Buford, Ga.), Mountain View HS – 2018

A promising freshman at the camp was Rodgers who made the short trip to compete at Bogan Park. The 6-foot-3 guard has a world of potential and athleticism that showed well during game play. He has the handling ability to create space on the perimeter and the shooting touch to score from beyond the arc. Rodgers challenge heading into the spring months will be to learn better shot selection.
Akeem Tulinagwe, Team 2 (Auburn, Ga.), Mountain View HS – 2016

Tulinagwe impressed us at camp with his athletic build and skill set at the camp. The 5-11 shooting guard was active on both ends of the floor and was particularly good at moving without the basketball on the offensive end. The junior guard set himself apart by being a creating movement within the offense, which is often overlooked in showcase settings. However, his IQ should translate well as he heads into his senior campaign.
Click below for the EBA Top 40 Broadcasts powered by the SUVtv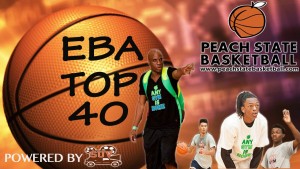 Elite Basketball Academy Series
***Designed for evaluation purposes, these are great opportunities for upperclassmen and underclassmen alike to get valuable game broadcasts that can be sent to college coaches with a single email message. For underclassmen, it also serves as the gateway for prospects with remaining high school eligibility to play in front of our National Evaluators.

Jonathan Hemingway is a National Evaluator for the OTRHoopsReport. Hemingway serves on the Board of Selectors for the Naismith Trophy. also He is also the publisher of CoachHemi.com. He has been involved in the community since 1996 as a coach, camp director and evaluator. You can reach him via email at [email protected] and follow him on  twitter @JLHemingwayPSB