BUFORD, Ga., – The Elite Basketball Academy Top 40 Workout is designed to bring some of the nation's top prospects together to compete and showcase their skills in front of BrandonClayScouting.com and OTRHoopsReport.com evaluators.

Miles Clay, Team 7 (Alpharetta, Ga.), John's Creek HS – 2016

Normally one would think that blocking shots and booming dunks are reserved for the big men in a camp setting. The 6-foot-2 guard proved otherwise at the EBA Top 40 Camp last weekend. He raised the eyebrows of the Peach State Basketball staff with his length and ability to play above the rim. The left-handed guard's specialty is to slash to the basket and make plays off of the move. However, as he showed on Sunday afternoon, his talents allow him to affect the game in more than one area.
Zion Fluellen, Team 1 (Lawrenceville, Ga.), Central Gwinnett HS – 2017

Our first look at Fluellen was a positive one. The 6-3 shooting guard hit the pull-up jumper consistently in transition. He has the length to a problem on the defensive end as well. Impressively the sophomore was willing to work in the pick and roll situation and sacrifice to help his teammates get their own shot. Adding strength should be an area of development for the young guard in the upcoming months.
Alario Harris, Team 5 (Lithonia, Ga.), Stephenson HS – 2015

The 6-1 guard played both as a point and a shooting guard at camp. Although a natural point guard, he proved that he could get his own shot off of the bounce in the game setting. His soft touch on the floater was particularly effective as he hit that shot multiple times in game play.
Click below for the EBA Top 40 Broadcasts powered by the SUVtv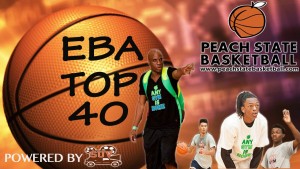 Elite Basketball Academy Series
***Designed for evaluation purposes, these are great opportunities for upperclassmen and underclassmen alike to get valuable game broadcasts that can be sent to college coaches with a single email message. For underclassmen, it also serves as the gateway for prospects with remaining high school eligibility to play in front of our National Evaluators.

Jonathan Hemingway is a National Evaluator for the OTRHoopsReport. Hemingway serves on the Board of Selectors for the Naismith Trophy. also He is also the publisher of CoachHemi.com. He has been involved in the community since 1996 as a coach, camp director and evaluator. You can reach him via email at JonathanHemingway@PeachStateBasketball.com and follow him on  twitter @JLHemingwayPSB