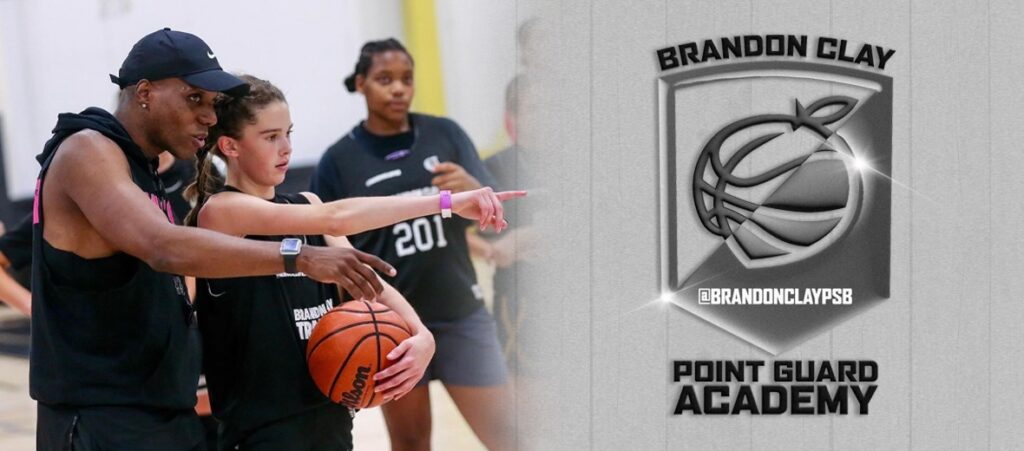 This teaching intensive Academy is only open to players who have already attended a Brandon Clay Showcase in the 2022 or 2023 calendar years. We will accept incoming college freshman who are not going to Summer School through returning high school rising sophomores. Once we reach 40 players, we will cut off enrollment to maintain a small setting for players to get maximum instruction and teaching. The Point Guard Academy is designed for all perimeter oriented players to gain a better understanding of how to think through the game on every single possession. All players will be given a "Cheat Sheet" to take home in addition to the onsite instruction.
Facility:
George Pierce Park – 55 Buford Highway – Suwanee, GA
***All showcase campers need to bring a basketball with them.
Add-On Options
1) Spotlight Shooting Group Workout with Brandon Clay ($99.99 Optional Add-On)
55-minute shooting session with Brandon Clay and a personal typed shooting mechanics evaluation from him within 4 weeks after the showcase concludes
***Takes place before the first session of the showcase on Saturday
2) ProspectsNation.com Evaluations via Brandon Clay ($99.99 Optional add-on):
All players purchasing a Premium Evaluation will receive a new or updated evaluation on their ProspectsNation.com player card. A multiple line evaluation along with strengths and areas to improve will be entered within 3 to 4 weeks of the conclusion of the Academy.
3) Lugardo Photo Package via Brandon Clay ($39.99 Optional add-on):
All players purchasing a Photo Package will receive at least three action shots, a headshot and a picture with Brandon Clay within 10 days of the conclusion of the Showcase.
REGISTER TODAY:
https://www.recruitifyhoops.com/#/upcomingIndividualEvents/61
Why Attend the Spotlight Workout with Brandon Clay (Video Look & a Sample Eval)
Times:
***All participants need to bring their own basketball for the skill sessions
Point Guard Academy Schedule
Saturday Spotlight Shooting Session
***add-on purchase
8:45 am – Shooting Session with Brandon Clay Group No. 1
Saturday: ALL PLAYERS SESSION
10:00 am – Check In with Camp Pictures
10:20 am – Intro on Point Guard Play & How To Lead
10:45 am – Man to Man Breakdowns
11:30 am – Various Zone Breakdowns
12:15 pm – Transition Offense / Defense
1:00 pm – Game Play
1:45 pm – Dismissal
Saturday Admission:
$10.00 Adults
$5.00 Students Ages 6-17
Children Ages 5 and under enter free
Confirmed Players
****All players must bring their own basketball.
| | | | |
| --- | --- | --- | --- |
| Name | School | Year | Add-ons |
| Kyia Barrett | Habersham Central (GA) | 2024 | |
| Taylor Clark | Commerce Middle (Commerce, GA) | 2027 | |
| Sarah Gordon | Vestavia Hills (AL) | 2025 | |
| Kate Harpring | Marist (GA) | 2026 | |
| Averie Jones | Lumpkin County (GA) | 2024 | |
| Dakota Phillips | Hart County (GA) | 2024 | |
| Kylie Watkins | White County (Cleveland, GA) | 2025 | |
Brandon Clay is the owner of the Brandon Clay Scouting Report, Peach State Basketball, Inc., and ProspectsNation.com. Brandon Clay Scouting is utilized by more than 200 colleges and universities nationwide. Clay serves as the Executive Camp Director for the Brandon Clay Recruiting National Training Academies. He is a McDonald's All-American Game Selection Committee member. Clay serves on the Naismith Trophy Men's / Women's College Player of the Year Academy and is the National Coordinator of Voting for the Boys / Girls All-American Teams. He has been involved in the community since 2001. You can reach Clay at [email protected]