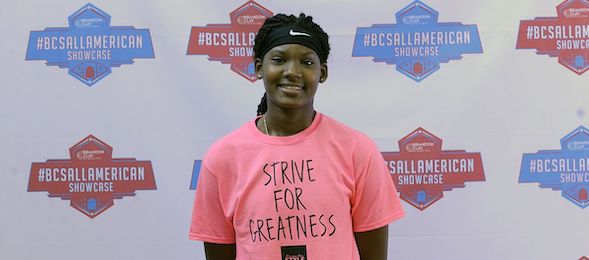 Vitals
Name: Sania Feagin
Height: 6'3″
HS Grad Year: 2021
Position: Forward
School/Hometown: Forest Park/Ellenwood, Georgia
Committed School: South Carolina
BRANDONCLAYTV VIDEO EVALUATION: AUGUST 2019
Date: March 4, 2020
Location: BCS Top 40 Academy
Evaluator: Jonathan Hemingway
Feagin is one of the ELITE prospects in her class nationally. She is a spectacular defender. Her athleticism and versatility allow her to clamp up players from multiple positions on the court. She could be one of the best shot blockers from the power forward position that we have seen in many years. Her timing, long arms and quick leaping ability makes her a terrific rebounder and interior defender. What is most intriguing about Feagin is her offensive versatility. She has solid form on her 3-point jumper and developing an off the dribble attack that is tough to contain. Feagin plays the game with great passion and enthusiasm. Staying focused and honing her competitive will is tantamount to how far she will go in this game.
Date: Augst 25, 2020
Location: BCS All-American Academy (Buford, Georgia)
Evaluator: Brandon Clay
Feagin of Forest Park, Georgia, established herself as one of the country's premier frontcourt prospects over the past 12 months. She's developed her overall game without losing the interior presence that made her so special in the first place. Feagin can make a legitimate case to being the nation's best shot blocker in high school basketball this season without any regard to classification. Continuing to develop as an interior scorer will only aid her overall production. She's a special prospect with a focused mentality to go with it.