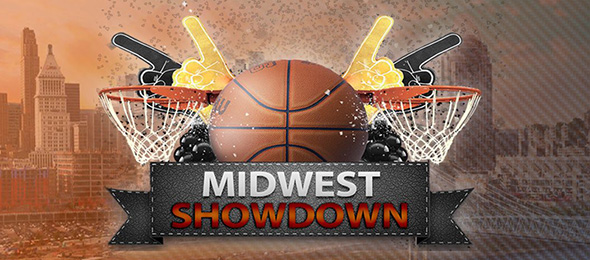 MASON, Ohio, – For well over a decade The Midwest Showdown has been elite setting for travel basketball teams from the Midwest and beyond. Memorial Day weekend brings out the best teams who are looking for top competition and media attention. The #BrandonClayScouting team covered the event for 12 consecutive year. Here are notes on a few of the top 2019s from the #CoachHemi notebook from the weekend.
Faith Adams (Murfreesboro, Tennessee), Team B Wright – 2019
Adams is a fast point guard with the ball in her hands. She can zip past defenders after a simple hesitation move and make plays in the lane. The 5-foot-6 point guard proved that she can attract the help defender and find the open player on the court. Her play-making ability is a big part of Team B-Wright's success this year.
Her highlights courtesy of Parallels Media from the #CoachHemi865 Showcase

Constance Chaplin (Euclid, Ohio), All Ohio Black – 2019
Chaplin is a bully in the back court. Smaller defenders are in for a long night when facing the 5-9 point guard. She creates space with her slashing and physicality. Although she did not shoot the ball particularly well on Saturday afternoon, she is a proven scorer off the bounce.
Jasmine Elder (Louisville, Kentucky), All Ohio Black – 2019
Elder had her two-way athleticism on display this weekend. She danced around screens and powered to the bucket with the ball in her hands. Defensively she showed lock down defensive skills and blocked shots in chase down fashion. The 5-9 guard should shine brightly during the month of July.
Carissa Garcia (Fort Wayne, Indiana), Nike Lady Gym Rats EYBL – 2019
Sometimes the most important pieces on a championship team are the complimentary players who fit around the stars. Garcia looks to be a perfect fit around the Gym Rats slashing lead guards (Shaila Beeler and Ariana Wiggins). Her shooting ability is an important component to stretch the floor. Garcia gave her verbal commitment to Northern Kentucky earlier this year.
Madison Greene (Pickerington, Ohio), West Virginia Thunder – 2019
Point guard play is always at a premium at the collegiate level. Greene projects to be a contributor at the next level, because of her combination of skills and athleticism. She is a slashing guard who can change gears quickly to get to the bucket. Combine that with her physical stature and she should find herself at the top of recruiting lists this fall.
Madison Greene led the WV Thunder to an Elite Division Championship at @TheMWS4. Finished w/22 points while running the show w/ a motor that stayed on "GO".

Championship Game replay: https://t.co/Fx5TyzPakU@basketball4mg @scottejohnson12 @PCTigersGirlsBB #MWS #SUVtv pic.twitter.com/OqnXBmqYVe

— SUVtv (@SUVtv) May 29, 2018
Breyanna Frazier (Jersey City, New Jersey), Books and Basketball – 2019

Frazier is a prospect who broke into the ProspectsNation.com ELITE 100 this winter. The 5-6 guard is a special type of athlete who can exert her will on both ends of the court. Her ability to defend either back court spot gives her Books and Basketball team defensive versatility. On the offensive end she creates space with slashing and ability to use the ball screen.
Jasmine Powell (Southfield, Michigan), Michigan Crossover – 2019
Powell is a unique type of play-maker from the wing. She has size, strength and athleticism to exert her will with the basketball. It is her willingness to find open teammates when the defense rotates to cut off her on the drive the makes her particularly effective. Yet when she does find herself in a one on one situation, Powell can convert plays at a high rate.
Cameron Tabor (New Castle, Indiana), Indy Magic – 2019
Tabor caught fire during the high school season and drew attention and offers from several colleges in the Midwest. She had those skills on display once again this weekend. She is a deadly 3-point shooter who at the very least can translate to the next level as a specialist. Yet we believe her all around skill set will allow her to be a combo guard that fills up the stat sheet. She stayed composed and handled full court pressure effectively when matched up against Team Elite EYBL.
Jeanae Terry (Detroit, Michigan), 1 Nation Elite – 2019
Terry is a high energy guard who gets things done on each end of the court. She showed size, strength and shooting ability on the wing. She hit jumpers off jab-steps. Terry is also very active on the defensive end. Her willingness to defend the passing lanes and pursue rebounds often energizes her team.

Jonathan Hemingway is the Assistant Director of Scouting for the JumpOffPlus.com International Scouting Report, is on the Naismith Trophy Board of Selectors and owns CoachHemi.com, the go-to source for coaches for X's and O's.  He is the floor director of #TeamEBA camps, a site director for #TeamPSB tournaments and can be reached at jonathanhemingway@peachstatebasketball.com.