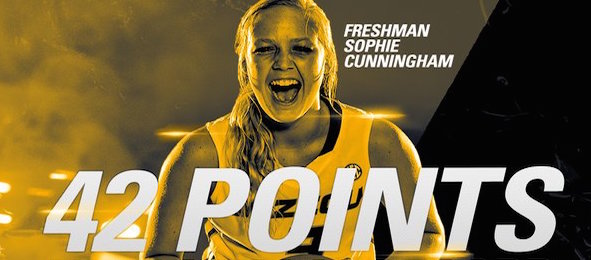 The Naismith Watch provides readers with a heads up on the nation's top collegiate players. This installment focuses on three freshman who are making a push to be featured in the initial Watch List release next month.
Te'a Cooper, 5-7, PG, Tennessee
After being named First-Team Naismith All-American last season as a high school senior, Cooper walked in the door of Thompson-Boiling Arena and has made an immediate impact. Through four games, she's averaging 12.5 points and 3.75 assists per game for the nation's No. 4 ranked team. Her assist-to-turnover ratio will be worth keeping an eye on as that stat could determine just how successful the Lady Vols are down the stretch this season.
Next Notable Matchup: November 29th vs Texas
Sophie Cunningham, 6-0, SF, Missouri
From Missouri's opening tip, Cunningham has been locked and loaded. She's averaged 21.5 points, 7.3 rebounds, 3.5 assists and 2.75 steals per contest. In the process, Cunningham has the Tigers sitting pretty at 4-0 including their most recent win over ACC foe Wake Forest. In that game, Cunningham poured in 42 points after being named SEC Freshman of the Week before that. Don't be surprised at all to see the former McDonald's All-American win the award again next week and again a couple more times before conference play tips in January.
Next Notable Matchup: December 12th at Colorado
Jessica Shepard, 6-2, PF, Nebraska
Shepard suffered a season-ending knee injury around the holidays last year. She has bounced right back posting video game like numbers in the Huskers first four games tabulating averages of 23.3 points and 9.8 rebounds per contest. In doing so, Shepard led coach Connie Yori's team to four victories. Because of her play, Shepard has been named Big 10 Freshman of the Week in consecutive weeks. She's got a marquee battle with Breanna Stewart, who is projected by ProspectsNation.com as the No. 1 pick in the 2016 WNBA Draft, coming up this weekend.
Next Notable Matchup: November 28th vs UConn

Brandon Clay is the owner of the JumpOffPlus.com International Report, Peach State Basketball, Inc., and ProspectsNation.com. The JumpOffPlus.com is picked up by more than 200 colleges and universities nationwide. In addition to serving as ProspectsNation.com WNBA Director of Scouting, Clay serves as the Executive Camp Director for the Elite Basketball Academy Camps. He is a McDonald's All-American Game Selection Committee member. Clay serves on the Naismith Trophy Men's / Women's College Player of the Year Academy and is the National Coordinator of Voting for the Boys / Girls All-American Teams. He has been involved in the community since 2001. You can reach Clay at [email protected]