As Stephanie White's staff continues to push the Commodores back into the upper echelon of the ultra-competitive SEC, this class serves as a major building block in that process. With seven players committed, there is a myriad of puzzle pieces for White to put together into a winning combination.
Article aggregated by Jonathan Hemingway
**Brandon Clay contributed to this article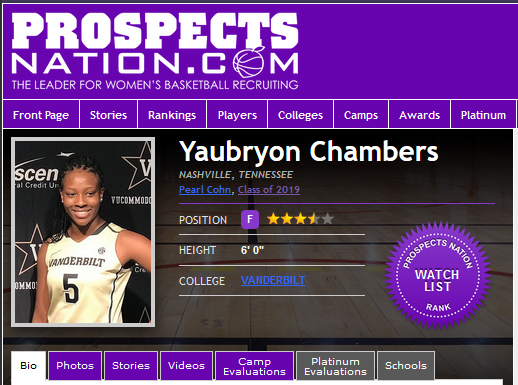 Yaubryon Chambers
6′, Forward
Nashville, Tennessee
ProspectsNation.com Rating: 3.5 star
Brandon Clay Scouting Take – Adding Yaubryon Chambers gives the class a quality local addition who can pair up with Love in the frontcourt. Chambers build / style reminds me of the way Shacobia Barbee played for SEC foe Georgia earlier this decade. Chambers is an aggressive defender who will attack the rim offensively as well.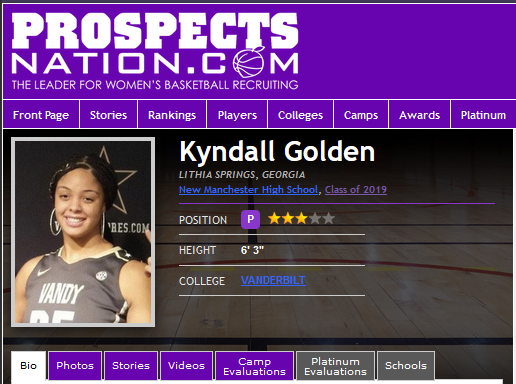 Kyndall Golden
6'3″, Center
Lithia Springs, Georgia
ProspectsNation.com Rating: 3 star
Brandon Clay Scouting Take – Kyndall Golden has all of the physical tools to be a threat in the middle inside the SEC. Her marked improvement over the past two seasons bodes well for her future in Nashville. Golden has a touch around the rim that few post players in the region can lay claim to.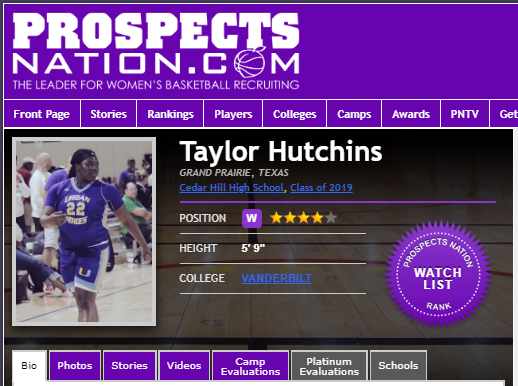 Taylor Hutchins
5'9″ Wing-Forward
Grand Prairie, Texas
ProspectsNation.com Rating: 4-star
Brandon Clay Scouting Take – Taylor Hutchins could very well serve as the lynchpin to tie Chambers and Love's strengths together in the frontcourt. Hutchins is a jack of all trades playing any number of roles over the past 12 months in high school and club action. Simply put, she's a gamer ready for action regardless of opponent.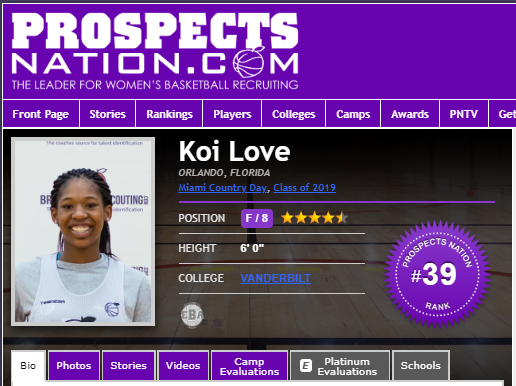 Koi Love
6′ Forward
Orlando, Florida
ProspectsNation.com Rating: 4.5 star
Brandon Clay Scouting Take – With her energy and intensity, Koi Love is a matchup nightmare for opposing teams. In addition, she has shown touch from the outside even knocking down open 3-pointer in multiple evaluations. In a class doesn't have prototypical depth at the forward spot nationally, Love leads the way as a potential impact player right away on the West End next season.
#CommitmentCentral via #BrandonClayScouting🍑 Report

'19 G Kiara Pearl (KY) of Eastern HS / Team Slink chose Vanderbilt.

📷 INSTAGRAM: https://t.co/w5DQSYnzvq

COLLEGE COACH EVALS: https://t.co/dc2OUdikQX

SHOWCASE / TOURNEY INFO: https://t.co/Jow0Z53ZU3 @baller_kp pic.twitter.com/r7A1dpNjIB

— Brandon Clay (@BrandonClayPSB) July 14, 2018
Kiara Pearl
5'8″ Guard
Louisville, Kentucky
BrandonClayScouting.com Rating: 3.5 star
Brandon Clay Scouting Take – Kiara Pearl has all of the intangibles to be a steal in the class of White's staff. Injuries limited the amount of times that schools were able to see her in action but Pearl has a toolbox full of useable pieces. Guard wise, there aren't many with her combination of athleticism and hunger.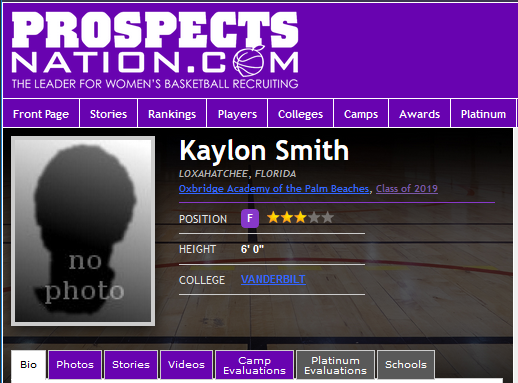 Kaylon Smith
6′ Forward
Loxatchee, Florida
ProspectsNation.com Rating: 3-star
Brandon Clay Scouting Take – Kaylon Smith is a strong framed forward who will give Vandy another quality option along the frontline. She has proven the ability to finish plays through contact in traffic. Smith has also showcased the skill set to potentially be a faceup option from the foul line in the hi-lo game.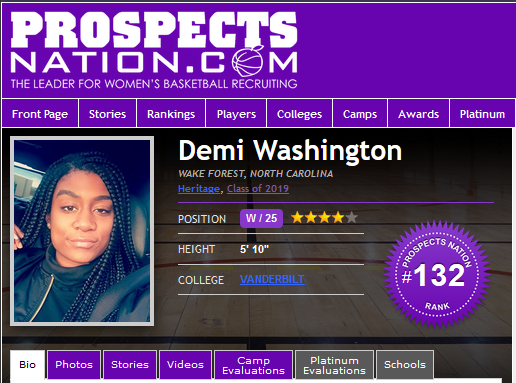 Demi Washington
5'10" Wing
Wake Forest, North Carolina
ProspectsNation.com Rating: 4 star
Brandon Clay Scouting Take – Demi Washington brings both athleticism and length to the perimeter for the Dores. She's at one of the nation's top prep programs in New Hope Academy and will have a chance to provide a different dimension physically for her new team next season.