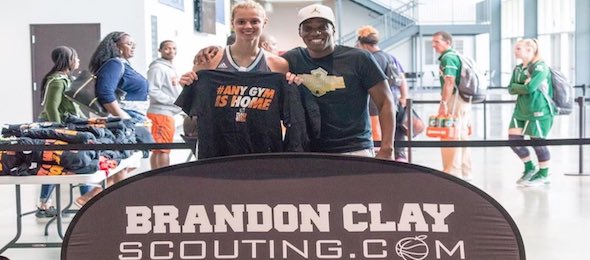 CARTERSVILLE, Ga. – The PeachStateBasketball.com Summer Kickoff featured some of the nation's premier prospects and teams inside Lake Point Indoor Complex to start July. Here's a look back at the NCAA-certified event:
---
With over 40,000 collective followers on our team's social media outlets, we're in a unique position to assist with both creating awareness of a prospect's skill set and recent on-floor performance. From crisp recruiting updates to updated in-season stats to a potential last-minute change in schedule that needs to be conveyed socially, this package allows the player to control the information available to the public about their game.
Become an #SMPMember for maximum Recruiting Exposure: Click the Logo Below

---
Yo @BrandonClayPSB, did that Day 1 #PSBSummerKickoff recap come in yet???

Sure did! @ProspectsNation @JLHemingwayPSB @ParallelsMedia_ pic.twitter.com/0D9CmWAOZq

— PSB Events (@PeachStateBBall) July 7, 2017
Check the Day One Recap. The media team at Parallels (Jordan Davis and Larry Rhinehart) has done an excellent job of working with Jonathan Hemingway and Kris Watkins to provide an unprecedented level of coverage to everyone involved.
#PSBSummerKickoff@BrandonClayPSB discusses '19 Samantha Brunelle (@babybruney33) of @TeamLoadedASGR in the #PSBFilmRoom. @TeamLoadedASGR pic.twitter.com/Sl19zmhHeZ

— PSB Events (@PeachStateBBall) July 7, 2017
With Georgia, Georgia Tech, Ole Miss and Wake Forest all in the building on Day One, Class of 2019 forward Samantha Brunelle of Ruckersville, Va., was fantastic for Team Loaded. The nation's No. 1 forward per ProspectsNation.com brought her AGame in a matchup against the Alabama Heat Elite. Brunelle is a capable force at the rim in traffic as well as facing the rim with the jumper. She showed range out to 22 feet in this setting.
'21 Hannah Fuller played in front of

Limestone
North Greenville
Samfordhttps://t.co/vDZpwMMUxR @hcfuller03 pic.twitter.com/lrhiIILsaP

— Brandon Clay (@BrandonClayPSB) July 6, 2017
Class of 2021 guard Hannah Fuller of Greenville, S.C., is no stranger to our staff. After a bigtime showing at the Elite Basketball Academy Fab5 Showcase in February, Fuller has been on a tear getting ready for her freshman season. She's already on the varsity roster and her play as of late looks like a prospect who has been through the gauntlet of a high school season.
SC Stars fought hard to reduce their deficit, but Lady Pumas pulled away the win. @BrandonClayPSB loving their play today pic.twitter.com/H41uEUx4NZ

— PSB Events (@PeachStateBBall) July 6, 2017
Campbell assistant Megan Hall joined me for this one. There were several notable prospects as the Lady Pumas travelled from Louisiana to shine at Lake Point. Class of 2018 forward Lawren Cook of Greenville, S.C., was locked in for the Stars drawing praise from ProspectsNation.com National Evaluator, Stephen Peck, in the process.

Brandon Clay is the owner of the JumpOffPlus.com International Report, Peach State Basketball, Inc., and ProspectsNation.com. The JumpOffPlus.com is picked up by more than 200 colleges and universities nationwide. In addition to serving as ProspectsNation.com WNBA Director of Scouting, Clay serves as the Executive Camp Director for the Elite Basketball Academy Camps. He is a McDonald's All-American Game Selection Committee member. Clay serves on the Naismith Trophy Men's / Women's College Player of the Year Academy and is the National Coordinator of Voting for the Boys / Girls All-American Teams. He has been involved in the community since 2001. You can reach Clay at BrandonClay@PeachStateBasketball.com