BUFORD, Ga., – The Elite Basketball Academy Top 40 Workout is designed to bring some of the nation's top prospects together to compete and showcase their skills in front of BrandonClayScouting.com and OTRHoopsReport.com evaluators.

Jalen Mitchell Team 6 (Suwanee, Ga.), Collins Hill HS – 2015

Mitchell has terrific size for the wing position. At 6-foot-4, he has a frame that can absorb contact on the drive while still having the touch to finish on the move. His greatest asset could be his ability to rebound from a perimeter position. His athleticism and leaping ability allow him to snag boards effectively on either end. The community service for criminals essay temptation for Mitchell is to become a standing shooter in moments. However, he is at his best whenever he is fully engaged in initiating the action versus playing off of other's plays.
Xavier Morgan (Lawrencville, Ga.), Mountain View HS – 2015

There are certain players that can be immediately identified as gym rats just by watching them play for a few minutes. This is exactly what we saw from Morgan at the Workout. His energy and heart for the game was evidence in tangible ways as he played hard on both ends. His willingness to pass and involve his teammates is the bread and butter of his game. Morgan is the type of kid that you want on your side when you go into a game.
custom writers essay service
Alex Williams Team 7 (Atlanta, Ga.), Westlake HS – 2017

Williams is a promising wing player that showed his skill at the Elite Basketball Academy Workout. At 6-2 he has good size for a wing at this level. He has a skill set that does not appear to have any blatant holes in it. Williams can handle the ball facing the basket and can hit the open jumper. The next step in his development will revolve around maturing his game and making better decisions on a consistent basis. These things come with experience and game play.
Click below for the EBA Top 40 Broadcasts powered by the SUVtv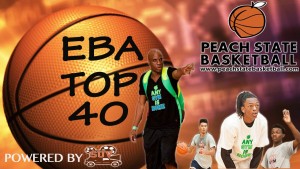 Elite Basketball Academy Series
***Designed for evaluation purposes, these are great opportunities for upperclassmen and underclassmen alike to get valuable game broadcasts that can be sent to college coaches with a single email message. For underclassmen, it also serves as the gateway for prospects with remaining high school eligibility to play in front of our National Evaluators.

Jonathan Hemingway is a National Evaluator for the OTRHoopsReport. Hemingway serves on the Board of Selectors for the Naismith Trophy. also He is also the publisher of CoachHemi.com. He has been involved in the community since 1996 as a coach, camp director and evaluator. You can reach him via email at [email protected] and follow him on  twitter @JLHemingwayPSB