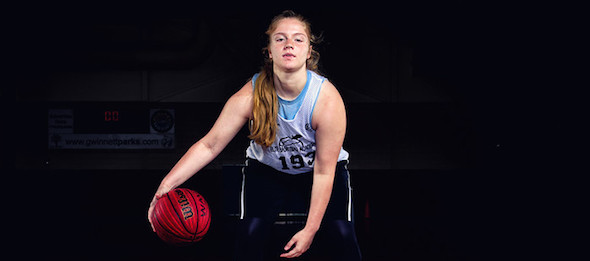 ---
With over 40,000 collective followers on our team's social media outlets, we're in a unique position to assist with both creating awareness of a prospect's skill set and recent on-floor performance. From crisp recruiting updates to updated in-season stats to a potential last-minute change in schedule that needs to be conveyed socially, this package allows the player to control the information available to the public about their game.
Become an #SMPMember for maximum Recruiting Exposure: Click the Logo Below

---
Class of 2018 forward Izzy Hensley of Milford, Ohio, is a high academic option in the class.
Brandon Clay's takeaway – EBASuper64 Camp (June 2017): Hensley was impressive in this elite camp setting with her ability to take instruction and execute it in a timely fashion. It was very evident early on in the skills session that her academic intelligence extends to the hardwood as well. Hensley is a capable option at either forward position based on matchups and style of play. Her ability to consistently knock down the open shot and keep opposing offensive players in front of her will be major keys to her future collegiate success.
Name: Izzy Hensley
Height: 5'11"
HS Grad Year: 2018
GPA / SAT / ACT: 4.7 / 1460 / 34
Position: SF / PF
School / Hometown: Cincinnati Country Day School (Milford, Ohio.)
Club Team: Midwest Takeover #PSBFamily
College Choice: Colorado College
---
Social Media Updates:
#SMPMember🍑 Program News
Powered by @SMPMemberPSB#CommitmentCentral

THIS JUST IN

'18 F Izzy Hensley (OH) of #PSBFamily @MWTakeover & @CCDSWBBall is off the board to Colorado College.

Her #BrandonClayScouting Page: https://t.co/DigDB3KdVu @izzyhensley3 @menendez_k pic.twitter.com/ayaiOL0wMO

— Brandon Clay (@BrandonClayPSB) January 3, 2018
"@izzyhensley3 of @MWTakeover would be a quality add for any of these programs. High IQ!" – @CoachHemi #SMPMember🍑 #PSBFamily https://t.co/WhAZHdVnCm

— SMP Recruit Exposure (@SMPMemberPSB) November 6, 2017
#SMPMember🍑 Recruiting

'18 Izzy Hensley (@izzyhensley3) is down to five schools:

Centre
Colorado College
Hamilton
Ohio Northern
Wellesley pic.twitter.com/leU1SvesPV

— Brandon Clay (@BrandonClayPSB) November 6, 2017
#SMPMember🍑 Recruiting Program

'18 @izzyhensley3 (OH) visited Sewanee Univ.#BrandonClayScouting PAGE: https://t.co/DigDB3KdVu @coach__av pic.twitter.com/NAP3c2ULtY

— Brandon Clay (@BrandonClayPSB) October 19, 2017
#SMPMember🍑 Recruiting Program

ACADEMIC 🚨

'18 F @izzyhensley3 (OH) has a 34 ACT score.#BrandonClayScouting PAGE: https://t.co/DigDB3KdVu pic.twitter.com/cDf0FgVTJi

— Brandon Clay (@BrandonClayPSB) October 6, 2017
#SMPMember🍑 Recruiting Program

ACADEMIC 🚨

'18 F @izzyhensley3 (OH) has a 34 ACT score.#BrandonClayScouting PAGE: https://t.co/DigDB3KdVu pic.twitter.com/cDf0FgVTJi

— Brandon Clay (@BrandonClayPSB) October 6, 2017
#SMPMember🍑 Recruiting

'18 @IzzyHensley3 is taking visits:

Seen Hamilton, Ohio Northern

At Grinnell this weekendhttps://t.co/DigDB3KdVu pic.twitter.com/om4bx1b8xd

— Brandon Clay (@BrandonClayPSB) September 21, 2017
'18 @IzzyHensley3 visits include

Centre
Colorado Col.
Rose-Hulman#BrandonClayScouting PAGE https://t.co/DigDB3KdVu @CoachJCM pic.twitter.com/5GyBGLkimK

— Brandon Clay (@BrandonClayPSB) August 29, 2017
#SMPMember
Izzy Hensley hit bombs at #PSBPower48

She has a #CoachHemi513 invitehttps://t.co/YV215HJexQ?amp=1@izzyhensley3 pic.twitter.com/qxw5d8wTPY

— Jonathan Hemingway (@JLHemingwayPSB) August 4, 2017
#SMPMember Recruiting Exposure

'18 F @IzzyHensley3 (OH) earned a @JLHemingwayPSB takeaway at #EBASuper64.

HER PAGE https://t.co/DigDB3KdVu pic.twitter.com/EoeFeahq73

— Brandon Clay (@BrandonClayPSB) July 2, 2017
#SMPMember Recruiting Exposure

HIGH ACADEMIC WATCH

'18 F Izzy Hensley (OH) posts new highs.

4.7 GPA
33 ACT

MORE: https://t.co/DigDB41ON2 pic.twitter.com/8AGJxDFv2P

— Brandon Clay (@BrandonClayPSB) June 23, 2017
#EBASuper64 National Showcase@KrisWatkinsPSB will 🎥 '18 W Izzy Hensley (OH).

HER #SMPMember Page: https://t.co/DigDB3KdVu @izzyhensley3 pic.twitter.com/KIBs3QusqU

— Brandon Clay (@BrandonClayPSB) June 3, 2017
#SMPMember Recruiting Exposure

Excited to work with '18 W Izzy Hensley of @MWTakeover at #EBASuper64@izzyhensley3's eval drops next week pic.twitter.com/KxVNJIjj6E

— Brandon Clay (@BrandonClayPSB) June 1, 2017
#SMPMember Recruiting Exposure

'18 Izzy Hensley (OH) reps CCD & Midwest Takeover #PSBFamily

She's at #PSBTipOffClassic II @izzyhensley3 pic.twitter.com/hI6EJ8ZSlF

— Brandon Clay (@BrandonClayPSB) April 27, 2017
---

Brandon Clay is the owner of the JumpOffPlus.com International Report, Peach State Basketball, Inc., and ProspectsNation.com. The JumpOffPlus.com is picked up by more than 200 colleges and universities nationwide. In addition to serving as ProspectsNation.com WNBA Director of Scouting, Clay serves as the Executive Camp Director for the Elite Basketball Academy Camps. He is a McDonald's All-American Game Selection Committee member. Clay serves on the Naismith Trophy Men's / Women's College Player of the Year Academy and is the National Coordinator of Voting for the Boys / Girls All-American Teams. He has been involved in the community since 2001. You can reach Clay at [email protected]