BUFORD, Ga., – The Elite Basketball Academy Top 40 Workout is designed to bring some of the nation's top prospects together to compete and showcase their skills in front of BrandonClayScouting.com and OTRHoopsReport.com evaluators.

Zezmon Steeple Team 5 (Homer, Ga.), Banks County – 2016

A 5-foot-10 point guard, Steeple elevated himself as one of the notable prospects in a camp full of guard talent. His ability to get downhill with the dribble and change directions with the ball puts him in a higher category of prospect. Although he was effective with the dribble, he was willing to find the open teammate which is notable in a camp setting. He involved his teammates where others would only look for their own shot. However, when he needed to, he proved he could hit the pull-up jumper as well.
Zach Orr, Team 1 (Homer, Ga.), Banks County HS – 2016

Orr is showing progression as a prospect. Even though we are very familiar with the 6-7 forward's game, he seems to add a dimension each time we see him. In the fall at the EBA All-American Camp we saw the versatility that would make Orr one of North Georgia's top juniors. This March Orr showed improved aggressiveness on the defensive end as he played with confidence and physicality. Add in his ability to handle the ball and Orr has positioned himself to be a prospect that will garner the looks of several colleges and universities from around the region.
Kahmal Wiley, Team 1 (Homer, Ga.), Banks County HS – 2017

Wiley reminds of another four player in the class in front of him, Dishon Lowery from McIntosh HS. The 6-4 power forward is eager to mix it up on the interior, but also is capable of handling the ball in the open court. He has range on his face up jumper, which makes him a potential mismatch 4-player in the long-term. Playing for a quality high school program like Banks County should ensure that Wiley progresses as a prospect in years to come.
Click below for the EBA Top 40 Broadcasts powered by the SUVtv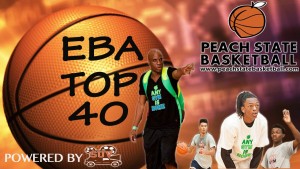 Elite Basketball Academy Series
***Designed for evaluation purposes, these are great opportunities for upperclassmen and underclassmen alike to get valuable game broadcasts that can be sent to college coaches with a single email message. For underclassmen, it also serves as the gateway for prospects with remaining high school eligibility to play in front of our National Evaluators.

Jonathan Hemingway is a National Evaluator for the OTRHoopsReport. Hemingway serves on the Board of Selectors for the Naismith Trophy. also He is also the publisher of CoachHemi.com. He has been involved in the community since 1996 as a coach, camp director and evaluator. You can reach him via email at [email protected] and follow him on  twitter @JLHemingwayPSB