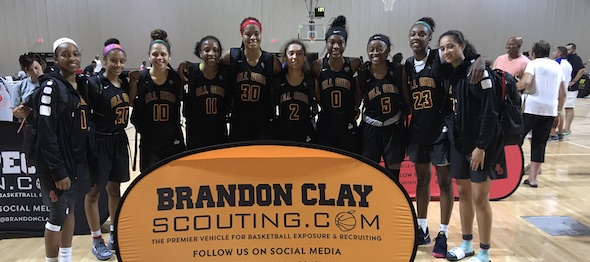 Brandon Clay's All-Ohio Takeaway:
Since the early days of Kelsey Mitchell as an eighth grader, All-Ohio's Jay Bee Bethea has made the PeachStateBasketball.com event circuit his home during July. The 2017 season marked the eighth straight summer that All-Ohio has come to play against some of the nation's best in front of our evaluation team. Bethea has done an excellent job of keeping some of the nation's premier prospects on his roster while surrounding them with high level scholarship caliber prospects to obtain a first class product on an annual basis. He also hosts a staple of our ProspectsNation.com event coverage calendar in the Midwest Showdown over Memorial Day Weekend each year in Cincinnati.
Jonathan Hemingway's All-Ohio Takeaway:
Every year some of the nation's top prospects play for coach Jay Bee Bethea. Ohio State senior guard Kelsey Mitchell, the No. 1 Player on the ProspectsNation.com WNBA Draft Watch-List, is an All Ohio alumnae. This year is no different with Valencia Myers (Florida State) landing on the Naismith Trophy Watch-List. Bethea has another star in the making with class of 2019 prospect Jordan Horston. The 6-foot-1 point guard has qualities to be the next special player to emerge from the All Ohio program. Expect Bethea's group to be at the center of national attention again in 2018 while playing on the EYBL and PSB circuits during July.
Keil Moore's All-Ohio Takeaway:
The All Ohio Nike EYBL program was one of my favorite teams to watch last summer. They had quality guard play, one of the best posts in the country, and they shared the ball. Year in and year out, All Ohio has the tools to compete with the best teams in the country, they are a program to be modeled after.
Program Director: Jay Bee Bethea
Program Headquarters: Columbus, Ohio
PeachStateBasketball.com Tournaments Attended:
#PSBSummerInvite: July 23-24
#PSBPower48: July 25-26
#PSBFamily Social Media Updates on All-Ohio EYBL:
THIS JUST IN

Valencia Myers (OH) to #BrandonClayScouting fam FSU.

Myers is the No. 4 '18 P in the ProspectsNation150 pic.twitter.com/iM7cg5Jht3

— Brandon Clay (@BrandonClayPSB) October 24, 2017
All Ohio got to the basket aggressively and often, leading to their win and a 16 point performance from Valencia Myers. pic.twitter.com/CqFDtidbgb

— PSB Events (@PeachStateBBall) July 26, 2017
All Ohio EYBL impressed not only @BrandonClayPSB but several coaches w/ their win today.
Maliya Perry standing out w/ 21pts. pic.twitter.com/lShbJwWGi7

— PSB Events (@PeachStateBBall) July 25, 2017
AL Southern Starz PSB vs All Ohio So. EYBL PSB was a game to watch! Both teams lighting it up until Starz pulled away. pic.twitter.com/2AKL7JHUIX

— Brandon Clay (@BrandonClayPSB) July 24, 2017
What coaches row liked like for the @all_ohio EYBL vs @BlueStarFlorida game!

Two talented squads that love to compete. pic.twitter.com/C0GPIeufJJ

— PSB Events (@PeachStateBBall) July 25, 2017
All Ohio took home the W after a good showing against Arkansas Banshees. @KeilMoorePSB loving the intensity they play with. pic.twitter.com/L0vRFM1x0n

— PSB Events (@PeachStateBBall) July 25, 2017
If you missed the All Ohio EYBL vs Urban Heroes, then you missed a GREAT one! Urban Heroes walked away with a 1 point victory. pic.twitter.com/2EOR5V2Ad4

— PSB Events (@PeachStateBBall) July 25, 2017
All-Ohio EYBL has four teams at #PSBSummerInvite & #PSBPower48.

Ohio State will watch at both.

JOIN: https://t.co/vTyxJdYHmA pic.twitter.com/NuWa2lJC7h

— Brandon Clay (@BrandonClayPSB) July 17, 2017
Looks like Team Dupree made a good decision to attend #PSBSummerInvite

30+ coaches here to watch them vs All Ohio Black pic.twitter.com/PXSJkEkta6

— Jonathan Hemingway (@JLHemingwayPSB) July 23, 2017
'19 G Jordan Horston of @AllOHGirlsBBall shined at #PSBSummerInvite '16.@ChrisHansenPSB took notice & 📸 on Day One in Colorado. pic.twitter.com/JxPBMkNcul

— Brandon Clay (@BrandonClayPSB) May 26, 2017

Jonathan Hemingway is the Assistant Director of Scouting for the JumpOffPlus.com International Scouting Report, is on the Naismith Trophy Board of Selectors and owns CoachHemi.com, the go-to source for coaches for X's and O's.  He is the floor director of #TeamEBA camps, a site director for #TeamPSB tournaments and can be reached at jonathanhemingway@peachstatebasketball.com.

Brandon Clay is the owner of the JumpOffPlus.com International Report, Peach State Basketball, Inc., and ProspectsNation.com. The JumpOffPlus.com is picked up by more than 200 colleges and universities nationwide. In addition to serving as ProspectsNation.com WNBA Director of Scouting, Clay serves as the Executive Camp Director for the Elite Basketball Academy Camps. He is a McDonald's All-American Game Selection Committee member. Clay serves on the Naismith Trophy Men's / Women's College Player of the Year Academy and is the National Coordinator of Voting for the Boys / Girls All-American Teams. He has been involved in the community since 2001. You can reach Clay at BrandonClay@PeachStateBasketball.com