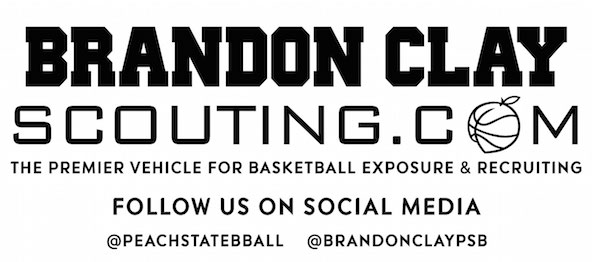 ---
With over 20,000 collective followers on our team's social media outlets, we're in a unique position to assist with both creating awareness of a prospect's skill set and recent on-floor performance. From crisp recruiting updates to updated in-season stats to a potential last-minute change in schedule that needs to be conveyed socially, this package allows the player to control the information available to the public about their game.
Become an #SMPMember: Click the Logo Below

---
Montez Mathis (Baltimore, Md.), John Carroll School / Team Melo
Height: 6'7″
Position: Forward
Committed College: Undecided
Star Grade:

---

BrandonClayScouting.com Player Evaluations
Date: December 22, 2016
Evaluator: Jonathan Hemingway
Location: Chick-Fil-A Classic (Columbia, S.C.)
This is as good of showing as we have seen from Mathis. He thrived in transition and slashed in the half court en route to a 22 point, 13 rebound night. His athleticism and size make him a match up problem for defenders at the wing. He spotlighted some in the high post as well.
Date: December 4, 2015
Evaluator: Jonathan Hemingway
Location: Marshall County Hoop Fest (Benton, Ky.)
Mathis came off the bench for this talented Oak Hill team. He provided energy for his team by making second effort plays. He scored 7 points in a match-up vs. Athlete's Institute.
Date: May 28, 2015
Evaluator: Brandon Clay
Location: USA U16 Trials (Colorado Springs, Colo.)
Mathis showed himself as an off guard capable of playing about the rim. He might not be a go-to scorer on the wing right now but has the physical tools to become a legitimate scoring threat.
 Highlights of Montez Mathis courtesy of FanlSportsTV




Brandon Clay is the owner of Peach State Basketball, Inc., and BrandonClayScouting.com. He serves as the Executive Camp Director for the Elite Basketball Academy Camps. Clay is a McDonald's All-American Game Selection Committee member. He also votes on the Naismith Trophy Men's / Women's College Player of the Year Academy and is the HS Boys / Girls All-American Team Board of Selectors Chairperson. He has been involved in the community since 2001. You can reach Clay at BrandonClay@PeachStateBasketball.com

Jonathan Hemingway is a National Evaluator for the OTRHoopsReport. Hemingway serves on the Board of Selectors for the Naismith Trophy. also He is also the publisher of CoachHemi.com. He has been involved in the community since 1996 as a coach, camp director and evaluator. You can reach him via email at JonathanHemingway@PeachStateBasketball.com and follow him on  twitter @JLHemingwayPSB