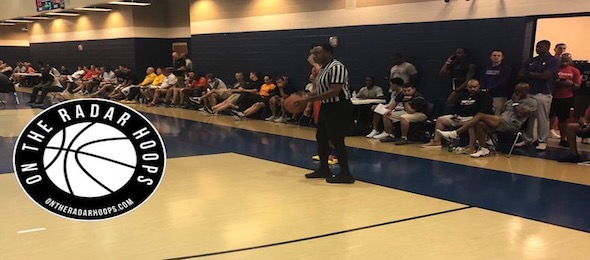 ATLANTA – The OnTheRadarHoops.com Elite 32 Showcase is arguably the nation's premier non-shoe company sponsored event during the first evaluation week of July. Shun Williams gathers some of the nation's top teams and players to collide under one roof. The 2018 edition was no different as two potential All-Americans squared off at lunch time on Saturday. Class of 2019 guard Josiah James of Charleston, S.C., and Class of 2020 guard Anthony Edwards of Atlanta, Ga., went toe-to-toe.
#NaismithWatch via #BrandonClayScouting🍑 Report

Headed to cover @OntheRadarHoops #OTRElite32 Showcase today.

Huge matchup at 12:50 pm between SMP '19 Josiah James & ATL XPress '20 Anthony Edwards.

Full recap afterwards.

📷 INSTAGRAM: https://t.co/falGPcyrx3 @jjjames30 pic.twitter.com/mxfBrEJz37

— Brandon Clay (@BrandonClayPSB) July 14, 2018
The game drew over 100 coaches and the nation's premier recruiting analyst, Evan Daniels, to watch it all unfold.
My Takeaways:
Anthony Edwards – 2020 – Guard – Atlanta XPress
Edwards has the power and bounce that elite guards at the next level possess. He is controlled enough with his body to finish with contact in traffic yet explosive enough to dunk over an opposing defender with ease. Edwards also showed that he has shooting range out beyond the 3-point line. Add that in with his willingness to go toe-to-toe with Josiah James here and Edwards has all the making of a big time prospect longterm.
Josiah James – 2019 – Guard – TMP
James is a dynamic option with the length and size to play multiple positions in the backcourt. The left-handed shooter showed the range to keep opposing defenses honest while displaying the athleticism to create off of the bounce as well. His skill set on the defensive end allowed him to defend Edwards in man-to-man situations then play the back wing of the 2-3 zone when need be as well. In that way, he's potentially a new age big guard at the 1.
Special thanks to GRSportsMedia for capturing the video.