BUFORD, Ga., – The Elite Basketball Academy Top 40 Workout is designed to bring some of the nation's top prospects together to compete and showcase their skills in front of BrandonClayScouting.com and OTRHoopsReport.com evaluators.

Jerry Mays, Team 5 (Gainesville, Ga.), Johnson HS – 2015

Mays is a workhorse 4/5 player who runs the court and does all the little things you want on the court. In camp games he was a willing screener who worked the pick and roll with the guards at the top of the key. He showed activity on the defensive end as well as he contested shots compare and contrast essay tips in the paint and on the perimeter. At 6-foot-7, the senior from Gainesville should garner looks from schools in the area who are looking to add size and energy to their roster.
Esteban Ulloa, Team 5 (Flowery Branch, Ga.), West Hall HS – 2016

This was our staff's second look at Ulloa in the past six months. We first saw him at the AdrianPenlandBasketball.com Fall Workout in October. At the time we noted how hard the 6-3 wing played during the showcase. Fast forward to March and it was much of the same for the North Georgia native. In this showing, Ulloa showed a sweet stroke on his mid-range jumper that earned him the title of a shooter in our notes. The junior is a solid athlete as well with a good frame featuring wide shoulders and above average foot copy writing services quickness. We will continue to track his progression heading into his junior year.
Juwan White, Team 6 (Lawrenceville, Ga.), Dacula HS – 2018

White came into this workout in a FLASH! The 6′ point guard zoomed end to end multiple times in game play showing that he could finish at the bucket with the best in the camp. He mixed that finishing ability with a nice pull-up jumper when the defense sagged towards the basket. The freshman matches that ball handling speed with activity on the defensive end as well. He can be a menace to opposing ball handlers and force them into mistakes between the circles in the half-court. White put his name on the map as a name that we will track locally in future years.
Click below for the EBA Top 40 Broadcasts powered custom essay writers by the SUVtv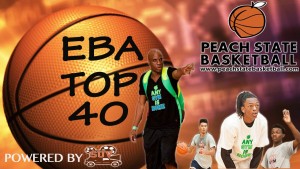 Elite Basketball Academy Series
***Designed for evaluation purposes, these are great opportunities for upperclassmen and underclassmen alike to get valuable game broadcasts that can be sent to college coaches with a single email message. For underclassmen, it also serves as the gateway for prospects with remaining high school eligibility to play in front of our National Evaluators.

Jonathan Hemingway is a National Evaluator for the OTRHoopsReport. Hemingway serves on the Board of Selectors for the Naismith Trophy. also He is also the publisher of CoachHemi.com. He has been involved in the community since 1996 as a coach, camp director and evaluator. You can reach him via email at JonathanHemingway@PeachStateBasketball.com and follow him on  twitter @JLHemingwayPSB