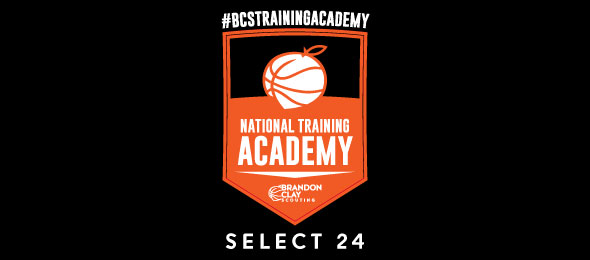 Social Media Hashtag: #BClayTraining
Why Attend Brandon Clay National Select 24 Workout???
1) Be seen: We service over 100 colleges and universities annually with our evaluations ranging in level of play from UConn to Oglethorpe.
2) Elevate your game: Have the chance to interact with our staff and learn about what it takes to be successful at the next level.
3) Train, compete and achieve: Our Brandon Clay Shooting Session will bring some the country's top prospects together to work compete and train with a facility full of college prospects in front of the Brandon Clay Scouting evaluation staff.
4) Receive maximum exposure: This is an ideal chance for rising seniors and underclass prospects to take full advantage of the stage the Brandon Clay Scouting staff provides. All players will receive an evaluation posted within four weeks of the conclusion of camp.
Online Registration can be found here:
Brandon Clay National Shooting Session Online Registration
***All participants need to bring their own basketball for the skill sessions.
2022 Confirmed Campers:
***All campers need to bring a basketball with them.
Facility:
McCormick Place – Chicago, IL
Age Groups: 8th Grade – 12th Grade
Times:
8:00 pm Check-In / Pictures
8:25 pm On Floor / Individual Skill Development
9:35 pm Dismissal
Admission (includes Real Deal Chicago admission): Ages 18 and older – $20.00 each day; Ages 6 – 17 – $10.00; Kids – 5 & under – free
---
---
---
College Coach Packets:
Brandon Clay Real Deal & Select 24 Session (PM) College Coach Information:
Recruitify is our software partner for college staff packet purchasing. If you have any questions, please call Will Newman (Co-founder of recruitify) at 336-947-0440 or email [email protected]
No additional charge for colleges to attend the Select 24 Session if they have already registered for the Real Deal Chicago team event.
Player
School
Class of
Add-ons
KK Arnold
Germantown High (Germantown, WI)
2023
Bailey Barnhard
Del Norte High School (San Diego, CA)
2024
Lenee Beaumont
Benet Academy (Lisle, IL)
2023
Averie Brandt
St. Joseph-Marquette School (Yakima, WA)
2027
-Lugardo Photo Package
Avary Cain
St. Joseph High School (Santa Maria, CA)
2024
Brooke Carlson
Batavia High School (Batavia, IL)
2024
Grace Corelli
Byram Hills High School (Armonk, NY)
2024
Aaliyah Crump
Minnetonk High (Minnetonka, MN)
2025
Naveyah "Naz" Damon
Miami Country Day School (Miami, FL)
2023
Addie Deal
Pacifica Christian High School (Ladera Ranch, CA)
2025
Kelsey DuBois
University High School (Clay Township, IN)
2023
Sienna Evans
San Joaquin Memorial High School (Fresno, CA)
2025
-Brandon Clay Evaluation x ProspectsNation.com Player Card
Savannah Gage
Ankeny High School (Ankeny, IA)
2025
Gracynn Gough
Charlotte Catholic High School (Charlotte, NC)
2024
Madison Hart
Sacred Heart Greenwich (Greenwich, CT)
2024
-Brandon Clay Evaluation x ProspectsNation.com Player Card
Mckenna Johnson
Wilmot Union High School (Silver Lake, WI)
2024
McKenzie Koch
Eastern Hancock Middle School (Jackson Township, IN)
2027
-Brandon Clay Evaluation x ProspectsNation.com Player Card
Madison Kocis
Saint John Vianney High School (Colts Neck, NJ)
2026
Maryn King
Tahoma High School (Ravensdale, WA)
2026
Ava LaMonica
Rutgers Preparatory School (Somerset, NJ)
2026
Karisma Lewis
Buena High School (Ventura, CA)
2026
Stella Lockhart
Gill St. Bernard'S School (Bergenfield, NJ)
2026
-Lugardo Photo Package
Jade Marquez
Choate Rosemary Hall (Wallingford, CT)
2024
-Brandon Clay Evaluation x ProspectsNation.com Player Card
Morgan Matthews
The Pennington School (Pennington, NJ)
2024
Shawnessy Nordstrom
Lone Peak High School (Highland, UT)
2024
Tori Oehrlein
Crosby-Ironton Independent School District(Crosby, MN)
2026
Emma Phelan
Johnson City High School (Town of Union, NY)
2025
-Brandon Clay Evaluation x ProspectsNation.com Player Card
Ashley Redd
Minisink Valley High School (Middletown, NY)
2025
Reese Sellers
Yuma Catholic High School
2023
-Brandon Clay Evaluation x ProspectsNation.com Player Card
-BrandonClayTV Video Evaluation
-Lugardo Photo Package
Brooklyn Shamblin
Oaks Christian School (Westlake Village, CA)
2025
Laila Sierra
Xaverian High School (Brooklyn, NY)
2025
-Brandon Clay Evaluation x ProspectsNation.com Player Card
Alyssa Staten
Statesboro High School (Statesboro, GA)
2024
Hailey Whitman
Christian High School (Chula Vista, CA)
2025