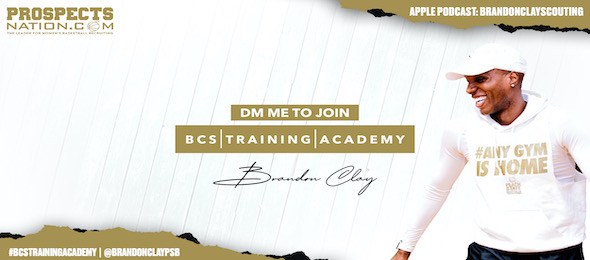 Our exclusive BrandonClayScouting.com National Training Academy is a large part of our year-round commitment to working with potential collegiate/professional female basketball players. We've been fortunate to train players who have played for USA Basketball, in the WNBA and been named All-Americans as well as Conference Players of the Year at the collegiate level. Several of our alumni have been named Jordan, McDonald's and WBCA All-American's at the high school level. Our BrandonClayScouting.com National Training Academy will bring the region's top prospects together.
ProspectsNation.com Premium Evaluations:
All players attending a BrandonClayScouting.com Training Academy that occurs on a non NCAA-certified weekend will receive a new or updated evaluation on their ProspectsNation.com player card. Evaluations and cards will be entered within 8 to 10 weeks of the conclusion of camp.
Why #BCSTrainingAcademy???
1) We serve on the NaismithTrophy.com National Player of the Year and All-American Team Selection Committees.
2) Our camp evaluations are precise. We provide a base for elite players to go back home to work and improve their games.
3) We service over 200 colleges and universities annually with our evaluations ranging in level of play from Baylor to Emory.
4) Our #BCSTrainingAcademy will bring some the country's top prospects together to work with and be evaluated by both the BrandonClayScouting.com Report and ProspectsNation.com staffs.
Social Media Hashtag: #BCSTrainingAcademy
Facility:
Knox Catholic High School – Knoxville, Tennessee
#BCSTrainingAcademy Online Registration can be found HERE:
Directions to PAY and register
If you are an existing user, click 'Exisiting User' and login.
2. If you are a new user, click 'New User' and create an athlete account.
Creating an account will allow you to register for multiple events, without having to fill out multiple registration forms.
3. For new users, fill out the athlete profile and enter at least one parent/guardian
4. Once logged in, on the home page, click 'Register for Individual Events'
5. Select the event you want to register for.
---
Brandon Clay College Recruiting Program Campers
Players enrolled in the program who will be attending this showcase. Their ProspectsNation.com player cards will be updated with a new evaluation from Brandon Clay within 7 days of the completion of the event.
***Email Brandon (BrandonClay@PeachStateBasketball.com) for details on how to join the program.
Brandon Clay TV Video Evaluation ($150 Optional Add-On)
***Approximately :45 highlight clip using video from the event. Available for an additional $150 per camper with a voiceover from Brandon Clay. Takes 8-10 weeks post camp for highlights to be posted to ProspectsNation.com Player Card.
Brandon Clay Spotlight Shooting Workout ($95 Optional Add-On)
55-minute shooting session with Brandon Clay and a personal evaluation from him after the showcase concludes
***Before the first session of the showcase on Sunday at 2:30 pm
2021 #BCSTrainingAcademy Showcase Participants:
Natavia Alber – Seymour Junior High School (Seymour, TN) – 2026
Lauren Bailey – Greeneville High School (Greeneville, TN) – 2023 (Brandon Clay spotlight shooting session)
Avary Brewer – Lake Forest Middle School (Cleveland, TN) – 2025
Bailey Burgess – The King's Academy (Seymour, TN) – 2022
Kenzie Campbell – Notre Dame Academy (Chattanooga, Tennessee) – 2023 (Brandon Clay spotlight shooting session)
Andrea Flores – Elizabethton High School (Elizabethton, TN) – 2026 (Brandon Clay spotlight shooting session)
Ky Gibson – New Center Elementary (Sevierville, TN) – 2025
Maliyah Glasper – Sevierville Intermediate School (Sevierville, TN) – 2026
Natalya Hodge – Holston Middle School (Blountville, TN) – 2026
Adison Howard – North Cumberland (Crossville, Tennessee) – 2025 (Brandon Clay spotlight shooting session) (Lugardo Media Photo Package)



Jenna Johnson – Robertsville Middle School (Oak Ridge, TN) – 2025
Sydney Mains – Knox Catholic (Knoxville, Tennessee) – 2024 (Brandon Clay spotlight shooting session)



Kinley Painter – Liberty Bell Middle School (Johnson City, TN) – 2025
Niah Rhodes – Woodford County High School (Versailles, KY) – 2024 (Brandon Clay spotlight shooting session)
Alaina Schroeder – Powell High School (Powell, TN) – 2024 (BrandonClayTV Video Evaluation)
Rachel Smith – Scott County High (Georgetown, KY) – 2022 (Brandon Clay spotlight shooting session) (Lugardo Media Photo Package)
Colie Thompson – Jacksboro Middle School (Jacksboro, TN) – 2026 (Brandon Clay spotlight shooting session)
Jazmin Williams – Knox Catholic (Knoxville, Tennessee) – 2023
Times:
***All participants need to bring their own basketball for the skill sessions
Brandon Clay Spotlight Shooting Sessions: 8:30 am (2025 and younger); 9:30 am (2026 and younger)
Saturday Academy Session
10:30 am – Welcome / Pictures
11:00 am – Individual Skill Instruction
12:15 pm – Transition Concepts
1:30 pm – Dismissal
Daily Admission:
$10.00 Adults; $5.00 Students each day, Children 5 and under enter free