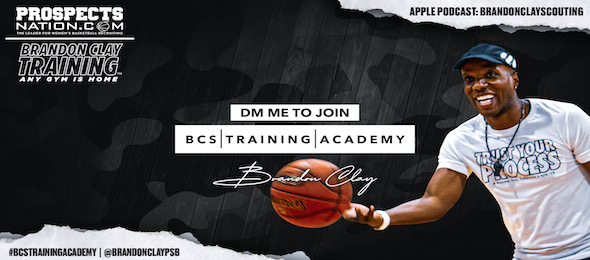 Our exclusive Brandon Clay Scouting All-American Showcase is a large part of our year-round commitment to working with potential collegiate/professional female basketball players. We've been fortunate to train players who have played for USA Basketball, in the WNBA and been named All-Americans as well as Conference Players of the Year at the collegiate level. Several of our alumni have been named Jordan, McDonald's, Naismith and WBCA All-American's at the high school level. Our Brandon Clay Scouting All-American Showcase will bring the country's top prospects together for two days.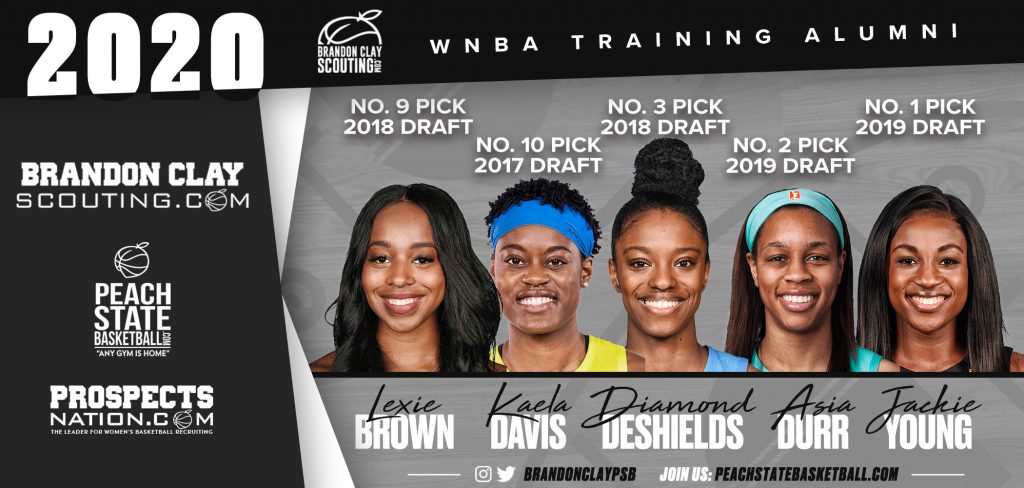 ProspectsNation.com Premium Evaluations:
All players attending an Elite Basketball Academy Showcase that occurs on a non NCAA-certified weekend will receive a new or updated evaluation on their ProspectsNation.com player card. Evaluations and cards will be entered within 8 to 10 weeks of the conclusion of camp.
Social Media Hashtag: #BCSTrainingAcademy
Facility:
Bogan Park – 2723 North Bogan Road – Buford, GA 30518
#BCSAllAmerican Showcase Online Registration can be found HERE:
Directions to PAY and register
1. If you are an existing user click here for registration: #BCSAllAmerican Showcase EXISTING Athlete Registration
2. If you are a new user, click 'New User' click here for registration: #BCSAllAmerican Showcase NEW Athlete Registration
*Creating an account will allow you to register for multiple events, without having to fill out multiple registration forms.
#BClayRecruiting College Recruiting Program Campers
Players enrolled in the program who will be attending this showcase. Their ProspectsNation.com player cards will be updated with a new evaluation from Brandon Clay within 7 days of the completion of the event.
***Email Brandon (BrandonClay@PeachStateBasketball.com) for details on how to join the program.
---
Brandon Clay Feature Player Video Voiceover ($150 Optional Add-On)
***Approximately :45 highlight clip using video from the event. Available for an additional $125 per camper with a voiceover from Brandon Clay. Takes 8-10 weeks post camp for highlights to be posted to ProspectsNation.com Player Card.
Brandon Clay Spotlight Shooting Workout ($99.95 Add-On)
55-minute shooting session with Brandon Clay and a personal evaluation on your shooting progress from him on ProspectsNation.com after the showcase concludes
***Before the first session of the showcase on Saturday
Confirmed Players
***Maximum of twelve players per small group. Groups / session times will be assigned the week of the showcase. Sessions will begin as early as 3:55 pm on Saturday. Please plan accordingly with travel logistics.
***Please arrive 15 mins before your scheduled group time. Groups will be published the Thursday night before camp starts.
---
#BCSAllAmerican Showcase Participants:
***All participants need to bring their own basketball for the skill sessions.
***All campers return on Sunday for the 8:30 am Game Play Session.
Times:
***All participants need to bring their own basketball for the skill sessions.
4:45 pm – Spotlight Training Session with Brandon Clay
***additional add-onpurchase
6:00 pm – Welcome / Individual Skill Instruction/Pictures
7:00 pm – Halfcourt Concepts
8:00 pm – Halfcourt Competition / Transition
8:45 pm – Dismissal
Sunday Game Play Combined Session
8:00 am – Welcome / Individual Skill Instruction
8:45 am – High Intensity Skill Development
9:30 am – Competition
10:25 am – Dismissal
Saturday & Sunday Admission:
$10.00 Adults; $5.00 Students each day, Children 5 and under enter free