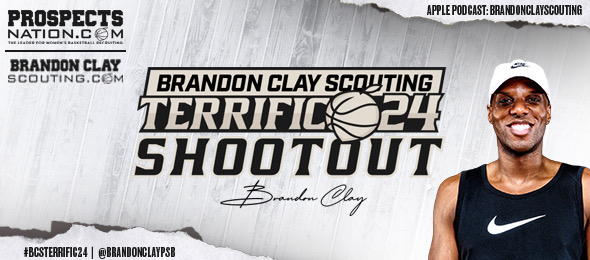 With over 70,000 collective followers on our team's social media outlets, we're in a unique position to assist with both creating awareness of a prospect's skill set and recent on-floor performance. From crisp recruiting updates to updated in-season stats to a potential last-minute change in schedule that needs to be conveyed socially, this package allows the player to control the information available to the public about their game.
Become an #BClayRecruiting Member: Email BrandonClay@PeachStateBasketball.com
---
The BrandonClayScouting.com Terrific 24 series has taken the club circuit by storm. With over numerous colleges from across the country paying attention to the Terrific 24 each year, this is a must attend event to close out the summer.
Follow our team for social media posts/updates throughout the event by using: Tag: #BCSTerrific24 — Join the conversation!
Brandon Clay: Follow @BrandonClayPSB
Chris Hansen: Follow @ChrisHansenPSB
Jonathan Hemingway: Follow @JLHemingwayPSB
Vince Smith: Follow @VinceSmithPSB
ProspectsNation.com: Follow @ProspectsNation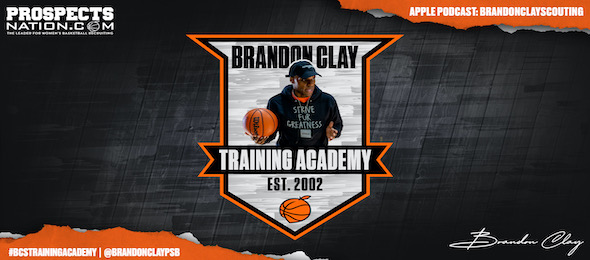 Brandon Clay Training Academy: Saturday Night and Sunday morning (Elite skills/drill instruction plus a ProspectsNation.com eval)
REGISTRATION LINK: https://peachstatebasketball.com/exposure-events/eba-female-camps/eba-all-american-national-showcase/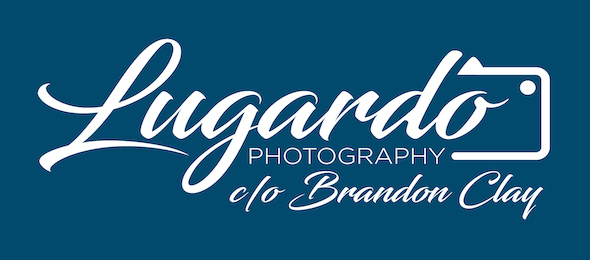 Event Pictures: Lugardo Photography will provide coverage of the event. For more information on pricing and how to purchase pictures, email Tony Lugardo: Lugardophotography@gmail.com
---
---
Facilities:
International Sports Arena – 5639 Memorial Drive – Stone Mountain, GA 30083
---
---
2020 Participating Teams:
Brandon Clay Training Select Jr.
Carolina Hoopsterz Jr.
Georgia Metros Blue Jr.
Georgia Pearls National Jr. (NEED ROSTER!)
Georgia Pearls Fr. (NEED ROSTER!)
Team Curry Jr.
Team Curry So.
Team Curry Fr.
Team Elite Hubbard Chad Jr.
Team Elite Hubbard Austin So.
Tennessee XTreme Jr.
Age Groups:
Rising Sr., Jr., Soph., Fr., 8th
---
---
---
---
Cost and Online Registration can be found here:
New User Directions in recruitify
Click the red 'Create Account' button at the bottom. Complete the form to create an organization account.
Creating an account will allow you to register for multiple events, without having to fill out multiple registration forms.
Complete the form. Once complete, click Save Team
After saving, if you need to create more than one team click Add Teamin the top, right-hand corner.
To register your team(s) for an event, click Register for Events(s)
Find the event and click Register
Select your Team(s) and Payment Method
Existing User Directions in recruitify
If you are an existing user and have already created an organization account with recruitify, enter your username and password to login.
Once you are logged in, select the team(s) you are registering. If you need to add a new team click My Teamsand then Add Team in the top, right-hand corner
Click Register for Event(s) and find the event and click Register
Roster Form:
Coaches, we need accurate rosters (numbers/addresses) for both coaches & our JumpOffPlus.com evaluators to send out Brandon Clay Training Academy Invites: *Please download, fill in, save and email back to me at TaylorJohnson@PeachStateBasketball.com: Travel Team Roster Form
*ANY TEAM WITHOUT A COMPLETE ROSTER WILL NOT BE ALLOWED TO PLAY!
---
---
Tournament Playing Rules:
---
---
Game Times:
***ALL TEAMS WILL PLAY ONE GAME ON FRIDAY EVENING, TWO ON SATURDAY.

Friday: 5:30 pm – 11:00 pm
Saturday: 8:00 am – 4:00 pm
Doors Open:
30 minutes before the start of the first game
---
---
Daily Admission:
Ages 18 and older – $15.00 on Friday, $15.00 on Saturday, $10.00 on Sunday; Ages 6 – 17 – $5.00 each day; Kids – 5 & under free