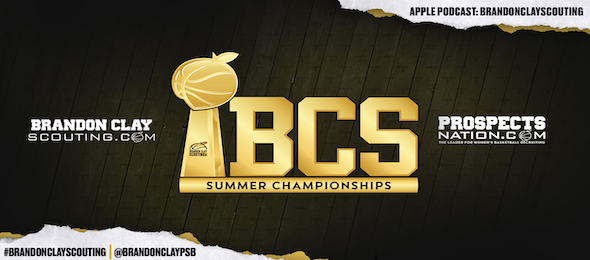 With over 70,000 collective followers on our team's social media outlets, we're in a unique position to assist with both creating awareness of a prospect's skill set and recent on-floor performance. From crisp recruiting updates to updated in-season stats to a potential last-minute change in schedule that needs to be conveyed socially, this package allows the player to control the information available to the public about their game.
Become a #BClayRecruiting member for maximum Recruiting Exposure: Email Brandon at BrandonClay@PeachStateBasketball.com
---
The #BCSSummerInvite will feature the country's top teams squaring off the begin the second half of the July evaluation period. Each team will play with the eyes of college scouts upon them, against great competition and get high quality exposure before July ends.
Follow our team for social media posts/updates throughout the event by using: Tag: #PSBSummerInvite — Join the conversation!
Brandon Clay: Follow @BrandonClayPSB
Chris Hansen: Follow @ChrisHansenPSB
Jonathan Hemingway: Follow @JLHemingwayPSB
Vince Smith: Follow @VinceSmithPSB
ProspectsNation.com: Follow @ProspectsNation
---
Age Groups: Rising Sr., Jr., Soph., Fr., 8th, 7th
Cost & Online Registration:
New User Directions in recruitify
Click the red 'Create Account' button at the bottom. Complete the form to create an organization account.
Creating an account will allow you to register for multiple events, without having to fill out multiple registration forms.
Complete the form. Once complete, click Save Team
After saving, if you need to create more than one team click Add Teamin the top, right-hand corner.
To register your team(s) for an event, click Register for Events(s)
Find the event and click Register
Select your Team(s) and Payment Method
Existing User Directions in recruitify
If you are an existing user and have already created an organization account with recruitify, enter your username and password to login.
Once you are logged in, select the team(s) you are registering. If you need to add a new team click My Teamsand then Add Team in the top, right-hand corner
Click Register for Event(s) and find the event and click Register
ATC Coverage:
Any player needing to be taped for any reason other than an in-game injury occurring onsite during the event will need to bring their own ankle tape and/or pre-wrap with them!
---
Facility Protocol:
***All players, coaches, refs and spectators must wear masks and sign a waiver to enter the building. No exceptions. Participants can remove their masks when they reach the court.
Facilities:
Lake Point Sports Complex: Indoor Facility – 261 Stars Way – Cartersville, GA 30121
Admission:
Daily General Admission (unless requested by team coaches, ALL teams will play two games each day):
***Lake Point charges $5 per person per day to park on the premises and it is included in the price of the adult ticket. You can go in and out during the day at no charge.
Ages 18 and older – $22.50 each day, Ages 6 – 17 – $5.00 each day; Kids – 5 and under free
---
Event Schedule: The 25th schedule will be posted by 2:00 pm on Friday. The 26th schedule will be live by 2:00 pm on Saturday.
SCHEDULE LINK:
2020 Participating Programs:

Bostic Next Level So.
Exodus NYC Jr. (NEED ROSTER!)
Exodus NYC So. (NEED ROSTER!)
Hoop Dreams Athletics Black
Hoop Dreams Athletics White
Hoop Dreams Athletics Red
Hoop Dreams Athletics Gray
Tampa Thunder Team Dupree Jr.
Tampa Thunder Select Jr.
Tampa Thunder Lauteria Jr.
Tampa Thunder Phenoms So.
Tampa Thunder Thigpen So.
Tampa Thunder Davis Fr.
Tampa Thunder Blythewood Fr.
Tampa Thunder Boswell 8th
Team Curry Jr. (NEED ROSTER!)
Team Elite Hubbard Chad Jr. (NEED ROSTER!)
Team Elite Hubbard Austin So. (NEED ROSTER!)
Team Elite Hubbard Kiki So. (NEED ROSTER!)
Team Elite Hubbard Tee Fr. (NEED ROSTER!)
Team Elite Hubbard 8th Novac (NEED ROSTER!)
Tennessee XTreme Jr. (NEED ROSTER!)
Tree of Hope Pacific Jr. (NEED ROSTER!)
Southern Ballers Jr. (NEED ROSTER!)
---
*ANY TEAM WITHOUT A COMPLETE ROSTER WILL NOT BE ALLOWED TO PLAY!
Doors Open: 30 minutes before the start of the first game
Tournament Playing Rules:
---
Game Times:
Day One: 3:00 pm – 10:30 pm
Day Two: 3:00 pm – 10:30 pm
---
Hotels:
Click here to book your rooms!
---
NCAA Team Registration:
All travel teams taking part in the Summer Invitational MUST register their coaches and players with the NCAA here and opt-in to the event from here as well: NCAA Team Registration
---
NCAA / USAB Coaches & Team Certification: Must be completed EACH YEAR for ALL coaches
USAB Gold License link: www.usab.com/ncaalicense
NCAA Athlete Registration:
REGISTER HERE: https://BBCS.ncaa.org
Brandon Clay Scouting College Coach Streaming Information: (one purchase will include all of our Atlanta events July 21-26)
*All college coach purchases will include:
– Access to all streams from the event along with access to Brandon Clay on any player taking part in the event up to 72 hours after the event ends
– Post Event "Stock Risers" & "Standouts" PDF's
*We can accept credit card purchases via PayPal up to 72 hours before the event. Please email BrandonClay@PeachStateBasketball.com for an invoice. There will be a 3% processing fee added to the invoice. Any refund requests after payment is made will be assessed a $50 processing fee.
$295 for Division I institutions
$95 for Division II, III, NAIA and JUCO institutions
Packets will be available digitally the night before the event.