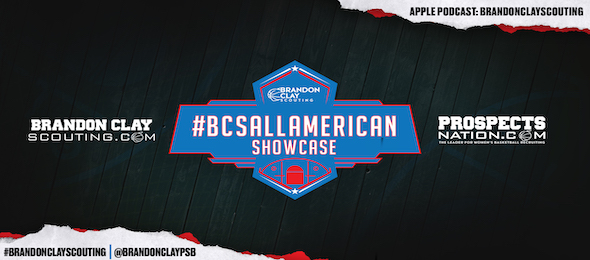 Social Media Hashtag: #BCSAllAmerican
Why Attend BCSTop40 All-American Showcase???
1) Be seen: We service over 100 colleges and universities annually with our evaluations ranging in level of play from UConn to Oglethorpe.
2) Elevate your game: Have the chance to interact with our staff and learn about what it takes to be successful at the next level.
3) Train, compete and achieve: Our BCSAll-American Showcase will bring some the country's top prospects together to work compete and train with a facility full of college prospects in front of the Brandon Clay Scouting evaluation staff.
4) Receive maximum exposure: This is an ideal chance for seniors and underclass prospects to take full advantage of the stage the Brandon Clay Scouting staff provides. All players will receive an evaluation posted within eight to ten weeks of the conclusion of camp.
Online Registration can be found here:
https://www.recruitifyhoops.com/#/registerForIndividualEvent/160/c7829906-c915-4148-a6ee-74b2195dbde6
***All participants need to bring their own basketball for the skill sessions.
2020 Confirmed Campers:
***All campers need to bring a basketball with them.
Jackson Ary – Bradley Central High School (Cleveland, TN) – 2024
Spyda Ellis – Monroe (Albany, GA) – 2021
Dylan Garrington – North Oconee (Watkinsville, GA) – 2021
Izayah Glenon – Hanceville High School (Hanceville, AL) – 2021
Clay Gosnell – Banks County (Homer, GA) – 2021
Seth Hubbard – St. Francis (Alpharetta, GA) – 2022
Nick Issac – Mountain View (Buford, GA) – 2022
Jevon Jacobs – Archer High School (Lawrenceville, GA) – 2021
Andrew McConnell – Lanier (Sugar Hill, GA) – 2021
Dakota Orr – Banks County (Homer, GA) – 2021
Iajah Phillips – Lanier (Sugar Hill, GA) – 2021
Facility:
Bogan Park – Buford, Ga.
Times:
Sunday
4:15 pm Check-In / Pictures
5:00 pm On Floor / Individual Skill Development
6:30 pm Full Court Games
8:00 pm Dismissal
Admission: Ages 18 and older – $10.00 each day; Ages 6 – 17 – $5.00; Kids – 5 & under – free